please remember you can click on a photo to see a larger version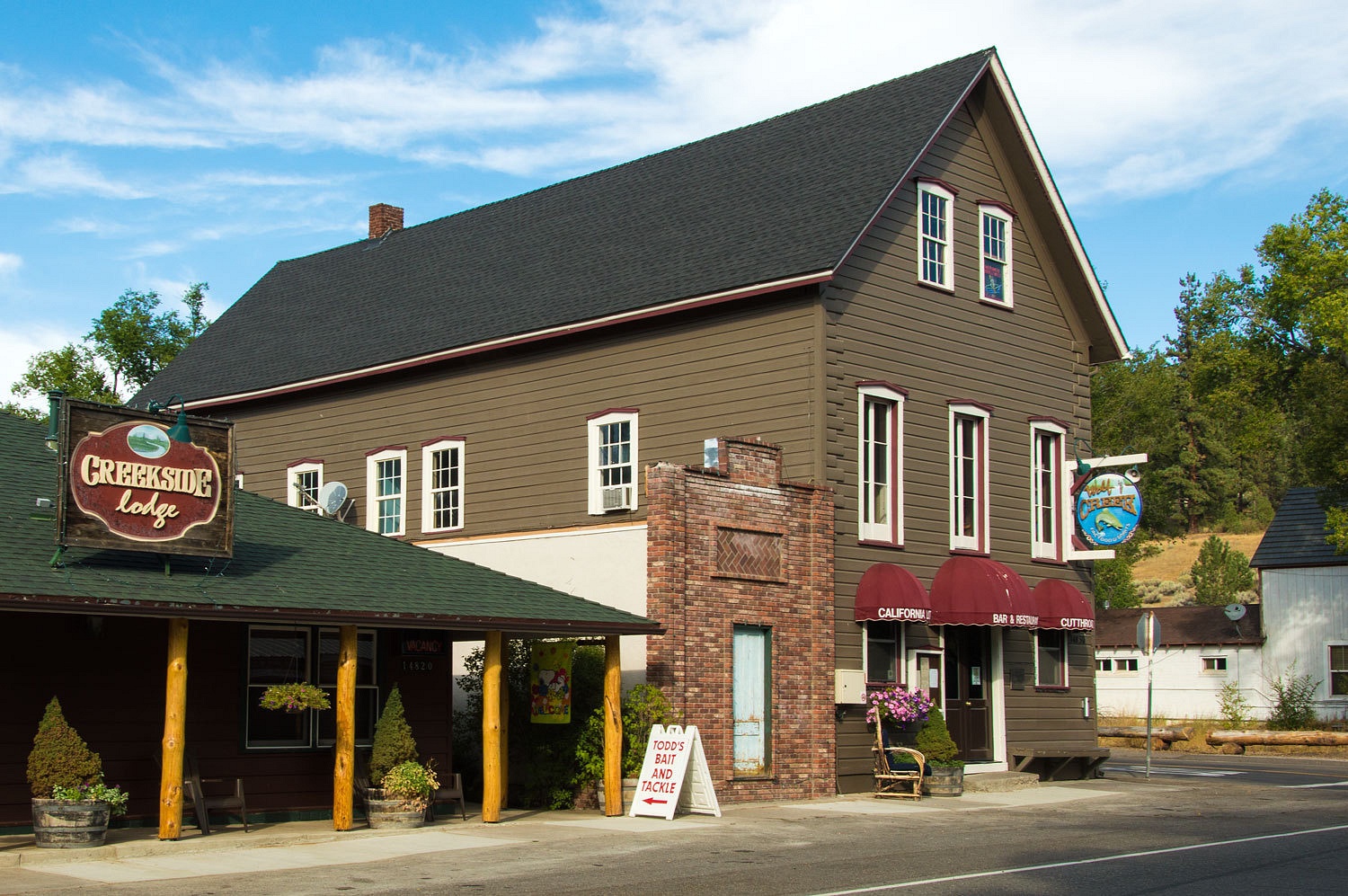 A great little town in our backyard; it had been awhile since we had checked out store bought breakfast opportunities. The town was quiet in the early morning, but things were ready for a busy Saturday.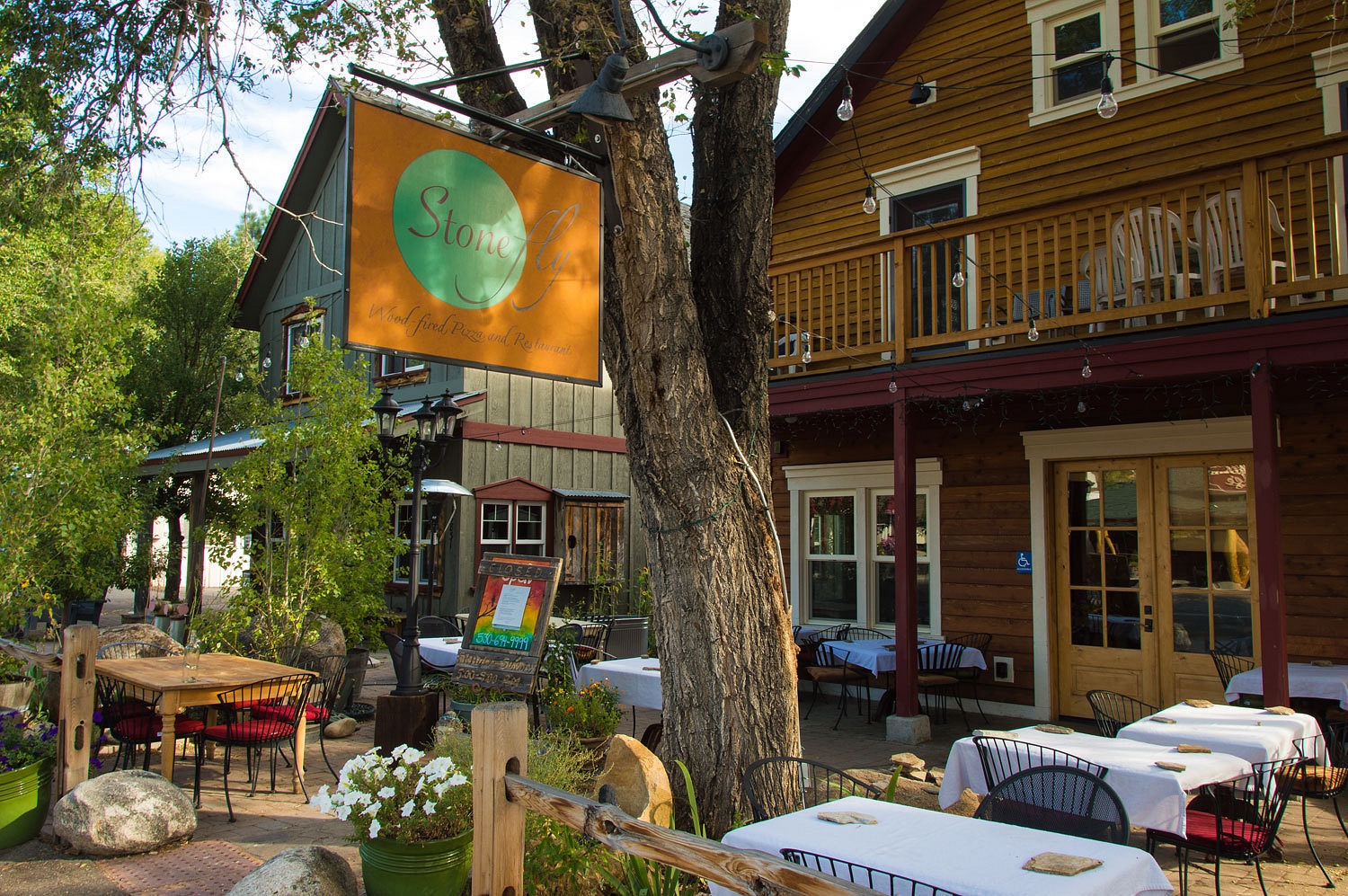 Ali's Cafe opens at 7 am and Wolf Creek, on weekends, opens at 8 am. Markleeville and Alpine County are also geared up for celebration....................................

......................and upcoming fall colors.
We were on a quick getaway. It was what we needed, just to get away for one night. As we drove up Highway 4
toward Ebbetts Pass- one of our favorite Sierra passes - the Lady and I talked about all the winter trips we had made up this road either on skis or in snowcats. This is a place that holds many memories of adventures for us. Near the top we rounded the bend just below the Flintstone Cabin and saw our friends out on the big flat rock that makes a great deck. Arms were in the air waving. They were up for the weekend. We backed up against the gate and they greeted us.
Conversation ran around between stories of all our past winter trips, retirement, their daughter off to college (an ex student and volleyball player of the Lady's ), and future plans and projects. They were curious about our new
All Terrain Camper
.
"This will be our 64th night in our new camper tonight!" the Lady said.
"You must have had this for awhile then?" they asked.
"No," the Lady replied, "Our
first trip
was right before New Years. We use it a lot. I love it."
"We got our first camper in late 2009," I explained. "After fixing it up, our
maiden voyage trip
was Thanksgiving time. Total nights spent in both our campers since then are over three hundred. We are approaching a full year of nights!"
We showed them our camper and then it was time to head on our way.
The designated campground was near empty as we selected a spot. We raised the top and set out our chairs. An early lunch of vegies and guacamole was just right. We pulled out our usgs quad and decided Beartree Meadow would be the spot to explore. We hiked around the south side of the east Highland Lake.
It soon became obvious to us that trails had been rerouted and improved. What was on the ground did not match what was depicted on the map. This is one reason to make note of the map date in the lower right corner. It was beautiful country although the meadows were full of clanging bells on mothers of future hamburgers. No matter how you feel about grazing and subsidizing its impacts on our public lands, the economic mold has been in place for over a century. A friend always tells me, "When you no longer hear cow bells in the Wilderness, we will lose all the open space that is private ranch land in the low country." That is happening and it is turning into subdivisions and strip malls. But grazing needs to be sustainable with lower impacts on our natural resources and properly managed with cooperation from responsible cattle grazing permit holders.
After dozing off for a while on the center rock outcropping, we made our way back to camp. We discovered there is little remaining of the old trails.
We found a high point with a bit of shelter from the wind and quietly waited amid the clanging of bells.
The bells quieted down overnight. We were up before dawn and enjoyed trying a couple of long exposures with the camera.
The cows announced the coming of the sun. I was getting a hankering for a breakfast of steak and eggs.
It was a beautiful morning. We were the only ones out wandering to take it in.
I cooked up a fresh vegie scramble for the Lady and me and then it was time to head home. We had a special occasion down the hill. There is nothing like a quiet drive in the mountains in the morning. This quick break had really hit the spot.
Rounding the bend in the road, I saw it from 30 miles away. A small plume of smoke was just rising in the direction of home. An hour later it was a terrifying billowing monster blotting out the sky around us.
We so love our simple life where a quiet secluded campsite, the comfort of each others presence, and the song of a coyote is more than enough. But as we all know, life can get complicated in an instant.
Information on the King Fire can be found here -
Thank you Mom Spider for the following photo from Tuesday afternoon.