please remember you can click on a photo to see a larger version
Since we live in California's Sierra Nevada Range, you may be surprised the Sierra is not our favorite mountain range. We've enjoyed travels into many of the West's Wilderness areas and mountains including the Beartooth-Absaroka, Sangre De Cristo, North Cascades, Snake, White Mountains, Eagle Cap, Sawtooths, Rubys, East Humboldts, White Clouds, Sawatch, and San Juans. Each are extraordinary and hold unique special treasures, but our favorite mountains are Wyoming's Wind River Range. We have made many trips into the Winds and could spend the rest of our lives in bliss rambling through its rugged terrain. A massive glaciated granite block rising to almost High Sierra heights, glacier filled cirques, trout laden lakes, and large mammals - moose, elk, bighorn, grizzly; who could want for anything more? Vast areas are without trails. Here are mountains you can disappear into.
The Winds are so special I must issue a warning - beware, if you read further you will want to go. If you don't, well, there's something irrepairably wrong with you.
The Winds are around a two day drive for us, a bit faster if we use the dreaded Interstates. We wanted to start our journey with stops at Oregon's Hart Mountain National Antelope Refuge and Steen's Mountain.
We were stopped along Hart's Bluesky Road. A huge encampment had caught the Lady's eye up a smaller dirt road. It looked like a city. Dust trails showed several vehicles climbing up the draw. A small sign at the intersection read, "Deer Creek Inn." A crew cab new Ford F150 pickup with four men inside stopped beside us. The driver leaned over and asked, "Do you guys need help?"
"No," the Lady beat me to a reply. "We were just trying to figure out what that is." She pointed with her see mores to the encampment.
"Order of the Antelope!" the driver cheered.
"You were right!" the Lady blurted out to me. "I thought you were kidding!"
Four sets of eyes were riveted on me. I did not say a word. I did not change my expression. In a moment the driver's arm reached for the sky. "Order of the Antelope!" they all cheered. They drove past us and turned up toward "Deer Creek Inn", adding their dust to the trail marking the route in.
Thank god the Lady didn't ask them if they belonged to the "Order of the Cantelope!", the ones who show up primarily for the drinking.
From what I gather, the Order of the Antelope is a well connected group of men who helped establish Hart Mountain National Antelope Refuge. Their annual get-togethers became legendary as noted in this
1994 Seattle Times article
. I expect the reason for the allowed continuation of these events is well placed political connections.
We continued down Bluesky Road to Post Meadows. The area was a mini Serengeti, alive with pronghorn.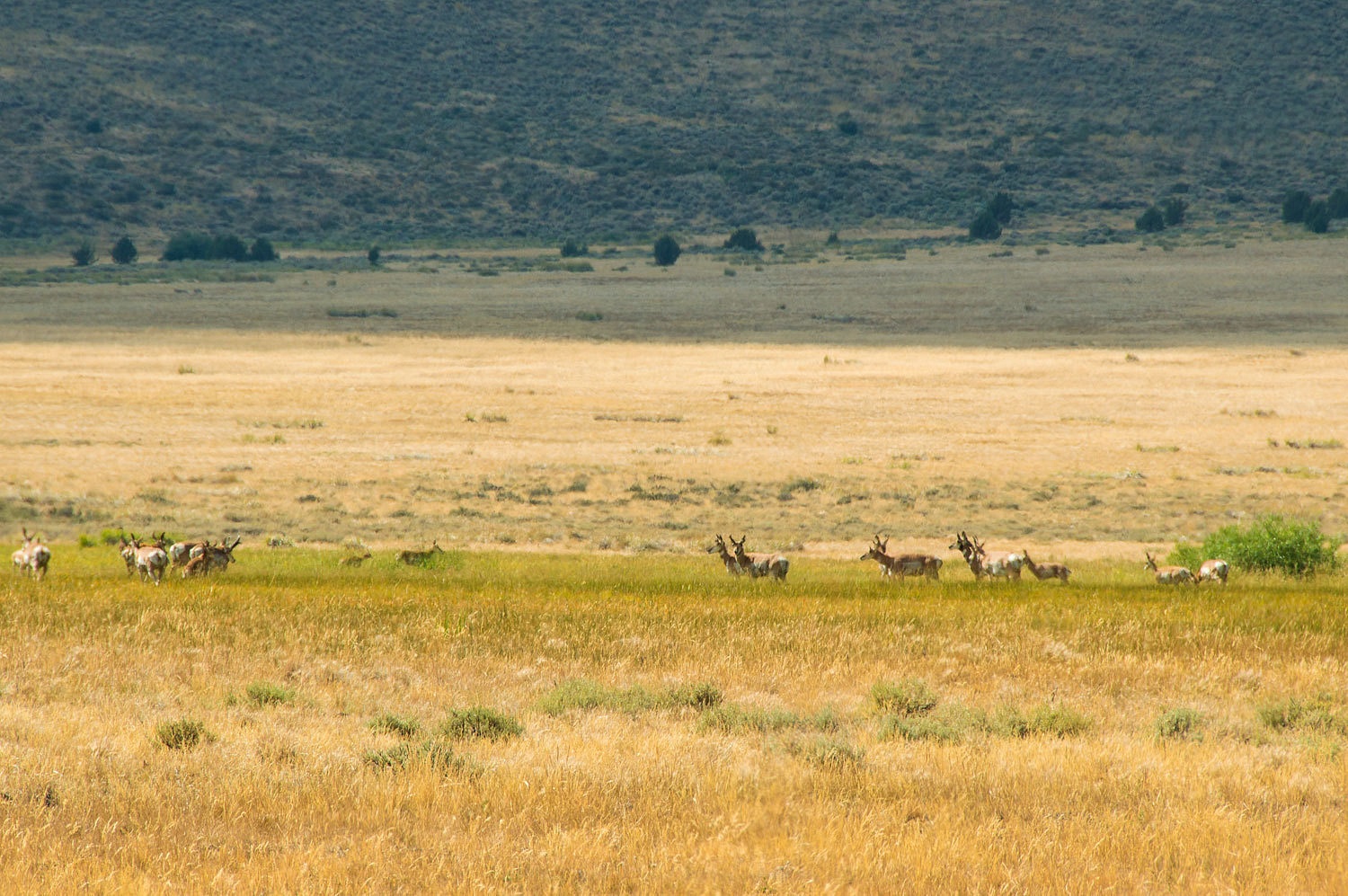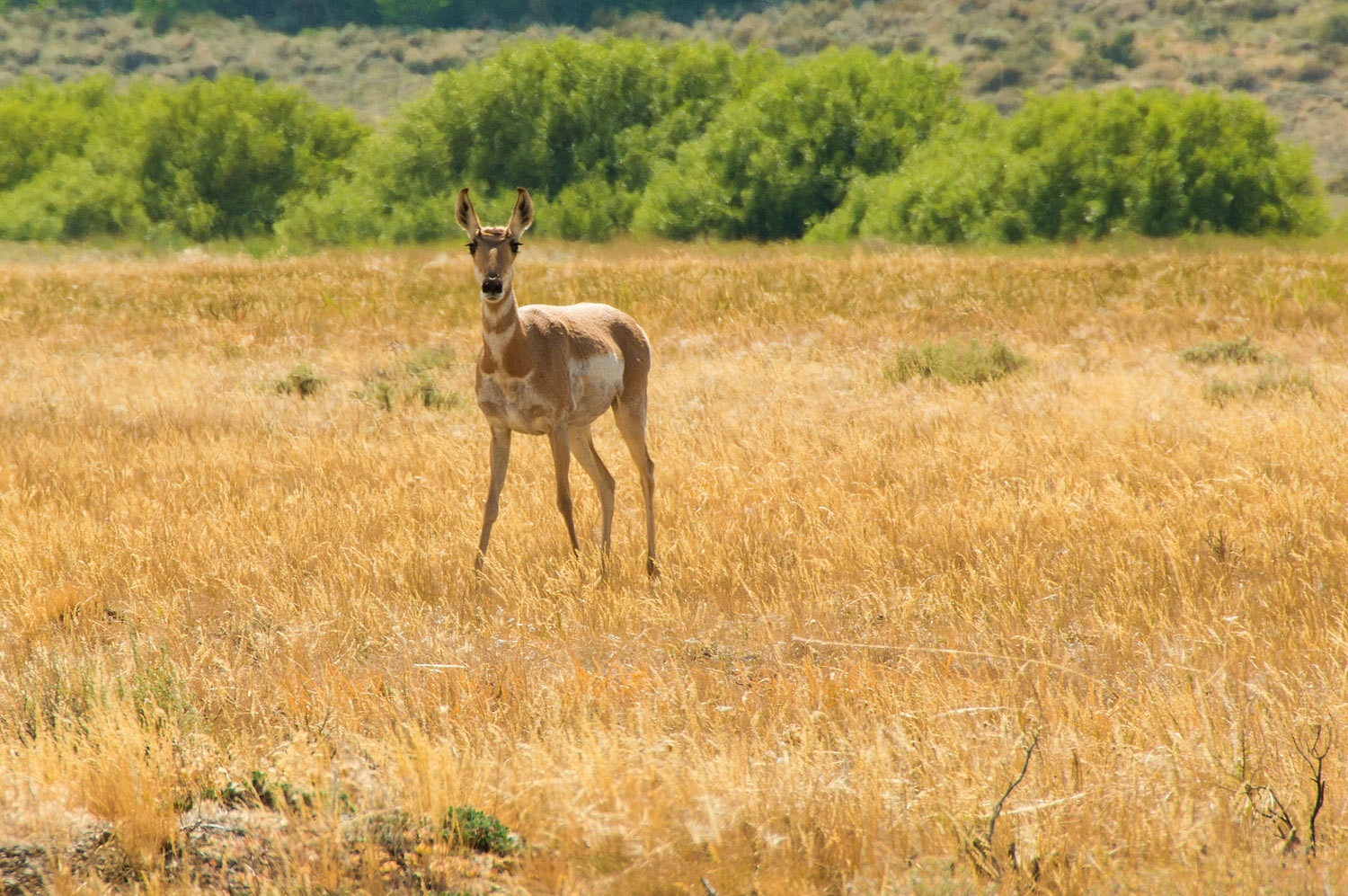 Sage hens with clutches of mostly grown chicks were seemingly around every corner.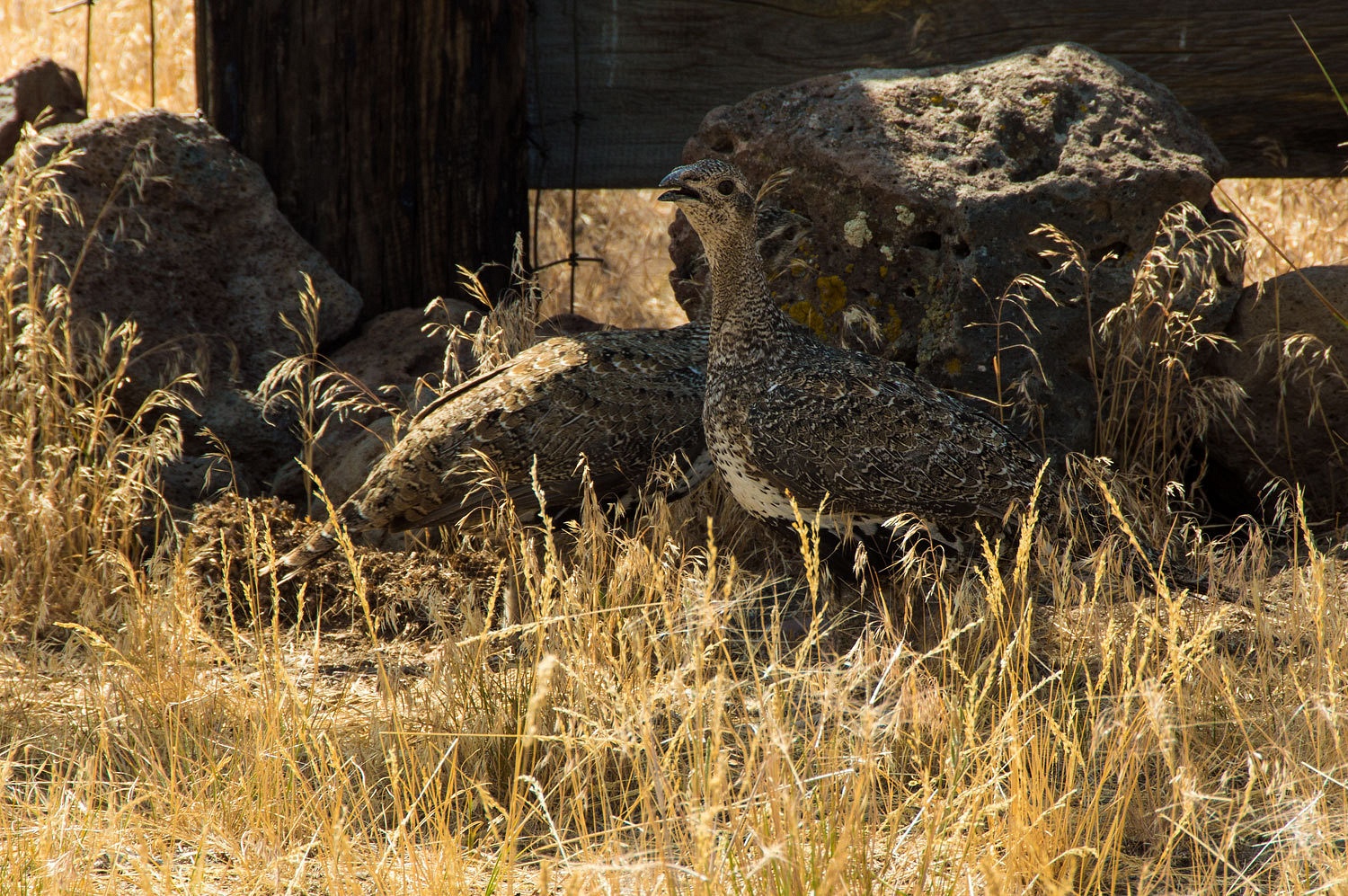 We left Post Meadows and circled back to
Hot Springs Campground
on a small 4x4 road. We encountered only one vehicle, a side by side traveling in the opposite direction. The two adult males were shirtless, both sporting remarkable, stunning, sunburns - most likely Cantelopes.
Our camper was sporting a new thick coating of dirt.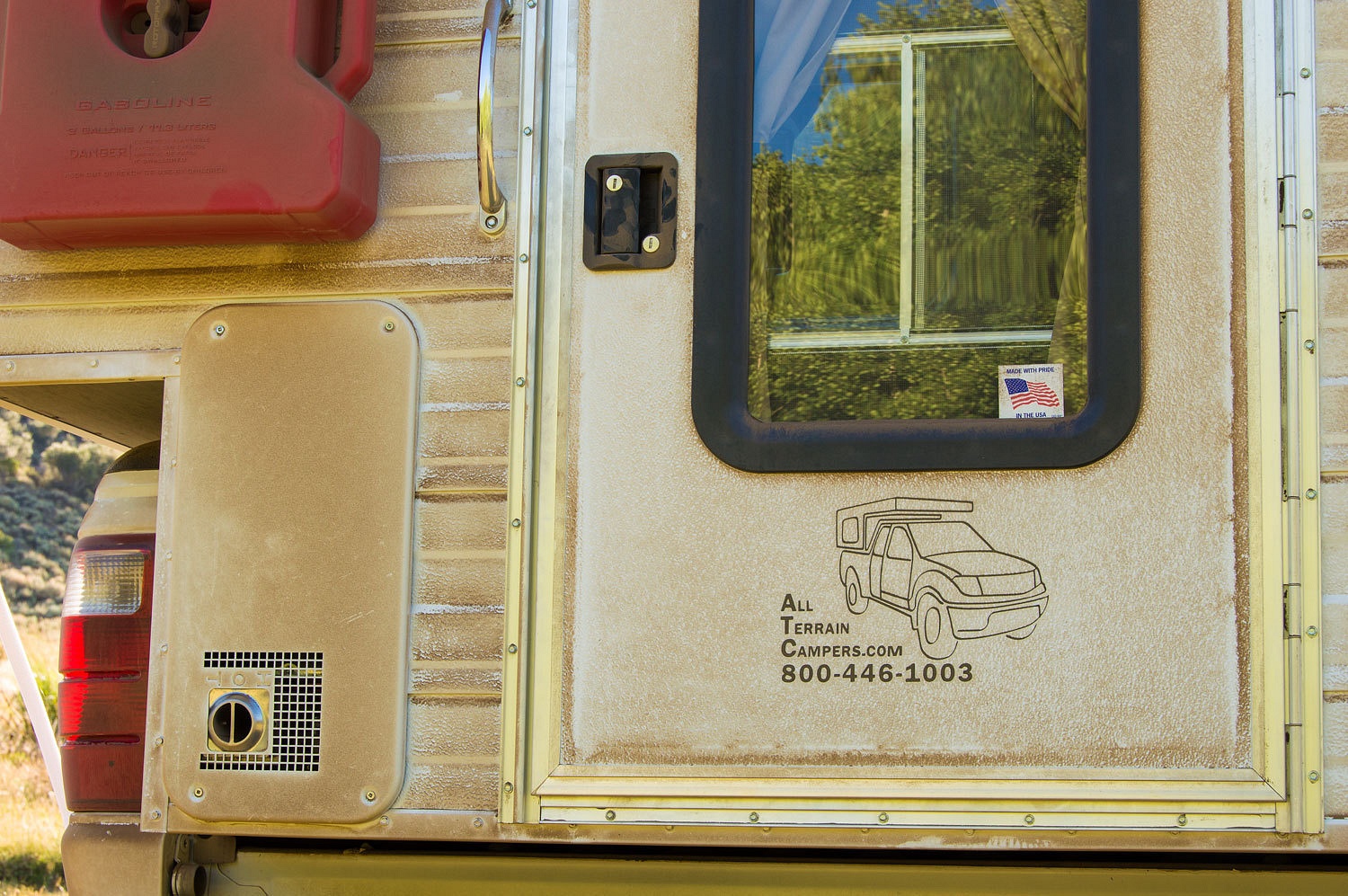 The mostly empty campground was peaceful, just the way we like it.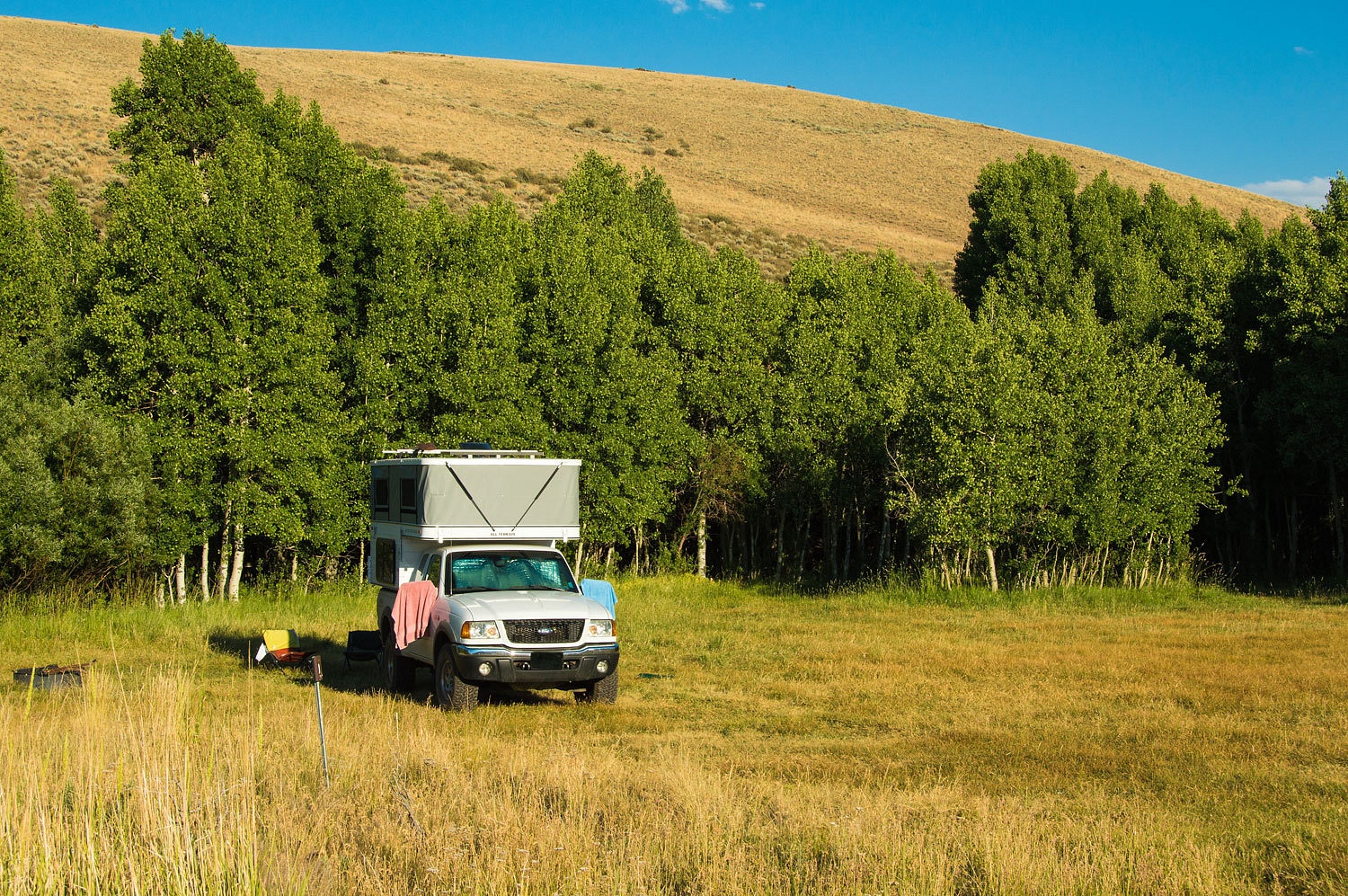 We toured the developed hot spring pool and the warmer undeveloped pool above.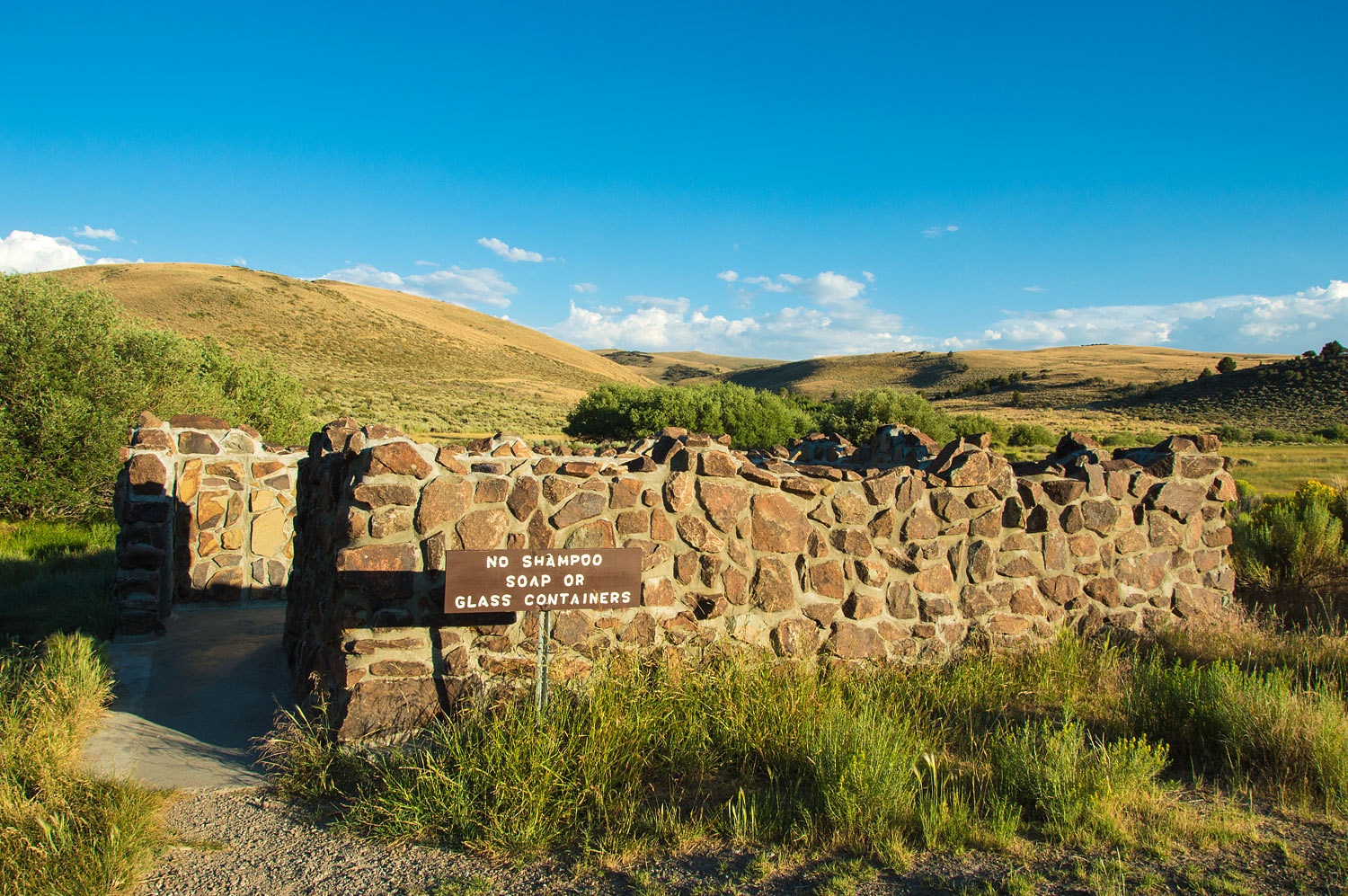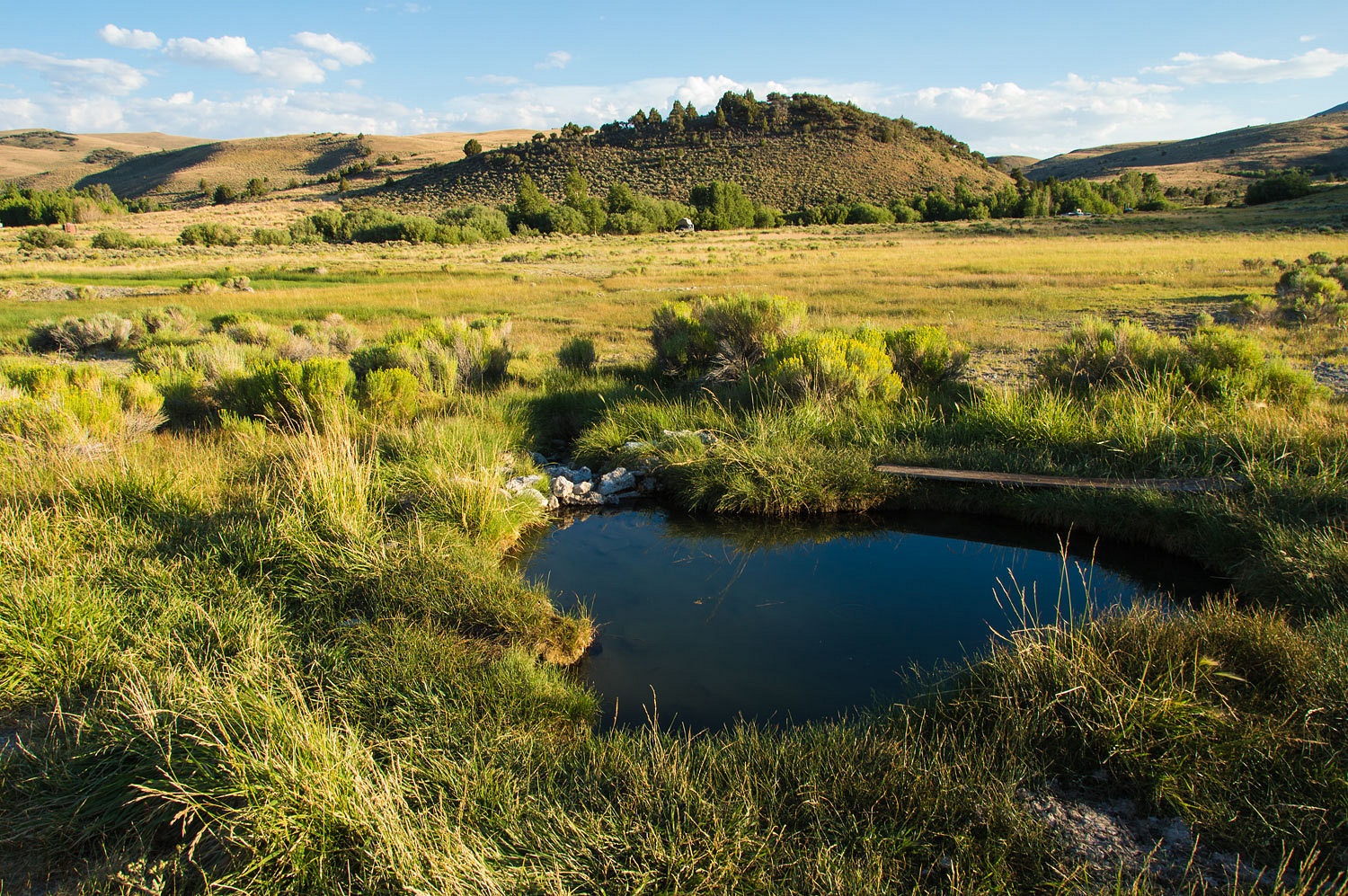 We were up early to watch the sunrise show.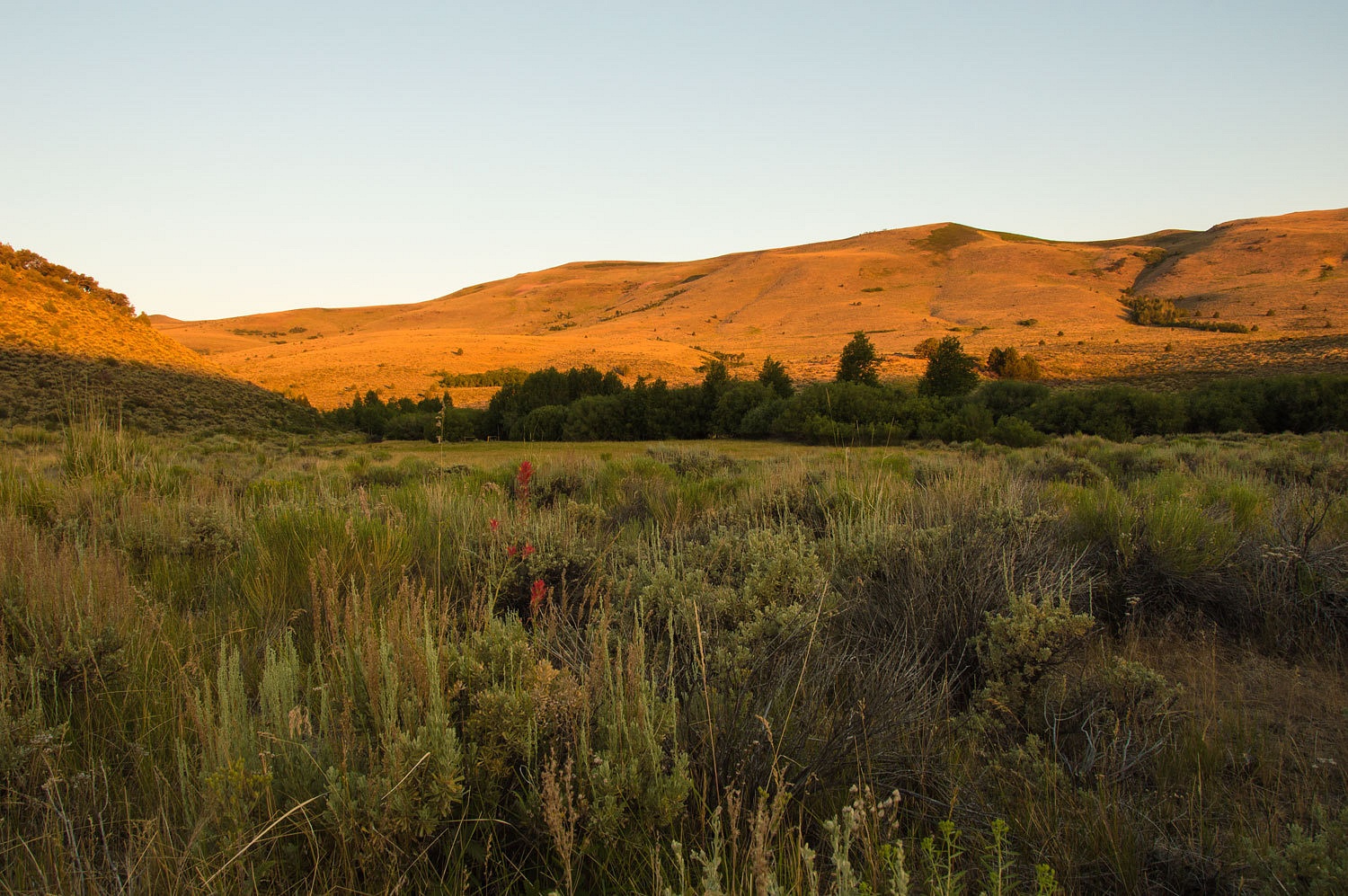 As we headed toward Steens, the speed goats (pronghorn) escorted us.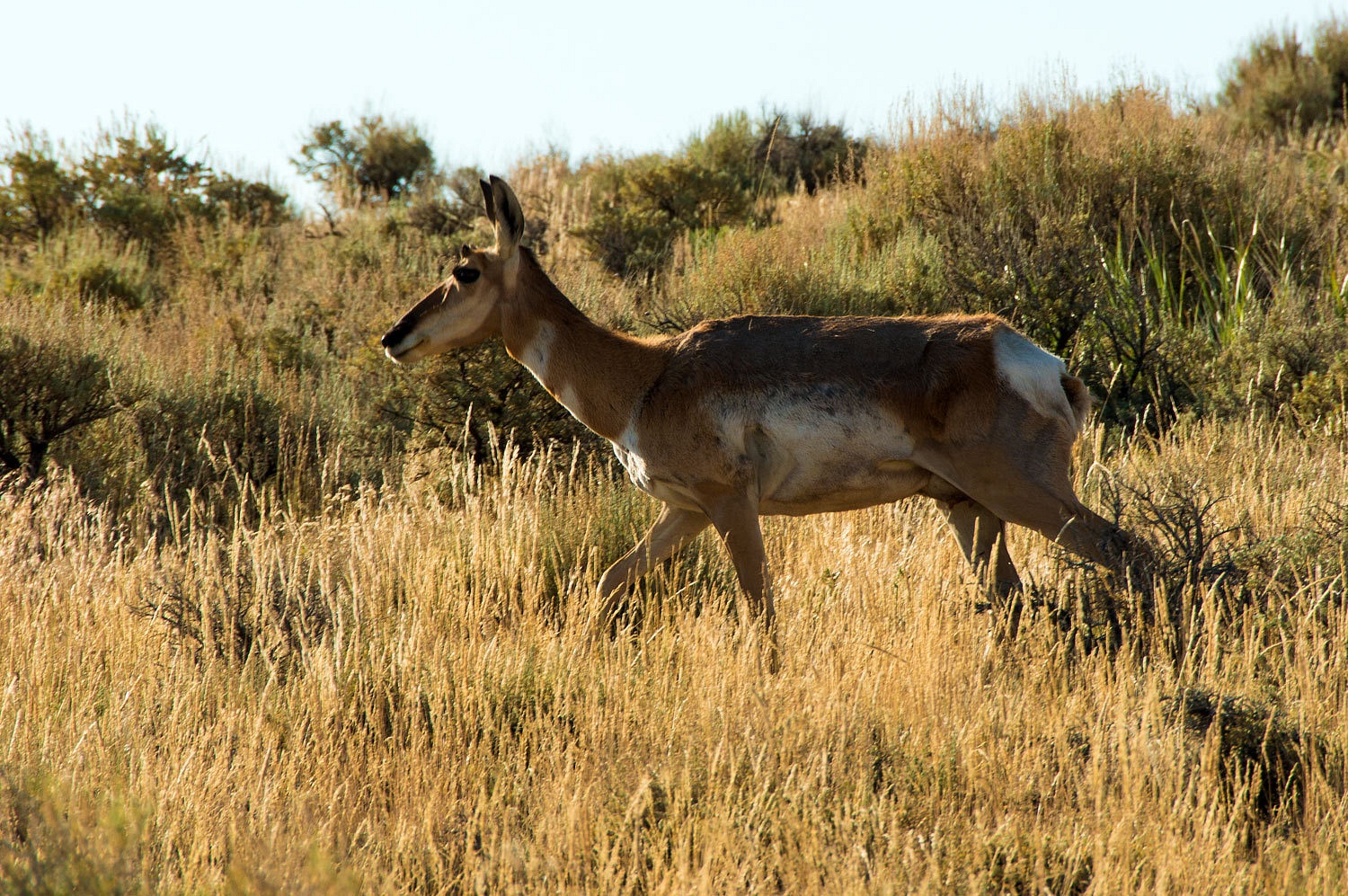 All motorized vehicles must carry the following equipment:
1) one shovel not less than 26 inches in overall length, with a blade not less than eight inches wide;
2) one water container of at least one gallon filled to capacity or a 2.5 pound fully charged fire extinguisher and;
3) one axe or Pulaski with a handle at least 26 inches in length and a head weight of not less than two pounds.
Besides being an incredible
"sky island"
in Oregon's Basin & Range country - a high country paradise, a tilted block mountain carved by glaciers into huge U shaped valleys - Steens Mountain's rocks also carry evidence of past major fluctuations in the earth's magnetic field. Steens' evidence is detailed in one of my favorite PBS Nova programs that can be found here -
Magnetic Storm
.
We made an early morning stop in Frenchglen.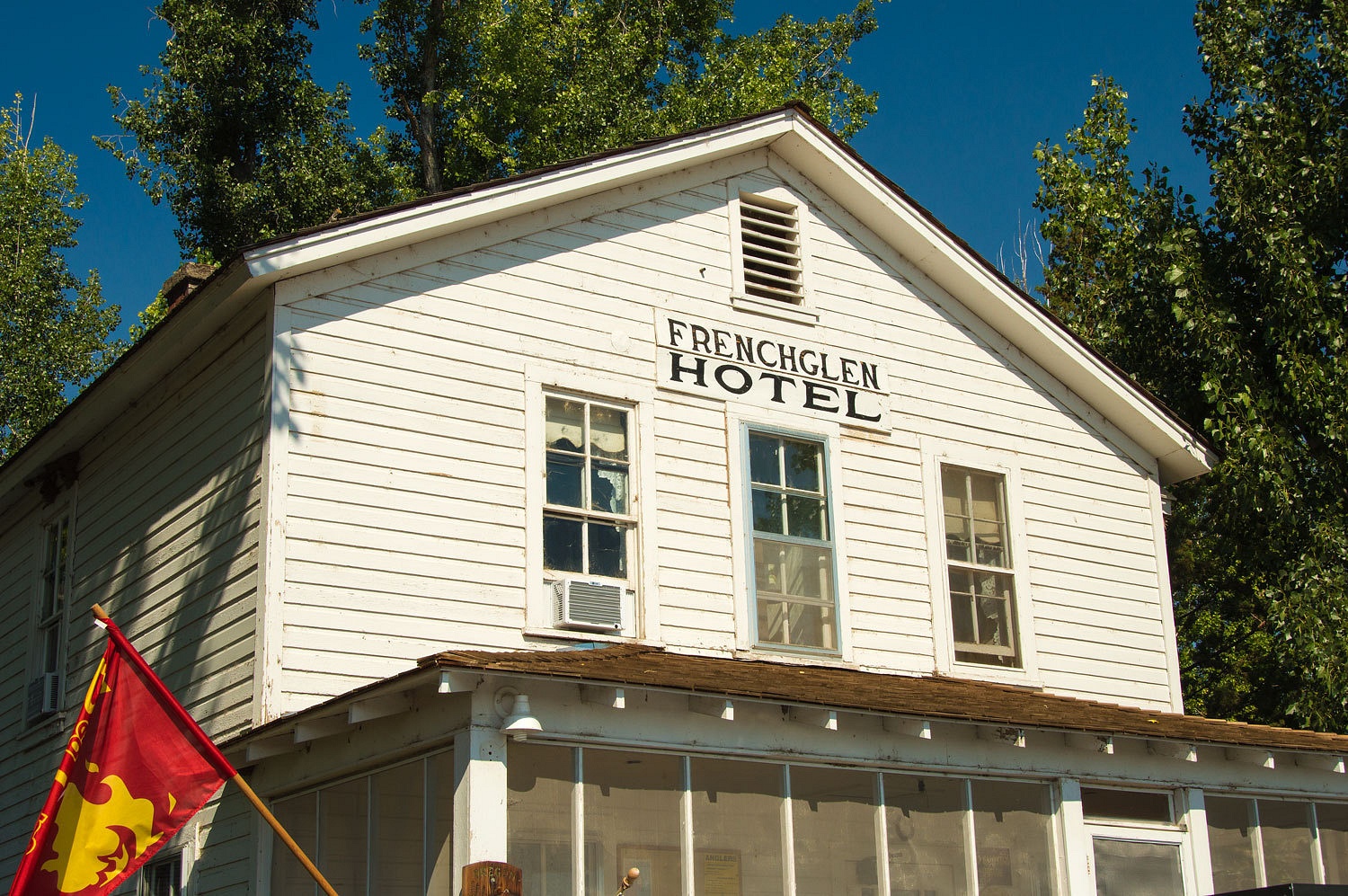 The hotel
still operates and serves evening family style dinners. We enjoyed a dinner at the hotel several years ago. The general store has a gas pump but did not open until 9:30 am. We waited and walked around Frenchglen. Although a wonderful small town, that burned up about five minutes. Oregon requires an attendant to pump gas, no self serve. A car pulled in front of the store. An older woman with two crutches got out and slowly, very slowly, made her way up the two stairs to the board walkway. She fumbled with the keys to the door. I took note of the distance to the gas pump and number of steps down. She would not make it. There was no one else in the car. She opened the door and made it inside. The sign in the window was turned to "Open." I entered and asked about getting gas.
"You'll have to pump it yourself. Can you work the pump?" she asked.
"Yes ma'am, I'll have no problem pumping the gas," I answered.
"Good!" she said. "Come in and tell me how much money the pump says when you're done."



We stopped at Kiger Gorge overlook.
We took the spur road over for the short hike to the top of Steens Mountain and enjoyed the smoky view down into the Alvord Desert.
Two shepherds were moving a band of sheep into the high country below Jackman. It took a while for the bleating and baaing to quiet down before we dropped into deep sleep. It was Friday night.
We needed to be in the Winds Monday night, campground reservation near our trailhead. Our route was a bit open to whim and how we felt. The smoke was driving us out of eastern Oregon. We decided on two lane to Ketchum, Idaho. We have enjoyed the Trail Canyon Road up and over the Boulder Mountains many times and figured we'd find a dispersed campsite along Summit Creek on the east side.
We got a early dinner and some fresh produce at the market. Seems I also remember a great cup of ice cream from a street side vendor in the square. The Elephants Perch is a long time outdoor shop in Ketchum. In the evening we made the drive over the pass and found a nice dispersed site right where we figured. We took a long walk in the night.
Morning came.
I suggested venturing up Granite Creek in Wyoming's Gros Ventre Mountains for a place to spend Sunday night.
Continued in Part Two, please click
Here