please remember you can click on a photo to see a larger version
Our love affair with the Wind River Range began on 27July 1996, the beginning of our first backpack trip into the range. I can still remember, on the second day, cresting a pass and an unbelievable vista unfolded before me. I was speechless. Several more trips only heightened the attraction. We were hooked and as we would being planning each coming year's summer trip, in the background was always a seductive voice whispering, "Into the Winds."
Past Wind River Range trips were prior to our camper.
This year our camper would give us the flexibly to stay near trailheads and make exploratory excursions into new country with day trips, open more doors, be tempted by new special places, let that seductive voice have its way with us. The backpacks were also along; they are still a big part of our lives, not forgotten but unused for a couple of years because of medical issues. We were ready and were starting out with a five day backpack trip into familiar country but entering via a new route.
Several large lakes, impounded by moraines, lie at the base of the Winds, marking the end of long glacially carved gorges; gorges on a Yosemite Valley scale. Our first trailhead was at New Fork Lake.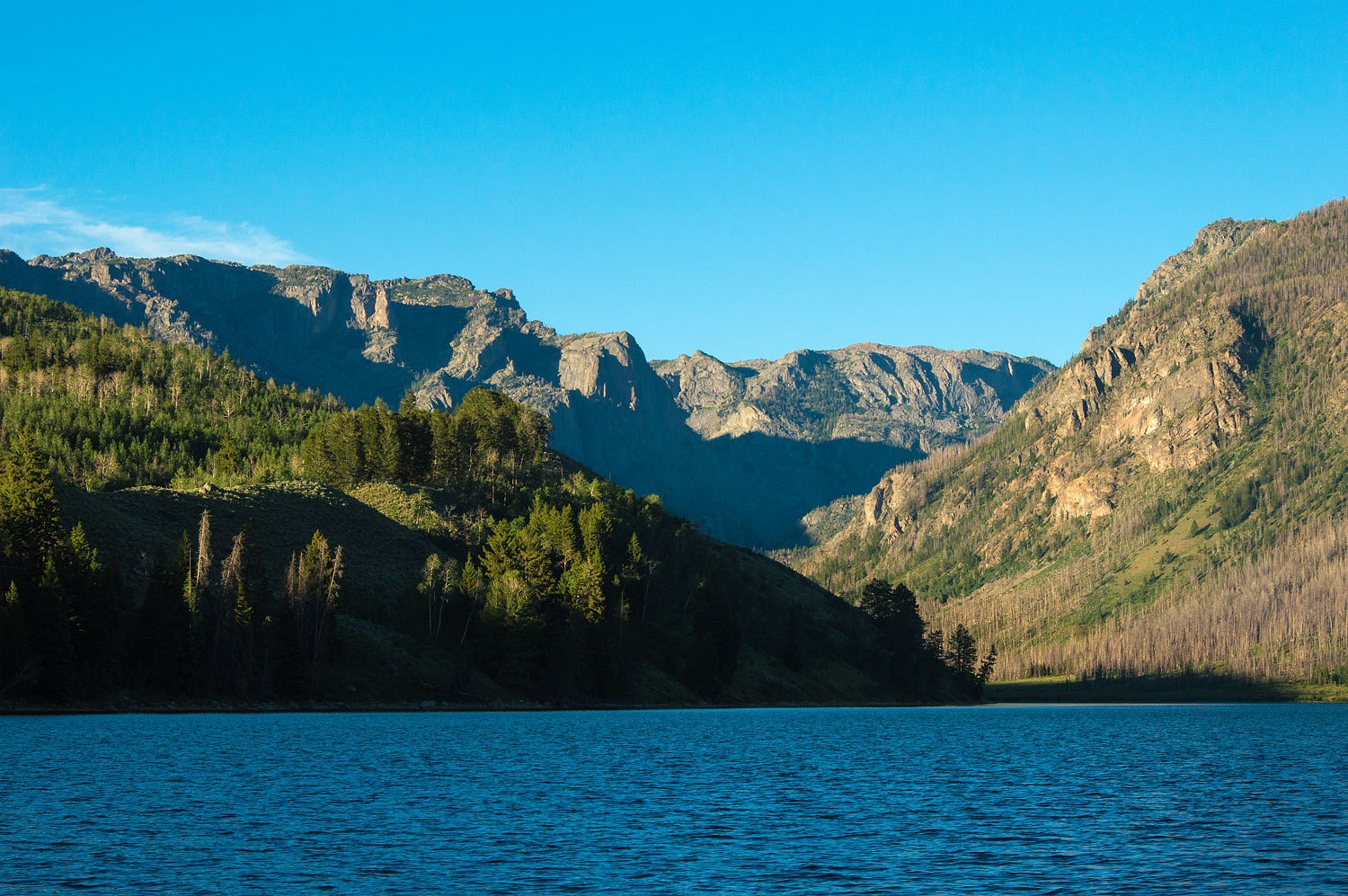 As we did our final equipment check for the next morning's start, we watched canoes in the evening light.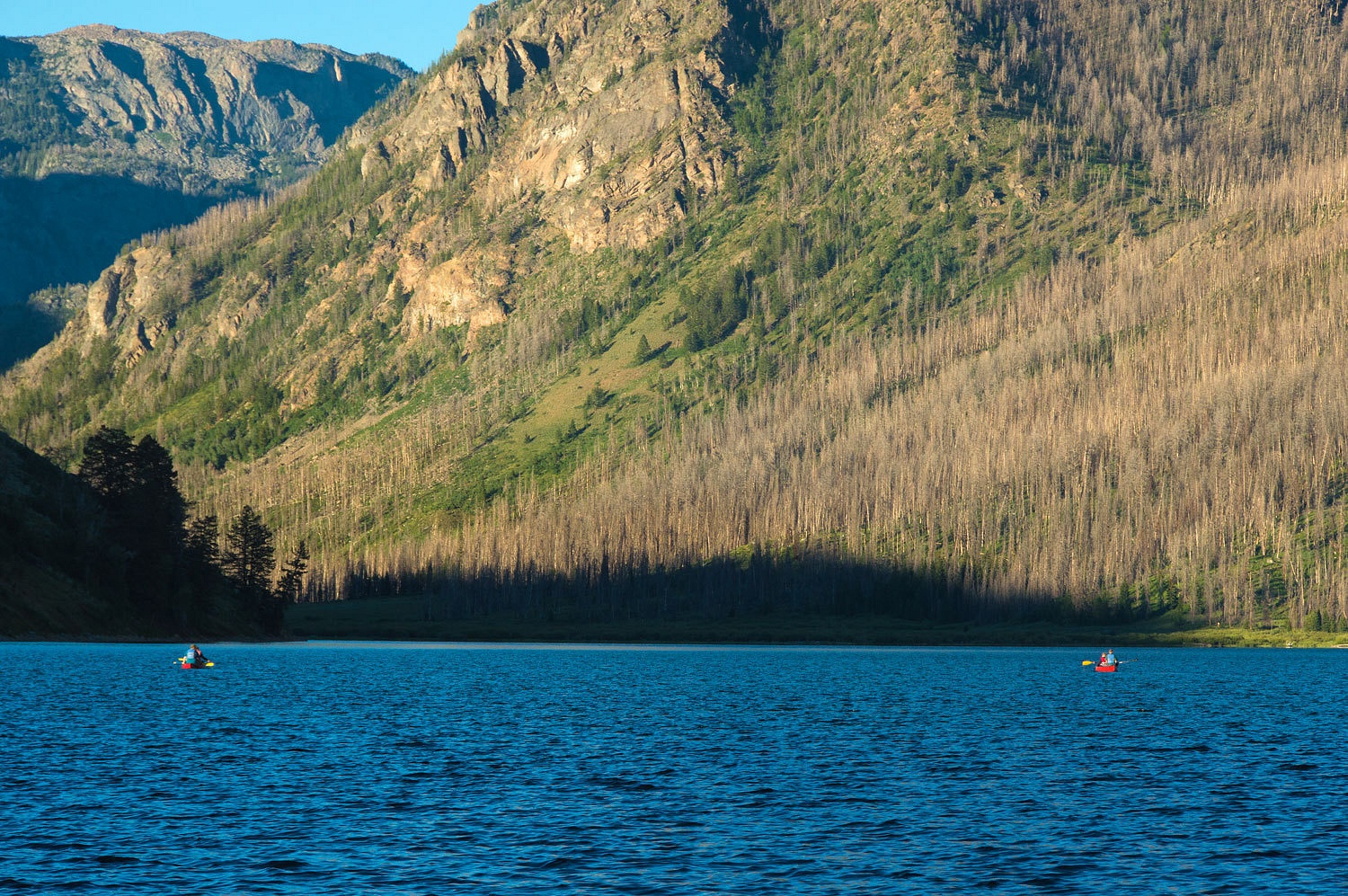 We were heading to Penny Lake. We had visited Penny with my cousin, the Big Guy. A young Wisconsin college boy, he dreamed of visiting big mountains, real mountains. He took a summer job with the Forest Service in 1962.
He traveled by train to Rock Springs and bus to Pinedale. Summer was spent with a partner spraying pesticide against bark beetles and on off days, chasing down every story they heard about high country trout. Now a retired university professor and fly fishing author, he tells the story of his 2001 return to Penny Lake in his book
Quest for Home Waters
.
We worked our way up the New Fork River gorge, requiring two fords of the river prior to reaching New Fork Park.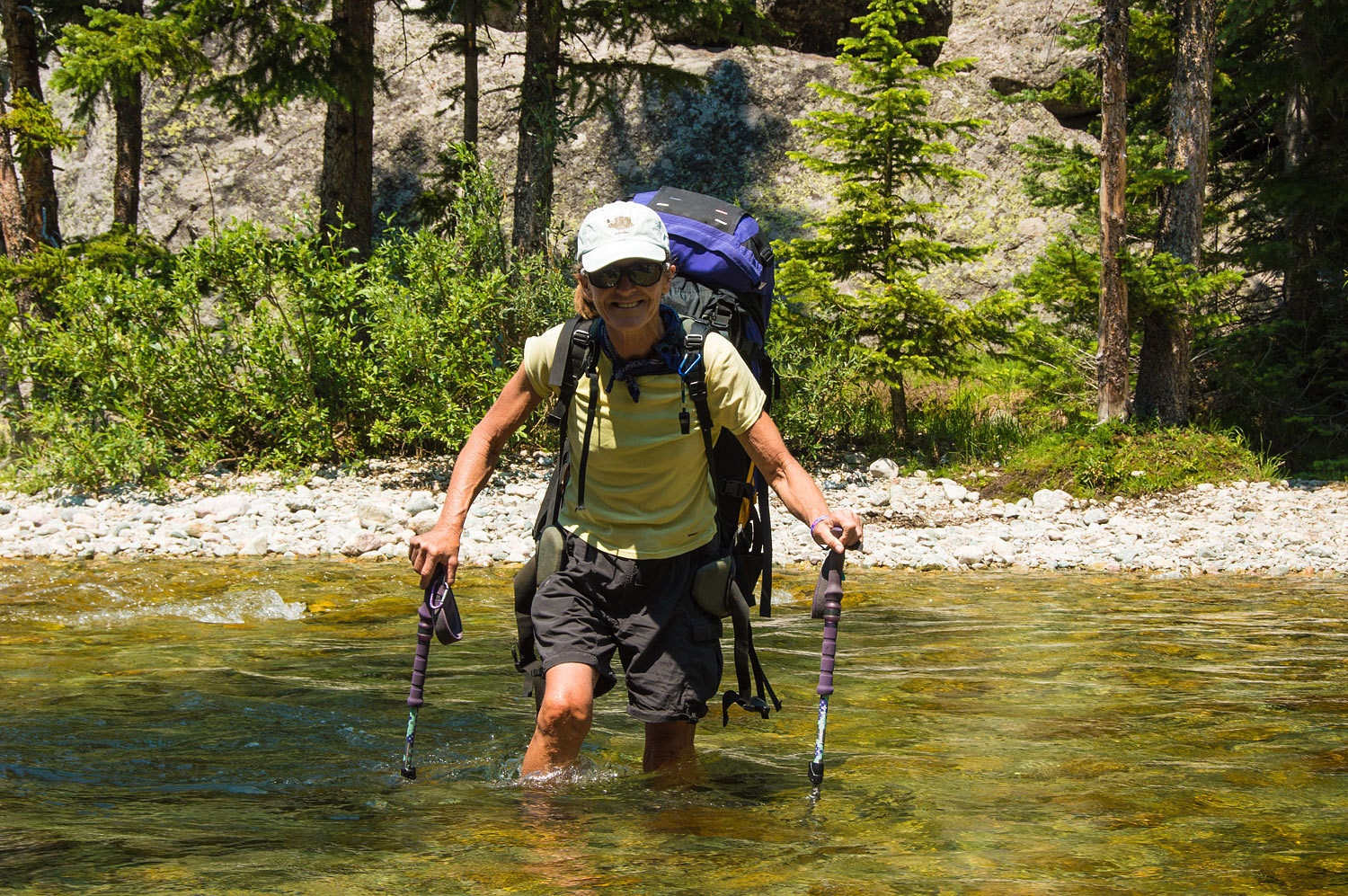 Mid afternoon found us about 8 miles in and at the north end of New Fork Park. We found a secluded, out of sight spot across the river to make our first camp. We would tackle the 3 miles and 2000 foot climb to Penny in the morning. We couldn't just hike by this place. We needed to experience it.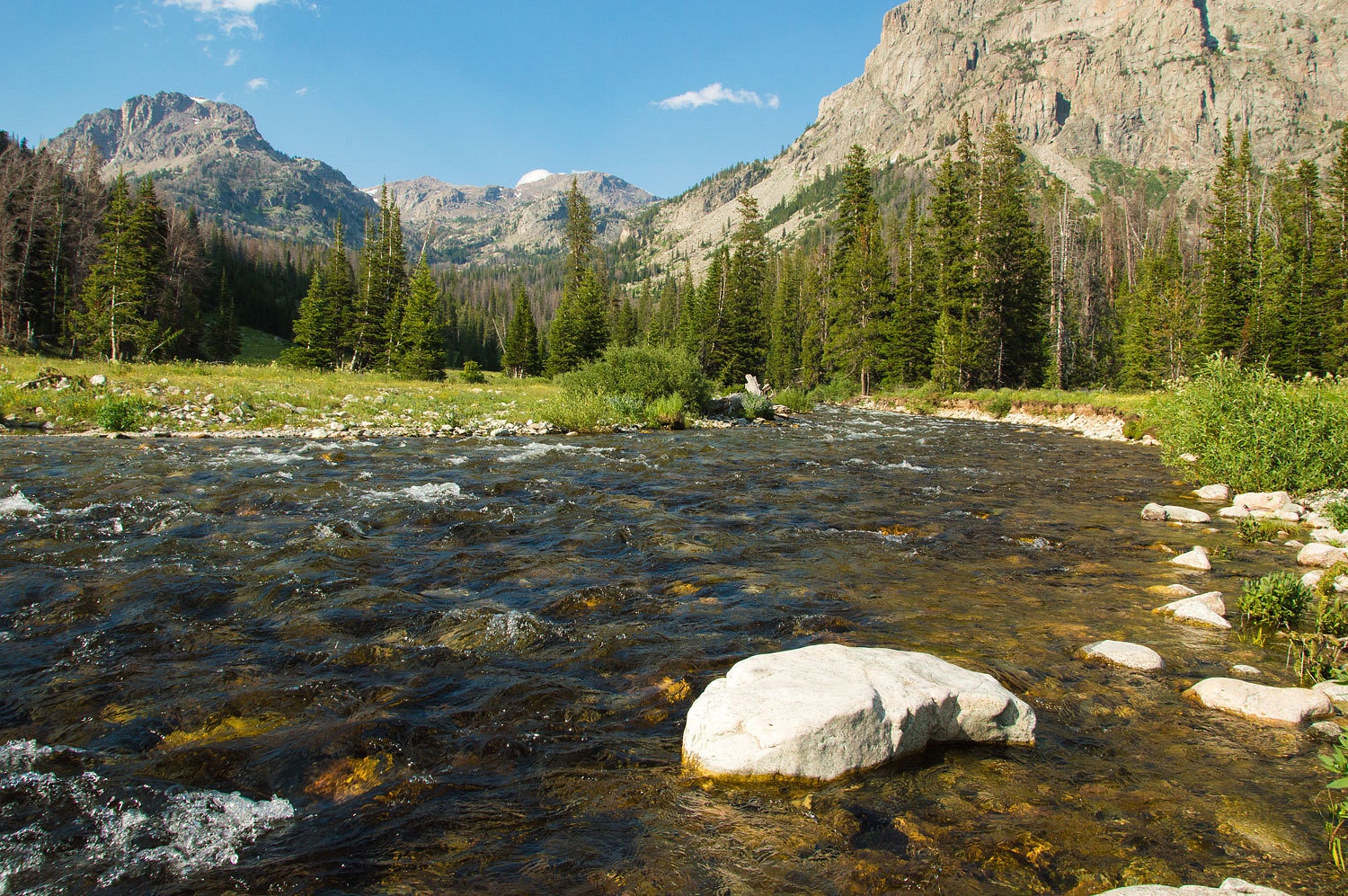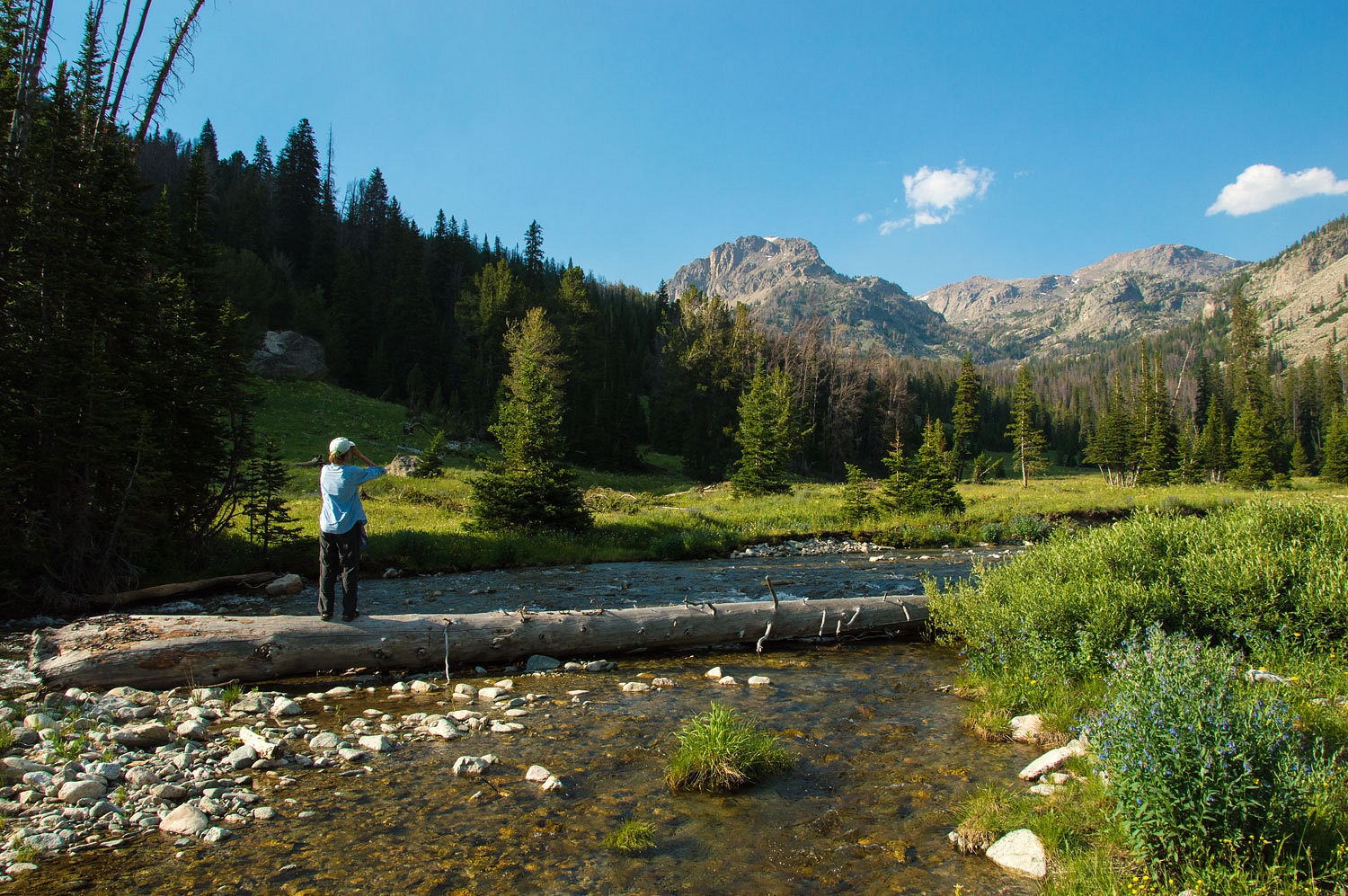 The small piece of the north wall of Palmer Canyon visible from our camp left me, again, speechless.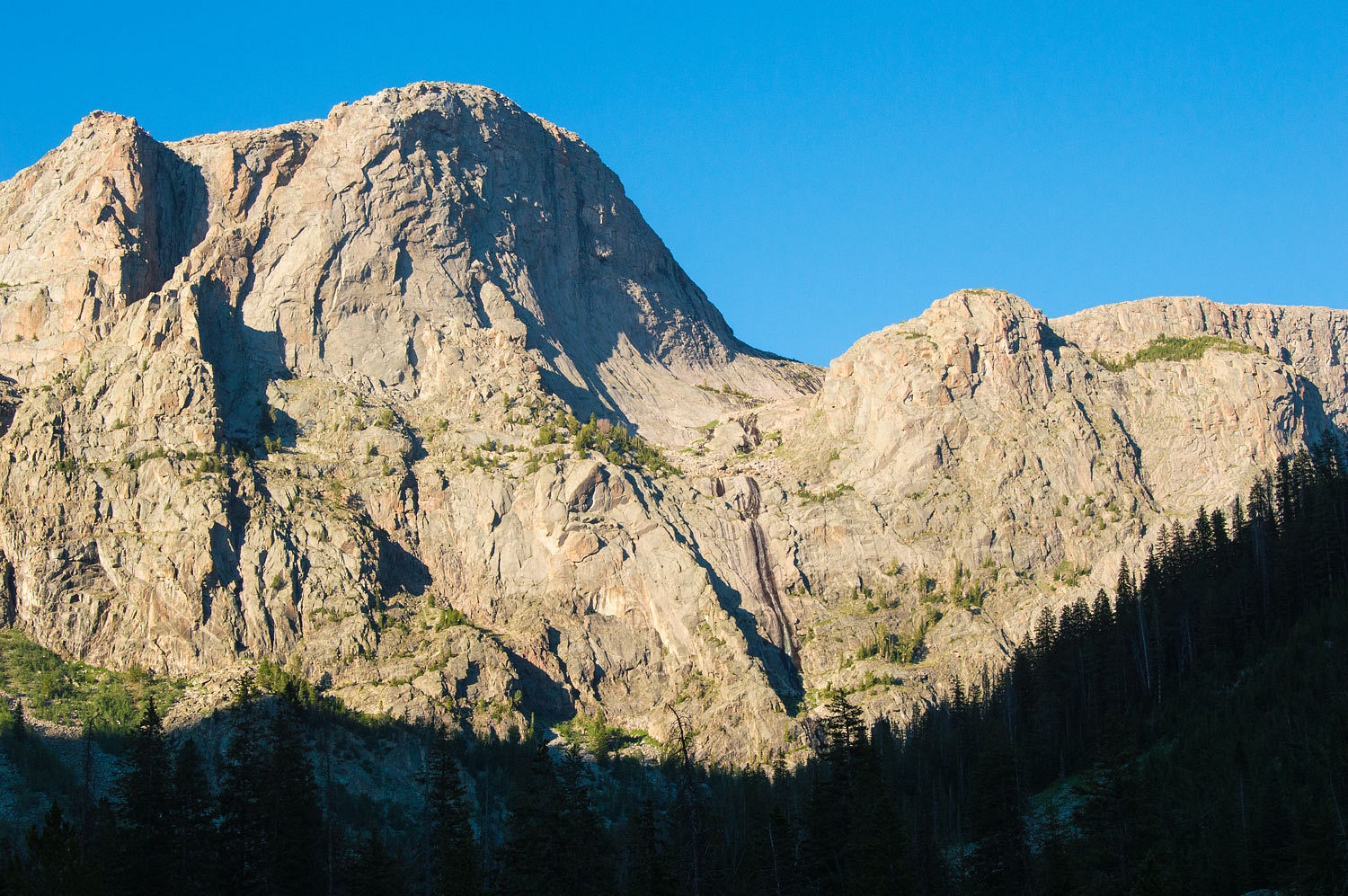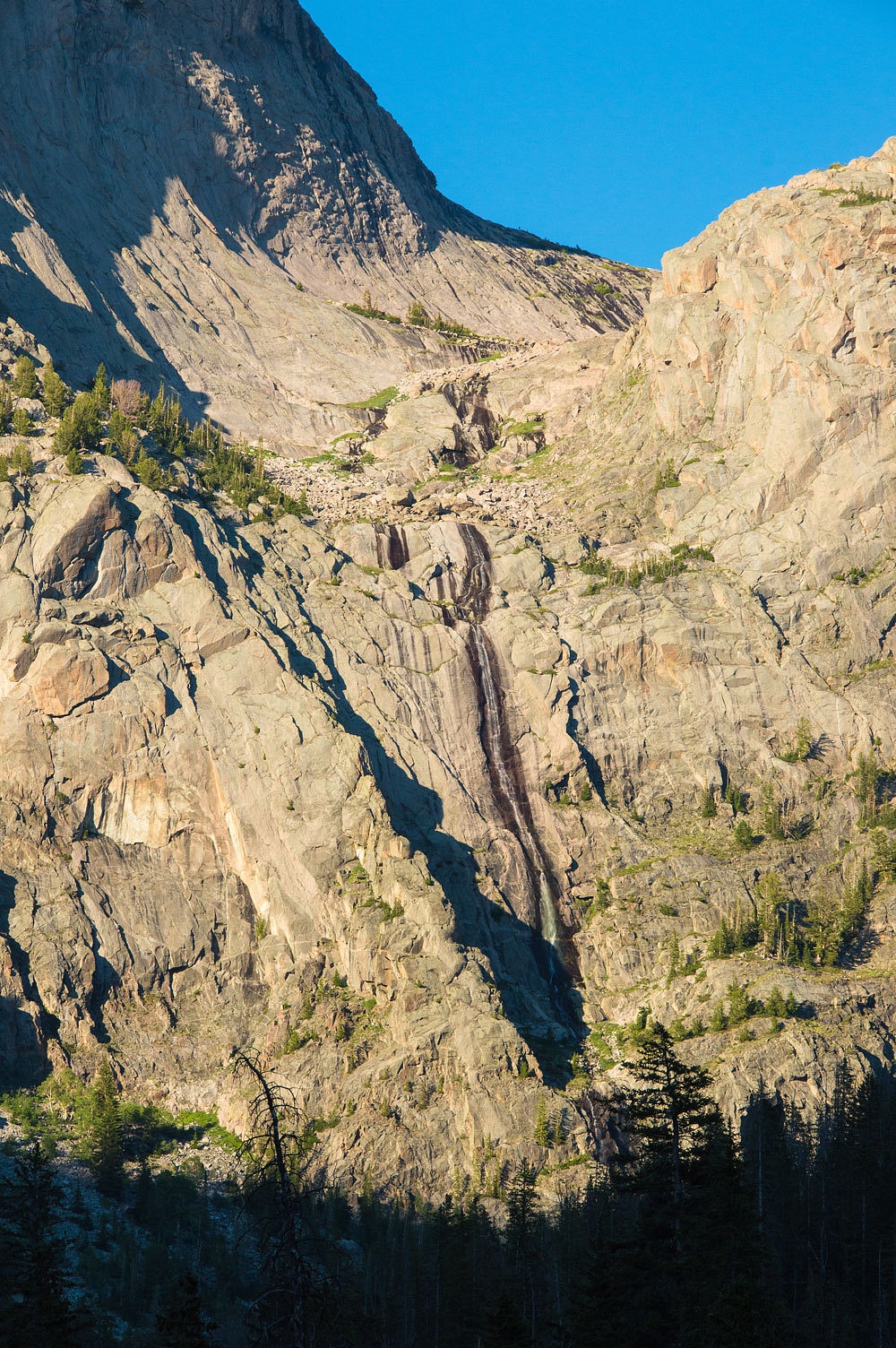 We wandered and explored the broad meadow in the late evening................................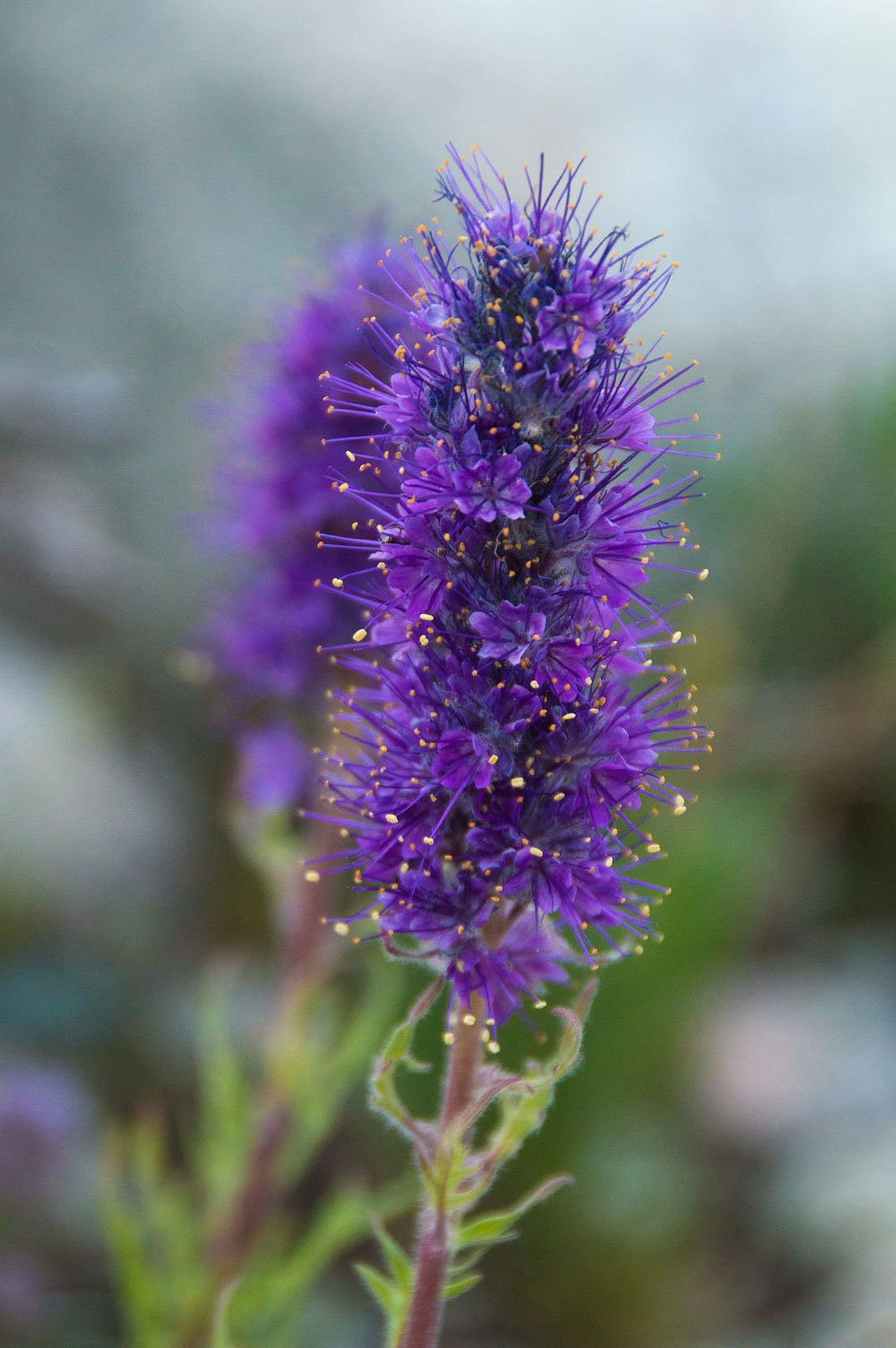 ......................................and watched the shadows climb the west facing walls.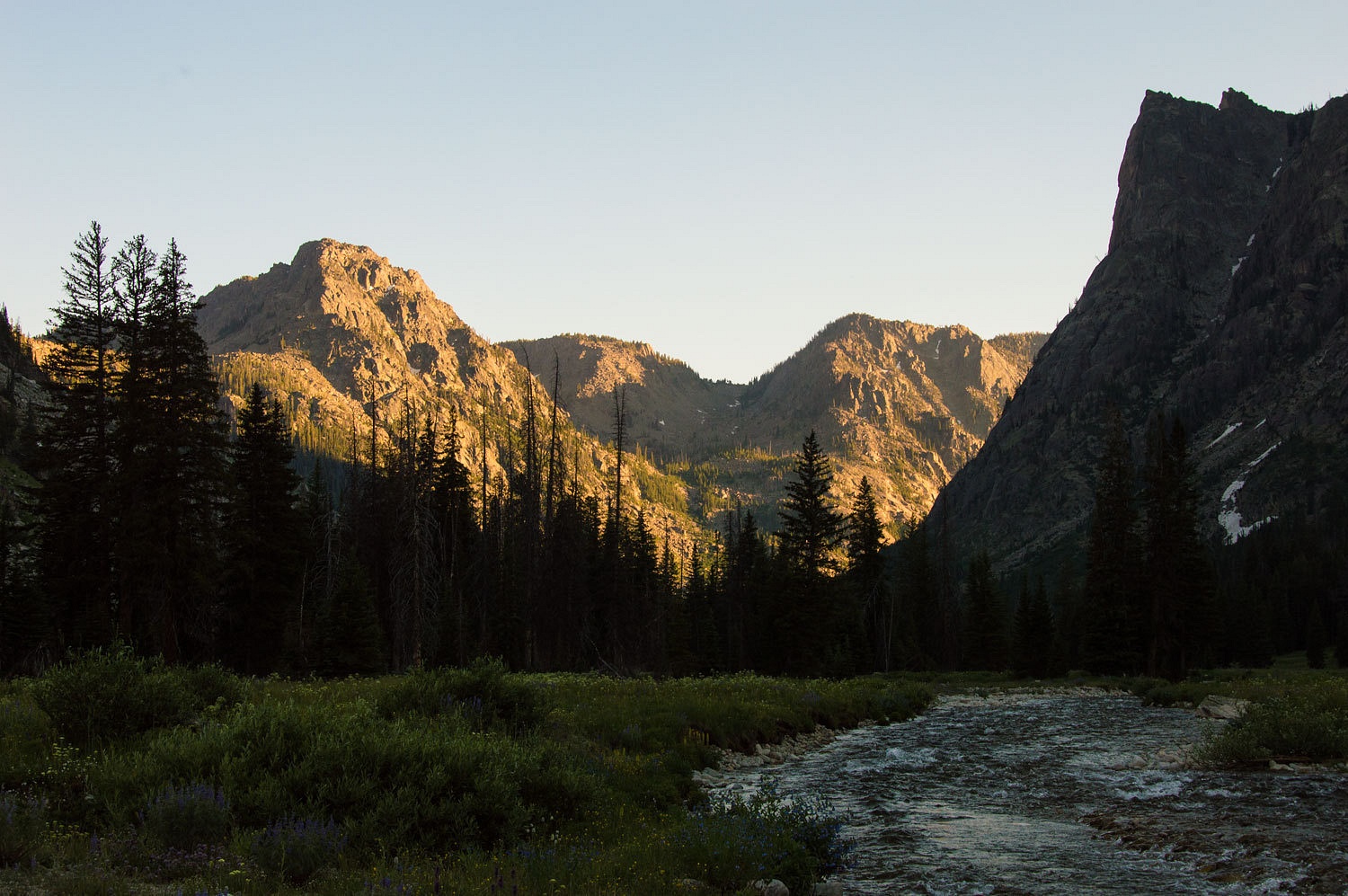 We climbed into our tent and down bags. It was still twilight outside at this more northern latitude. We dropped off to sleep only to be awakened at 10 pm. A small bird had perched in a spruce tree outside our tent and erupted into song, a little opera singer, announcing to the world the end of another wonderful day.
We relaxed in the morning with our first cup of Mudd Coffee as we walked along the river. With the high canyon walls to the east, it would be awhile before we saw the sun. Breakfast and pack up chores done, we forded the river and returned to the trail. Three drainages come together just above New Fork Park - the New Fork River, Dodge Creek and Palmer Creek. Each of these are glacially carved wonders. Our route was to the east and up Palmer Canyon. We started out with three more fords of ice cold rivers and then hiked along the base of the soaring granite cliffs. After the final ford of Palmer Creek we climbed to the south and out of Palmer Canyon.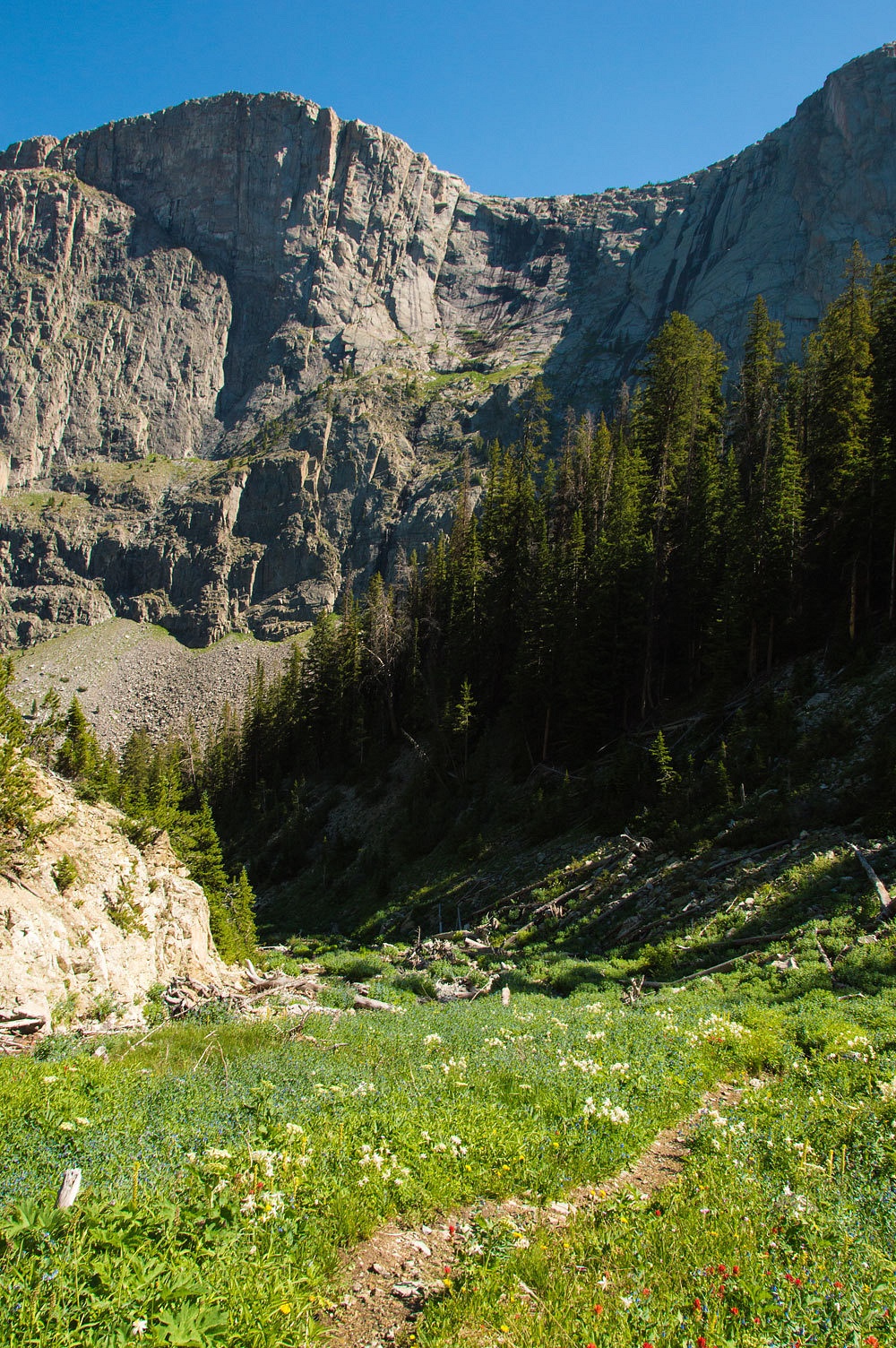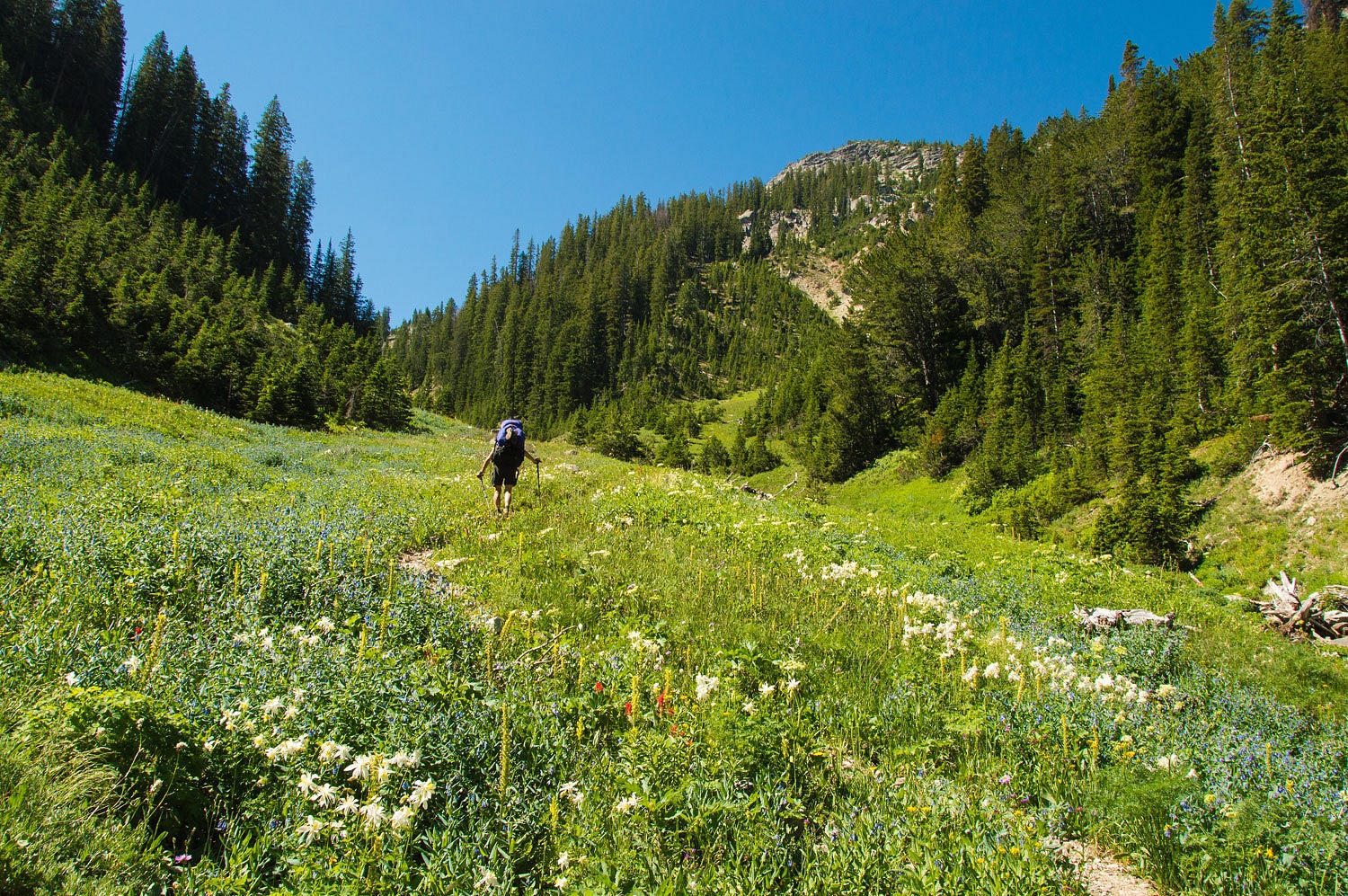 In one side hill meadow we passed through bluebells up to our armpits. We thought of the debt we owed to the
Wilderness Act of 1964
and its preservation of places like this. Places that the act defines this way:
"A wilderness, in contrast with those areas where man and his own works dominate the landscape, is hereby recognized as an area where the earth and its community of life are untrammeled by man, where man himself is a visitor who does not remain."
Ours was a trip celebrating the 50th anniversary of this landmark legislation.
And, it was appropriate we were visitors in the Wind's
Bridger Wilderness
, one of the first Wilderness areas designated in 1964.
President Lyndon Johnson said, when he signed the bill into law:
"If future generations are to remember us with gratitude rather than contempt, we must leave them something more than the miracles of technology. We must leave them a glimpse of the world as it was in the beginning, not just after we got through with it."
After visiting the Wind River Range in 1923, Bob Marshall said, "I had the feeling that all of man's ingenuity could not create anything to equal the world of untamed wilderness."
We celebrated this small glimpse we have left of "the world as it was in the beginning," and these small "untrammeled" pieces of landscape and "communities of life". We celebrated "the world of untamed wilderness". We also celebrated that we, as a nation, every once in awhile get something right.
This morning's hike up to Penny was one of the most pleasant we could remember. It was a good celebration.
It was not without apprehension that we returned to Penny. That day back in 2001 is still a vivid memory. I remember I caught six trout, heavy brookies, after a full day of fishing. It was challenging, but the reward was worth it. I looked at it as one of my best days fly fishing. There was danger in this return. Would Penny be the same? Perhaps it is best not to mess with memories.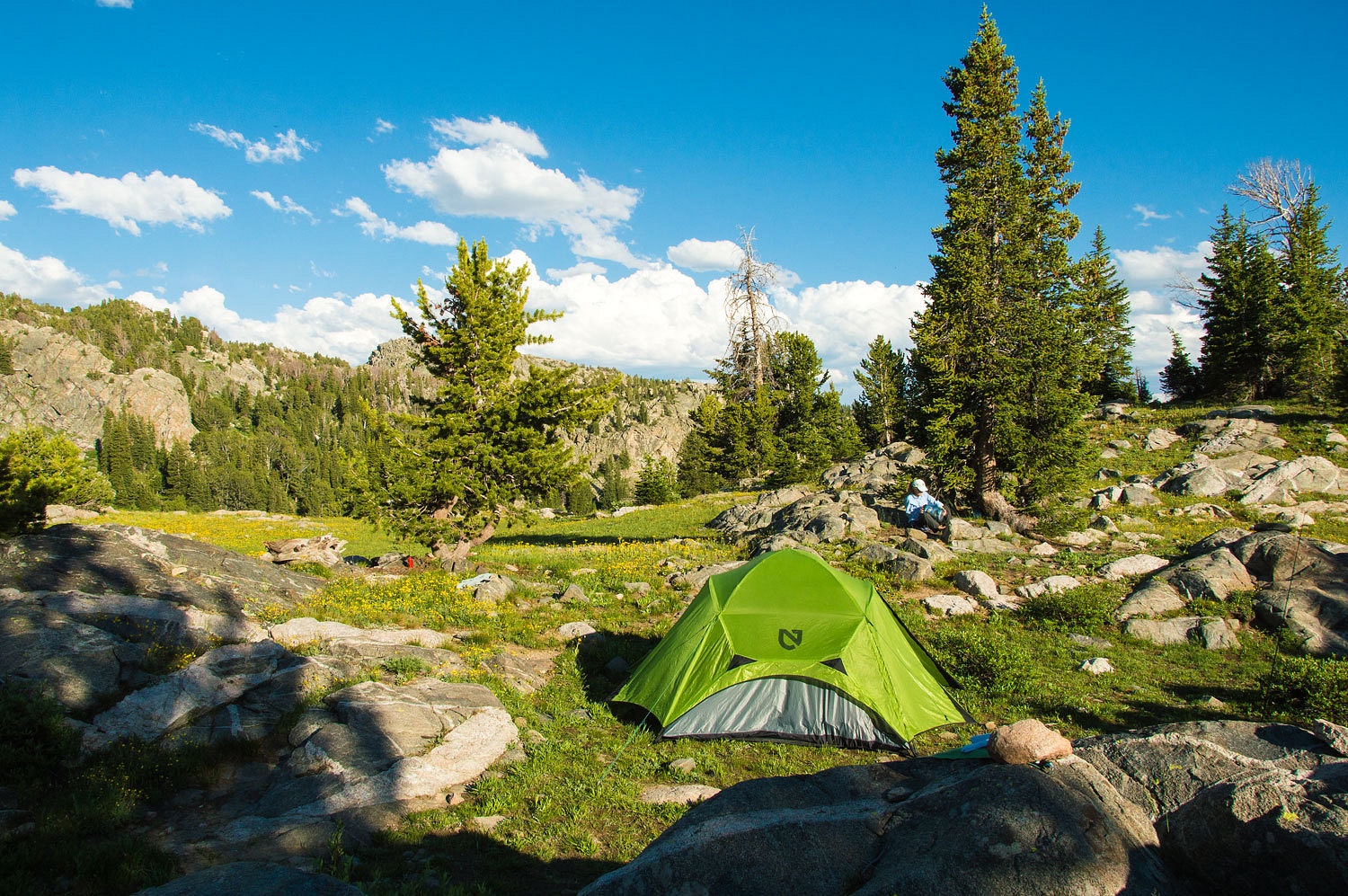 The Lady insists that all housekeeping chores be completed prior to anything else. Not a bad habit. Water was filtered. A place to stash the bear canisters was found. We designated two spots for cooking, an appropriate distance from the tent. Then it was time. I pulled my vest from my pack and removed my fly rod from its tube. I had already spotted two cruising trout while filling the water bag.

It was early afternoon. I started with nymphs fished deep as I saw no insects on the water. Nothing. Not to worry, Penny's trout are hard to get. That was the lesson last visit. I moved around the lake to the side with shadow. There were a few terrestrials on the surface, this being the lee side of the lake. I switched to an size 16 ant. A small brook around 12 inches nailed it. These were brooks as before but smaller. The second trout several minutes later was larger but godawful ugly. A skinny old male, big head, and huge mangled hooked jaws.
"That is ugly!" the Lady said. She was following with the camera.
"No picture?" I asked, the brook in my hand under the surface.
"I can't. Something is wrong with that fish." the Lady walked away and took her position on top a high rock. She informed me of approaching cruising fish. They looked but the ant would no longer provoke a strike. I moved to a sheltered cove. I saw a few adult caddis on the surface. The wind was calm, the water crystal clear, difficult conditions. I found a finely dressed caddis fly in my box. I tied on a new longer tippet. A trout approached. I dropped the fly about six feet ahead of it.