please remember you can click on a photo to see a larger version
It was Friday morning. The morning was clear. Would the weather hold? Of course not, but what did we care? We were in the mountains, home; that alone was more than enough. After the slow rough ride up the road, we were back at the Glacier Lake trailhead.
The trailhead is at the head of Rock Creek's glacial valley. Hanging valleys were above us with two cascading creeks tumbling, falling down the steep canyon walls. There are high basins above us and we must go there. The trail books and guides on the route to Glacier Lake stress that this is a steep climb, two thousand feet of elevation gain in two miles. We found it a remarkably well laid out trail with a consistent grade that easily got the job done.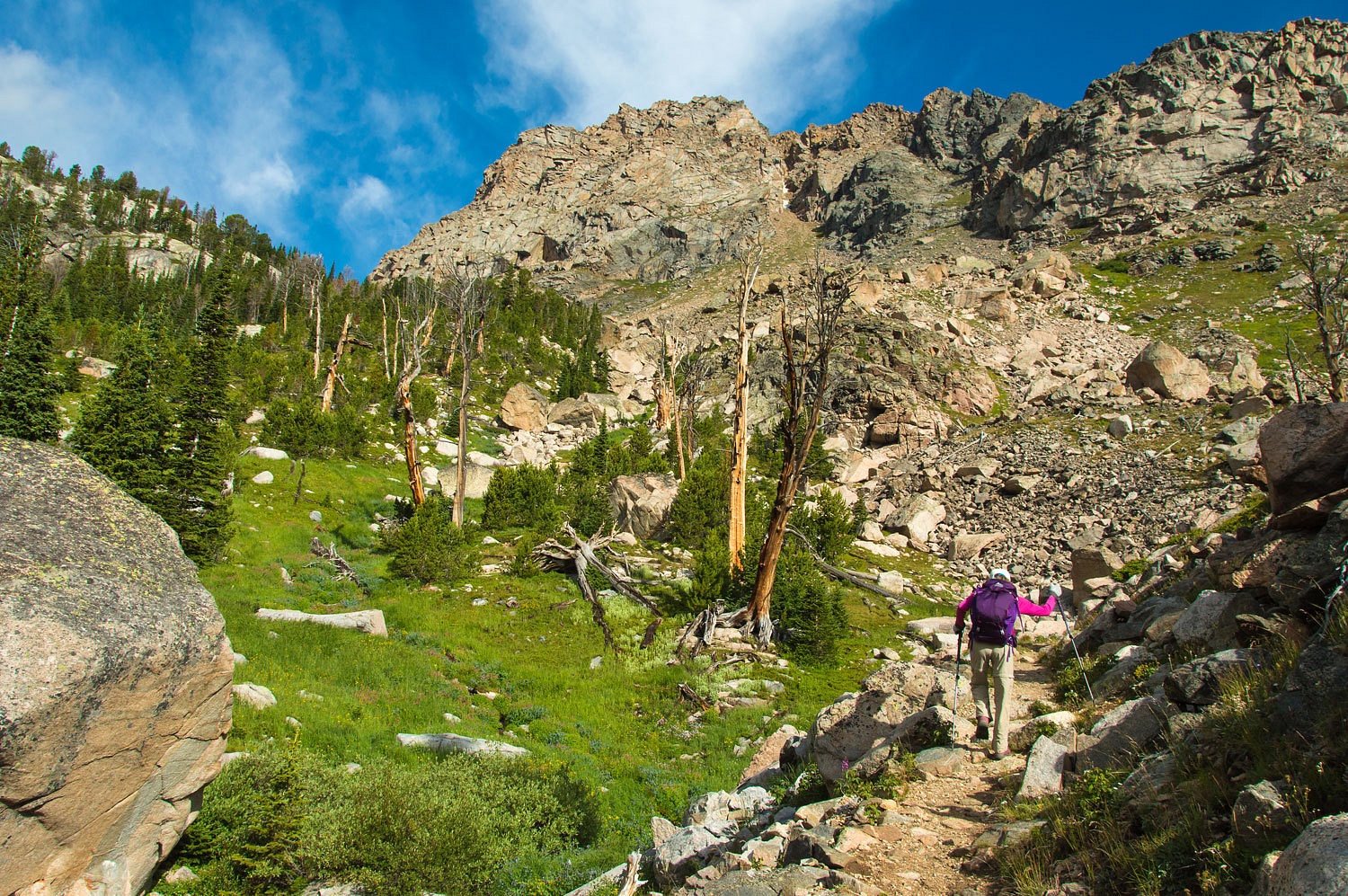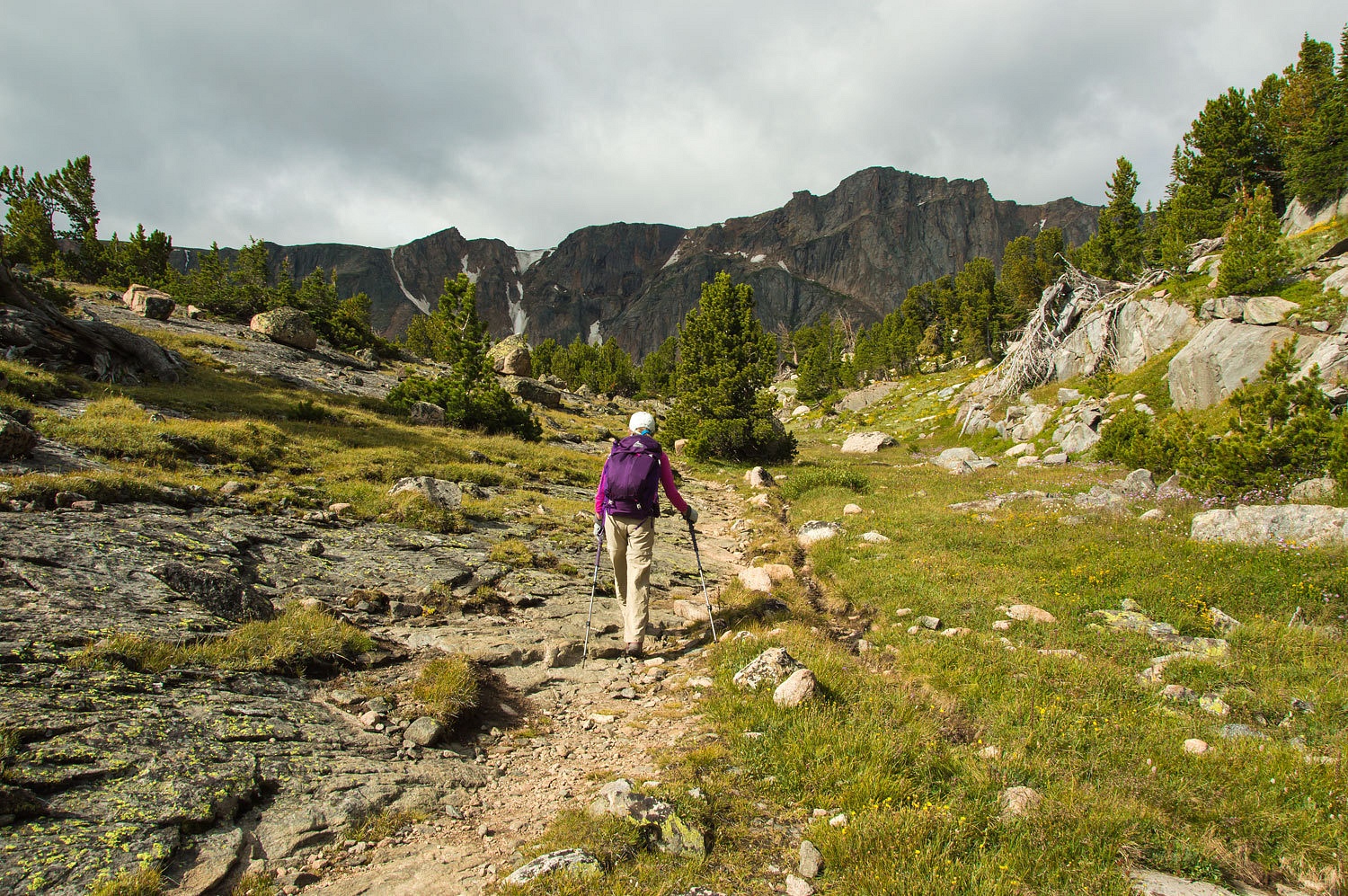 In the early nineteen hundreds a small dam was placed on Glacier Lake raising the water level by several feet. The state line and Wilderness boundary cross the lake just north of the dam.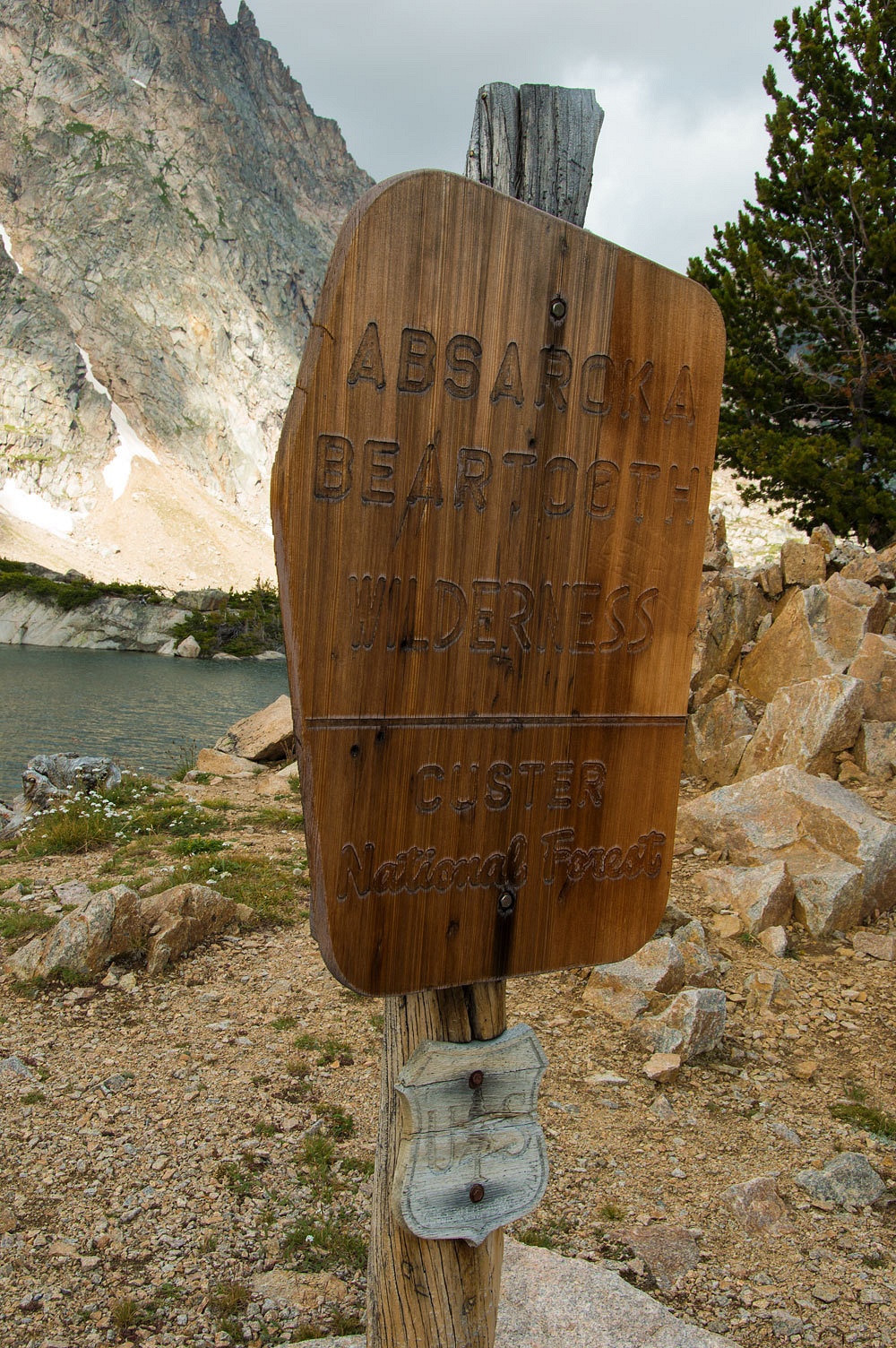 The lake now completely fills the rocky basin with a fairly steep shore line around the perimeter.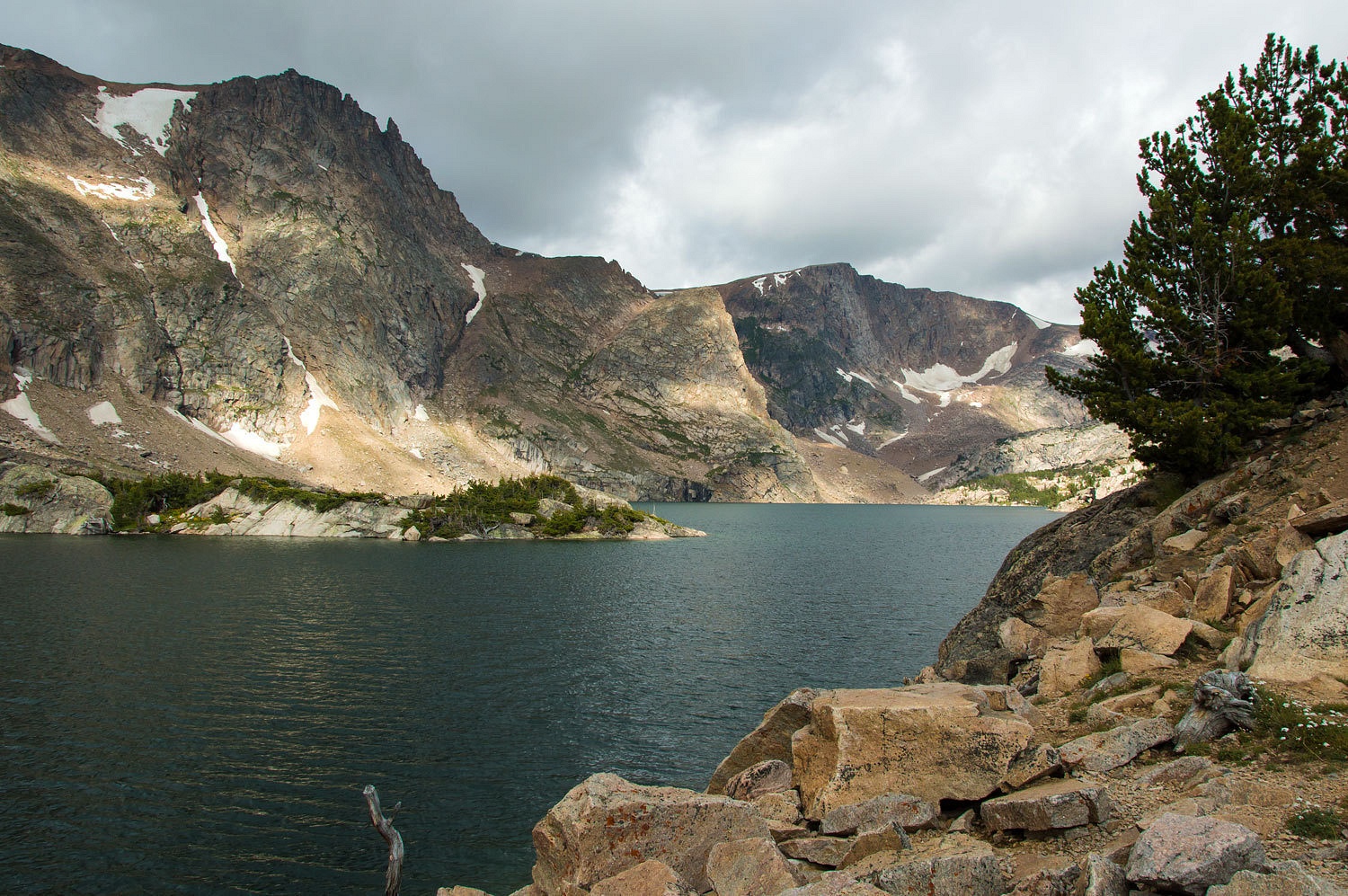 We worked our way around the first rocky outcrops and found a spot on the eastern shore.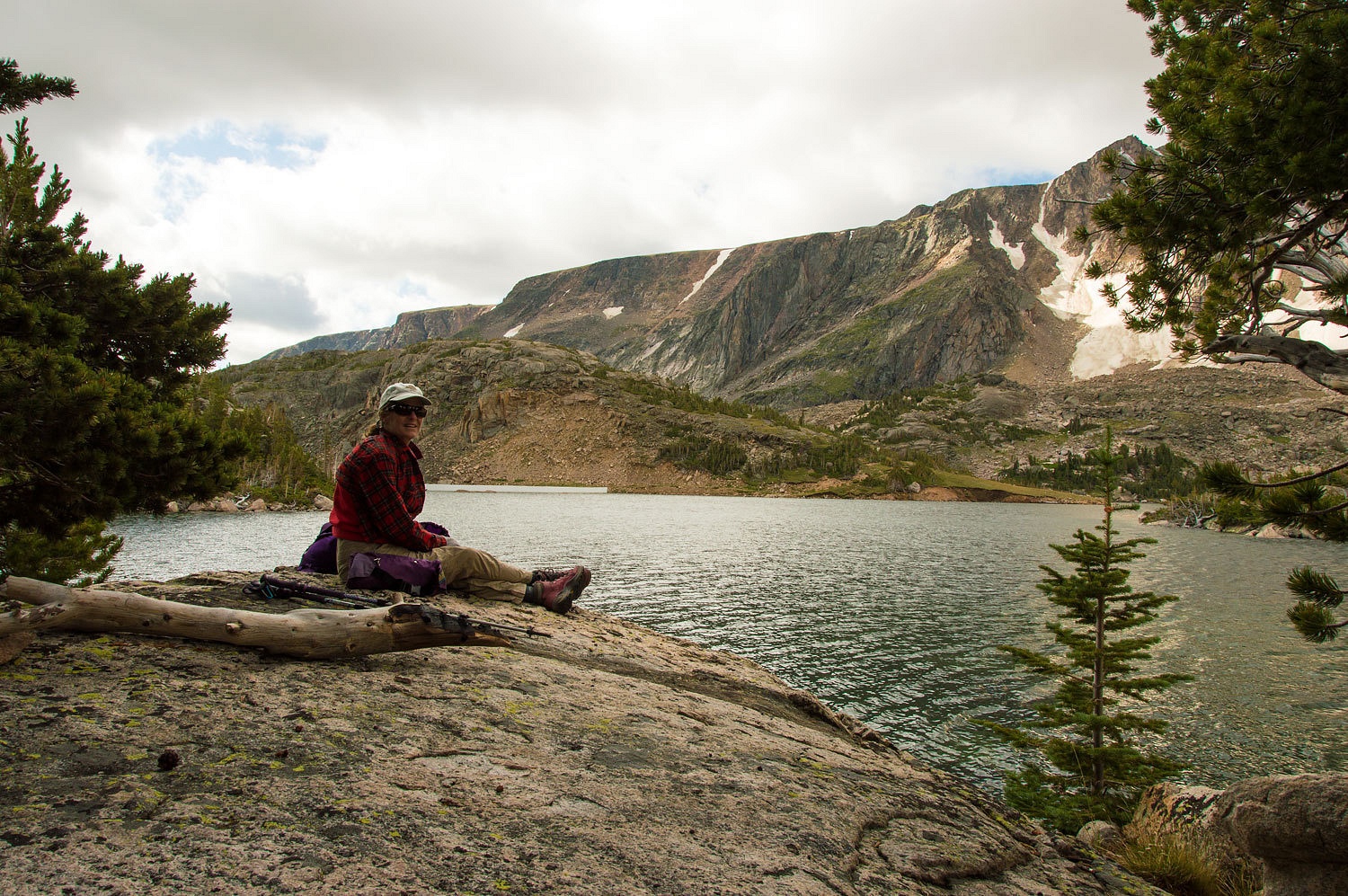 It was cold with a biting wind. I put together my fly rod and the Lady bundled up. I tied on a scud pattern under a strike indicator, hard to cast in the wind but I put it where I wanted. I was instantly rewarded with a hit. The indicator dipped and I raised my rod. I felt the trout's weight, a momentary tug, and then it was gone. The word went out that I was there. The cutthroat held a quick conference call. It was noted I had a Montana fishing license. All the trout moved over into Wyoming.
The visuals were outstanding with the clouds teasing us as they worked on making up their mind on whether or not to unleash on us once again.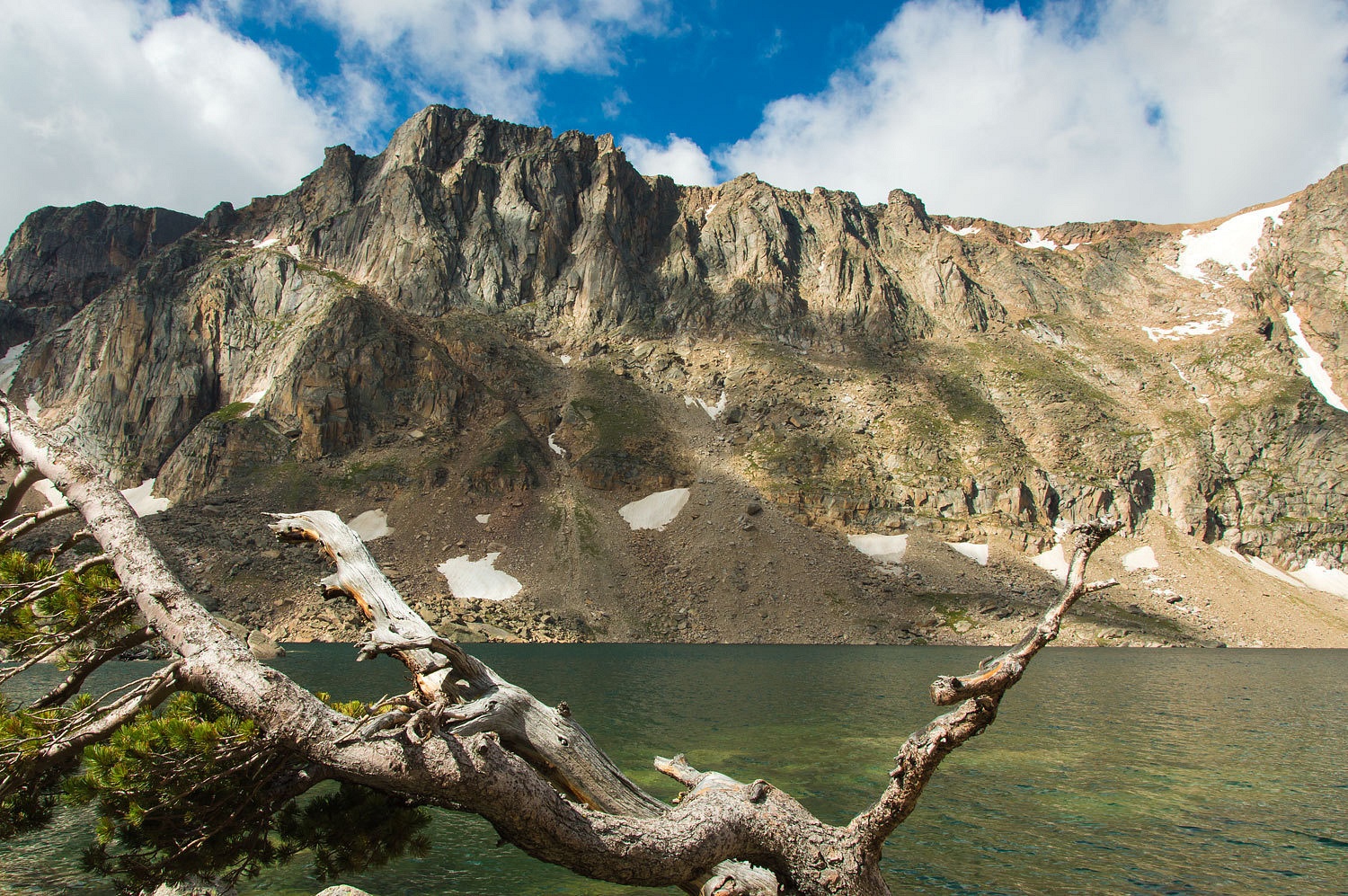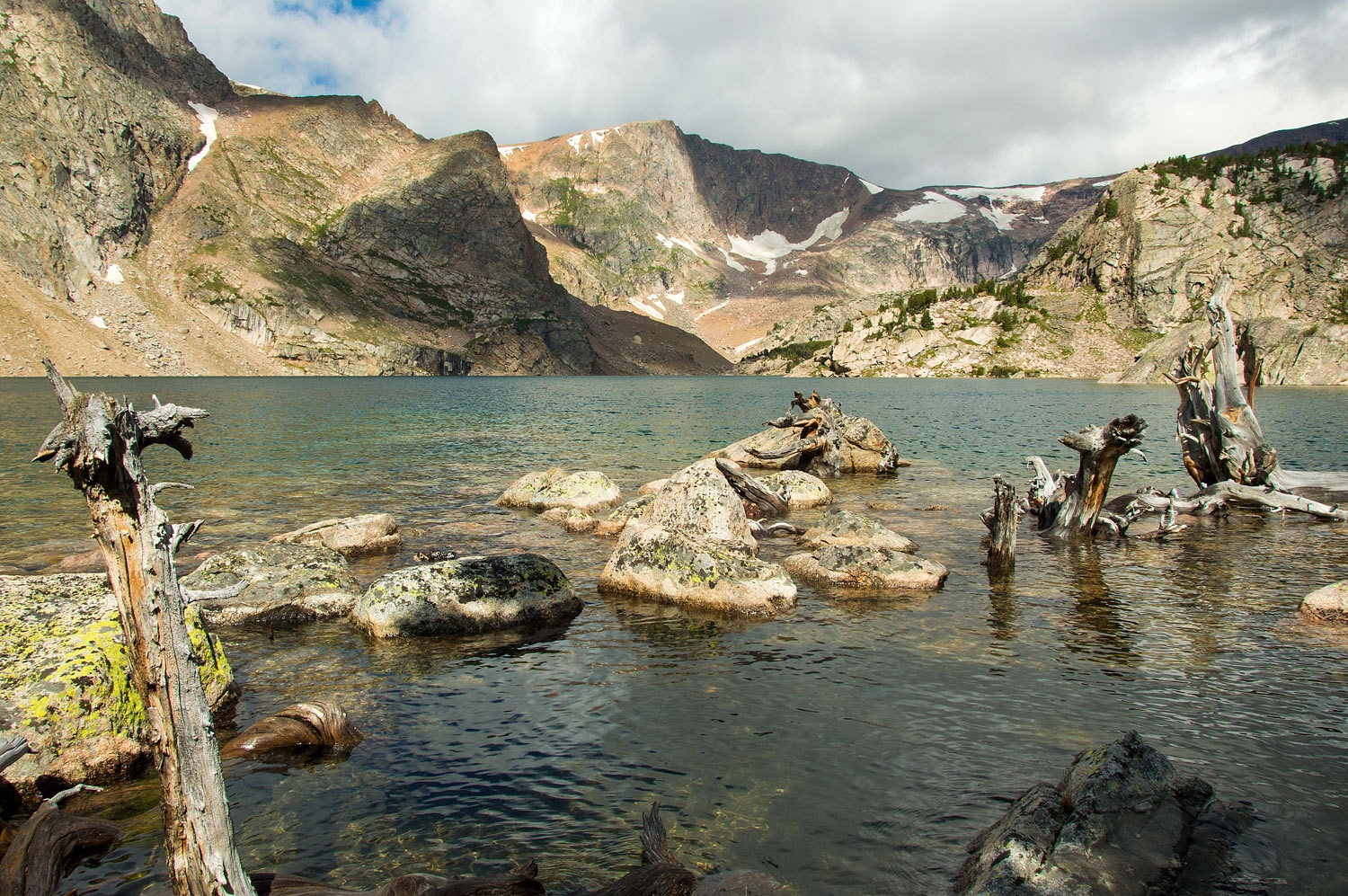 We went to hunting trout. Glacier holds respectable sized cutthroat but the Montana report indicates larger cutthroat are in the three smaller lakes higher in the basin. I wanted to at least try to reach and fish Triangle Lake. And, this would satisfy the Lady's continuing desire to see new territory. We worked our way around Glacier Lake. This was not easy. Here and there we would find pieces of use trail - there is no maintained trail up into the higher basin - but they would end in thick willows, or steep talus slopes, or boggy wet ground. We would always keep an eye on Glacier's water for any sign of a cruising trout. I was ready to catch a proud Montana cutthroat. One that doesn't skip across the state line. We saw no fish. The clouds continued to build. We reached our turnaround time of one thirty. We were almost to the end of Glacier Lake. Easier ground was ahead, just on the other side of 200 yards of steep talus, rocks the size of refrigerators and pop up truck campers. Our adherence to our turnaround time won out, bolstered by those billowing, darkening clouds and a growing wind.
Just south of Glacier Lake, over a small rise, are Little Glacier Lake and Emerald Lake. A visit would have entailed wading through water flowing in the wide natural spillway. We did enjoy the view of the snowfields above Little Glacier.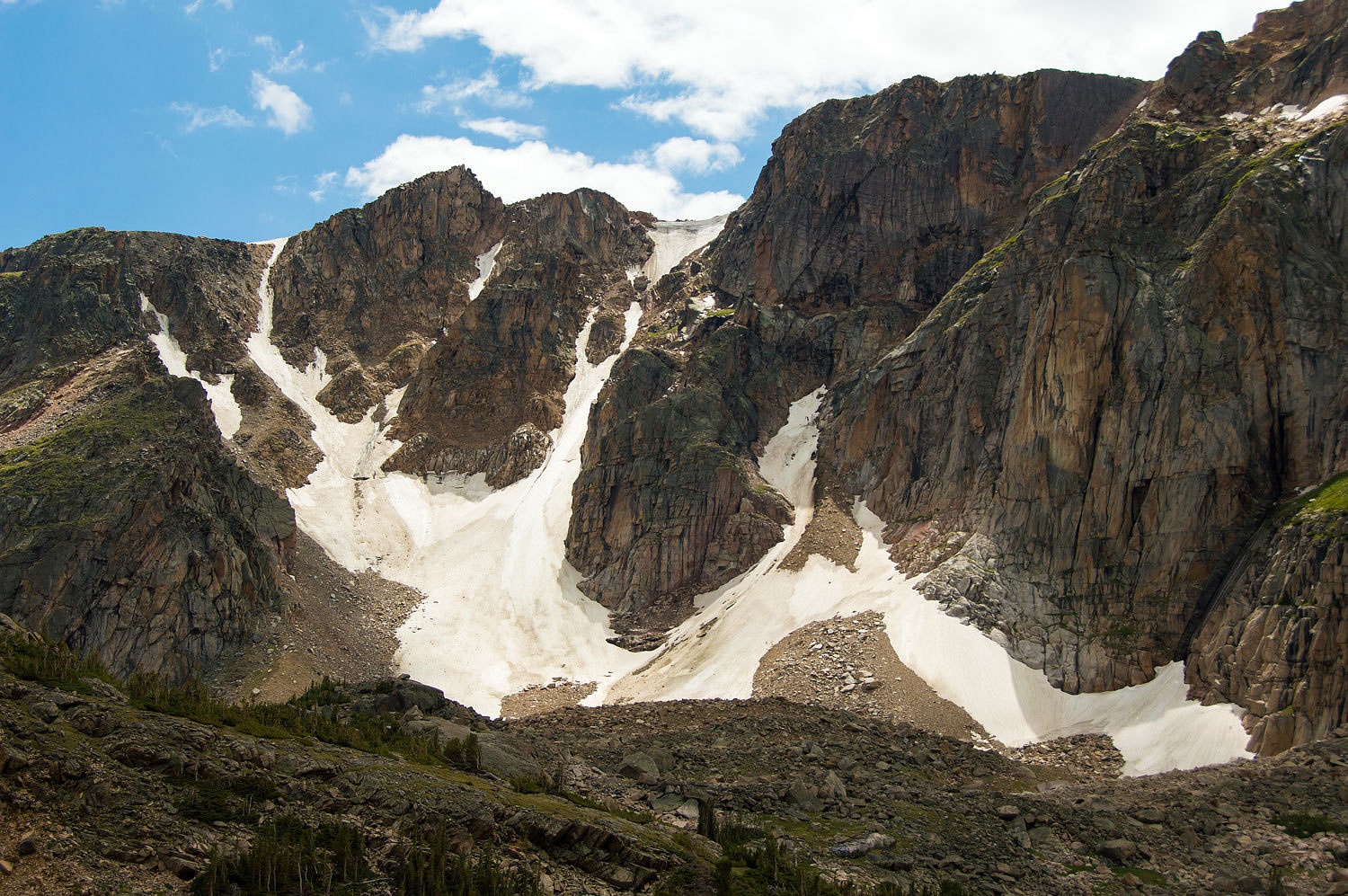 We headed back down the trail and marveled at the displays of Alpine Gentian and Golden Columbine.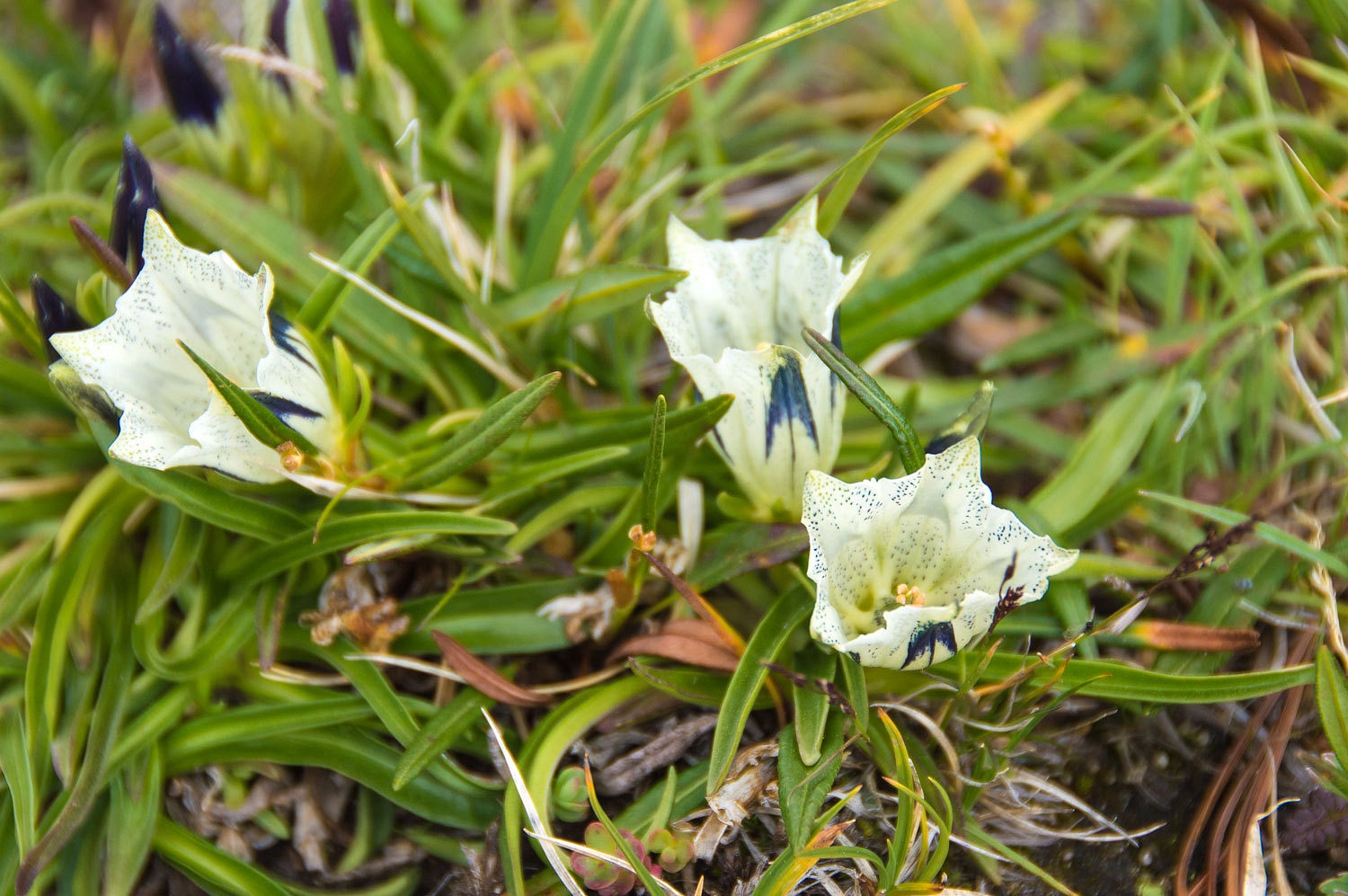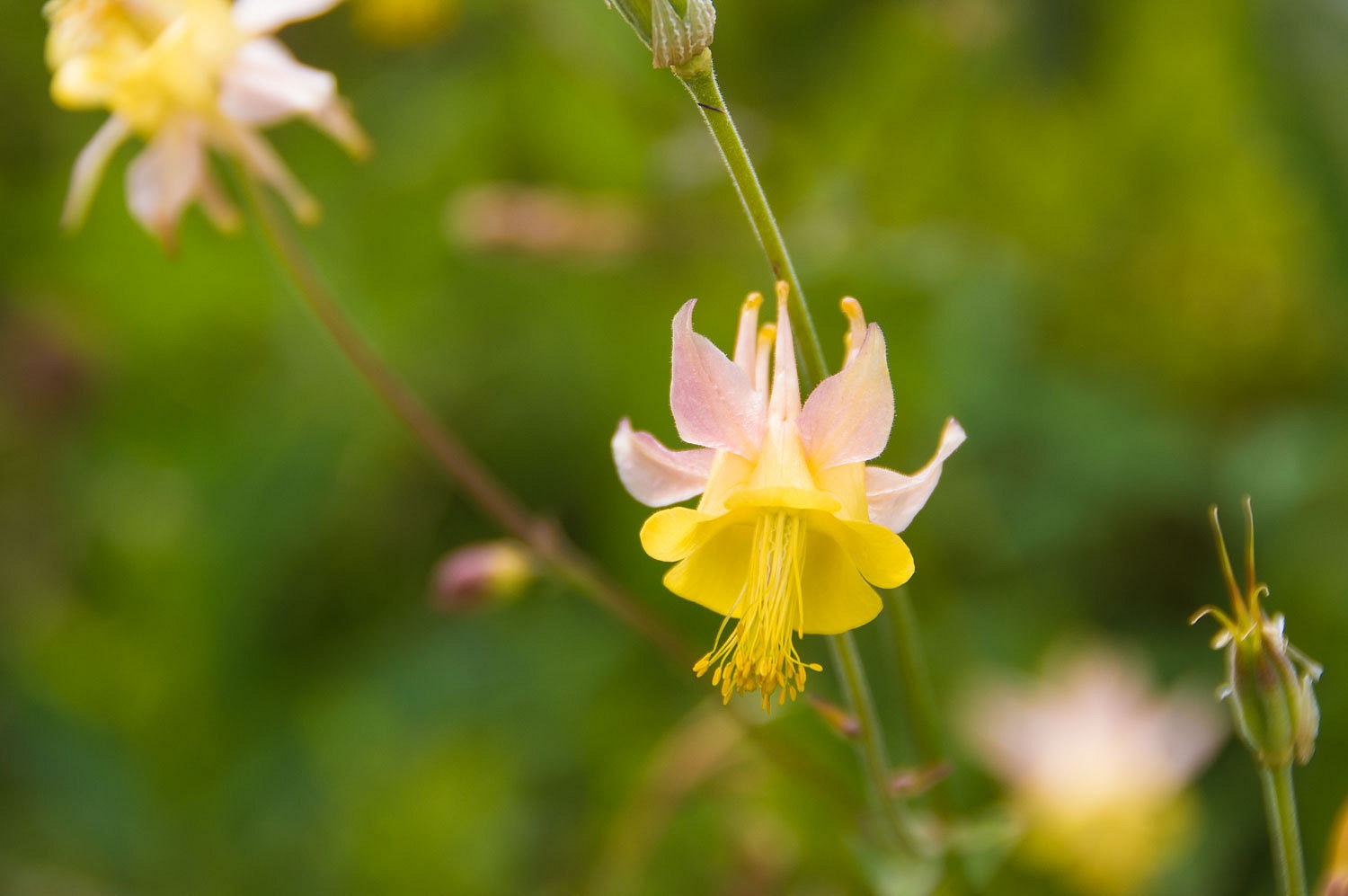 And, also the raging water of the steep cascading creeks.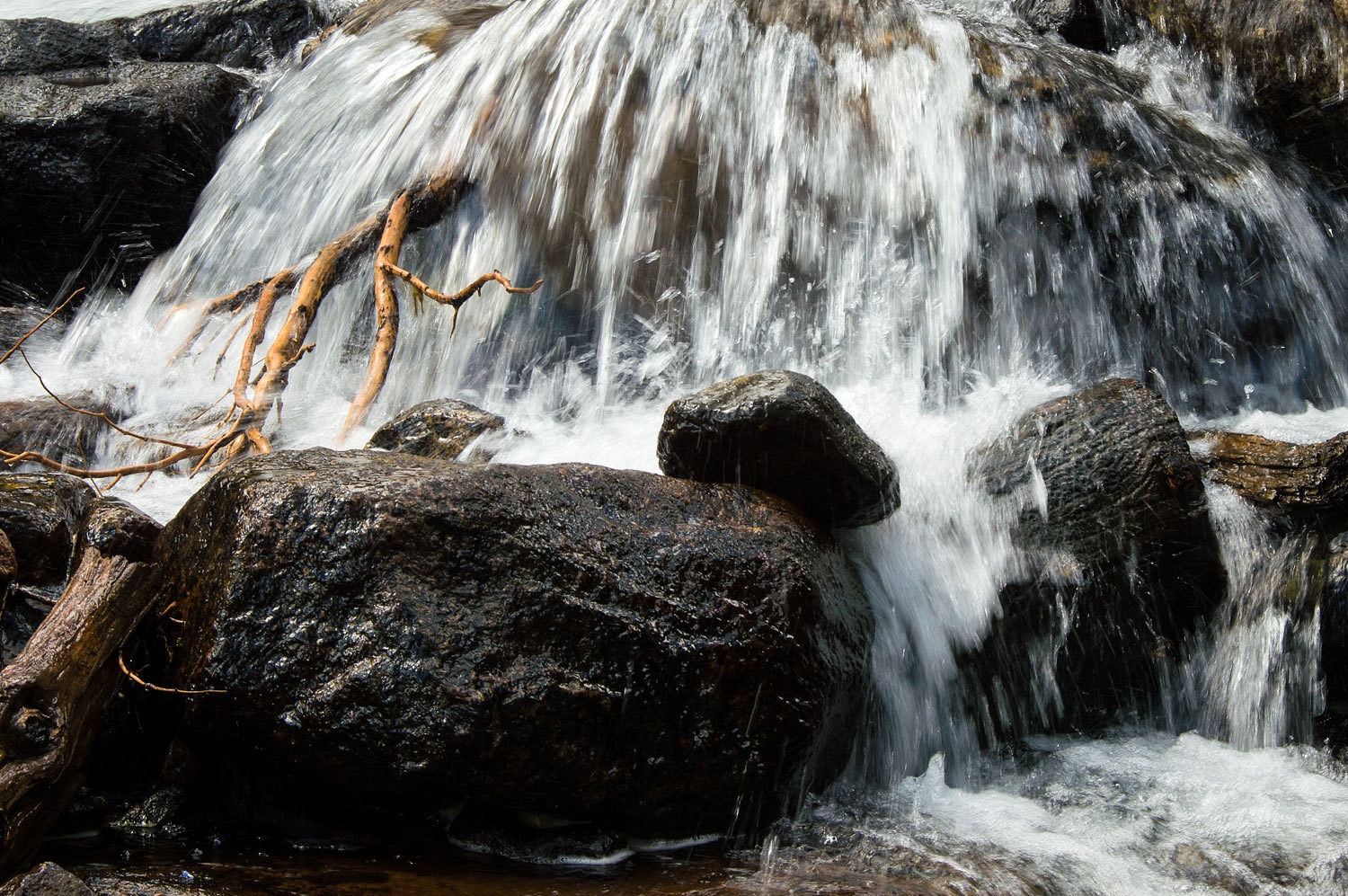 A note about bears. Each trailhead had posted information on bears for backcountry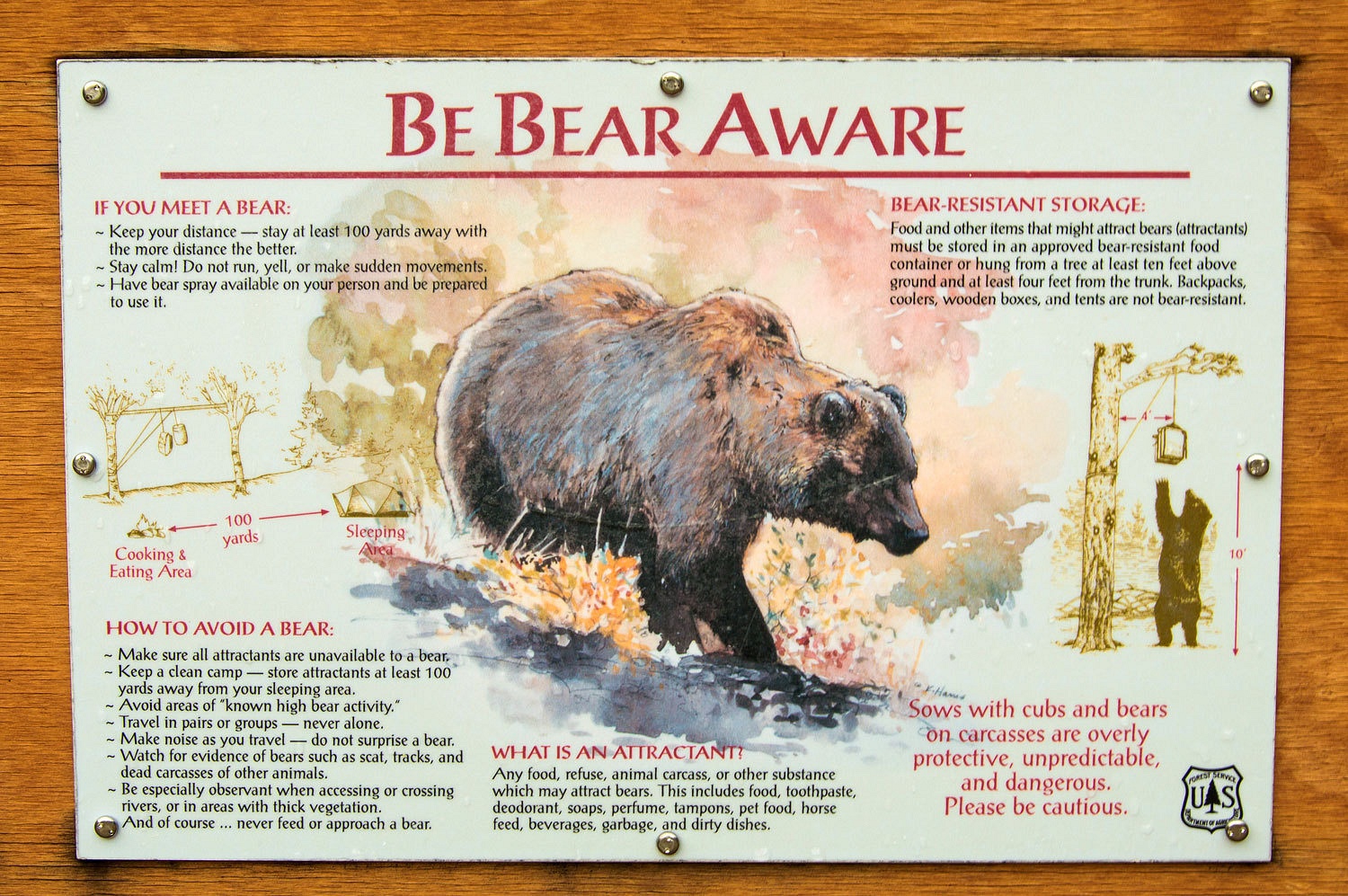 Each campground had signs on requirements for food storage. It was also posted on every picnic table. Every dirt road began with a sign with a huge grizzly paw and a warning about proper food storage. You could not miss them. But the vast majority of people blatantly ignore them. Coolers and ice chests and cooking supplies were out in plain sight in unattended and unoccupied campsites. Example - here's how a Montana man handles food and beverage storage in bear country while out on the trail.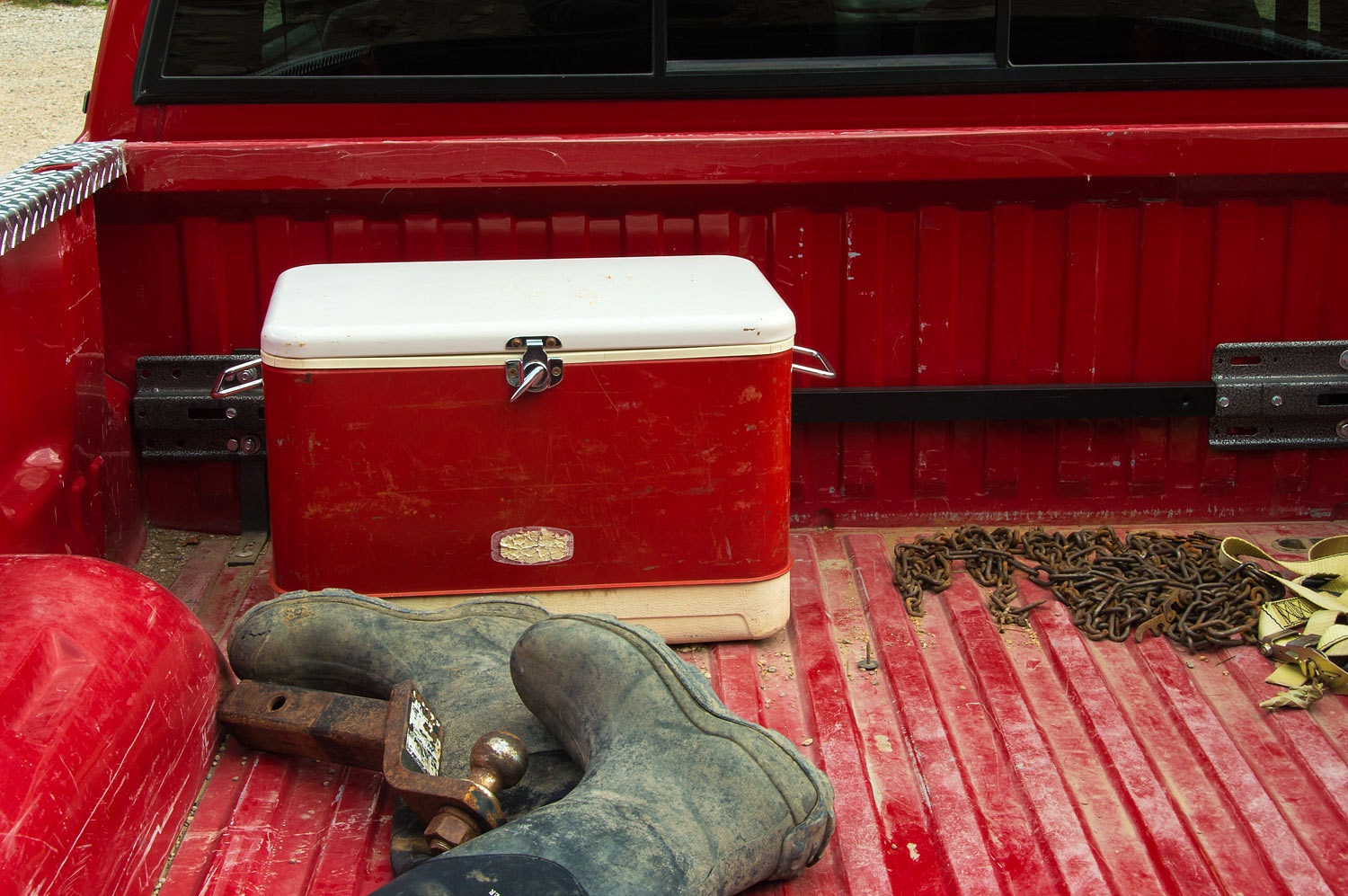 It spit rain as we drove back to our camp spot. We walked after dinner and it shuck up on us. Blue sky was ahead of us. Black sky greeted us when we turned around to head back to camp. We climbed in the camper just as the storm hit and pelted the roof with rain and we quietly counted from flash to thunder. Wind rocked the camper as we fell into deep sleep.
Saturday morning dawned clear. We watched the first rays of the sun light up the highest points around us as we walked in the quiet with our coffee. This was the day of my opening story in Part One. Before the trip I read everything in the Mountain Lakes Guide. I jotted information down on our topo quads. Based on the information I read, there was one special lake I wanted to fish - Lost Lake up the Lake Fork of Rock Creek drainage.
We drove over to the trailhead, a few miles away, much earlier than the regular weekend crowd would arrive. It was a five mile hike up to Lost Lake which sat on a shelf above Lake Fork. We stopped at Broadwater Lake - just a wide spot in the creek - and enjoyed the views opening up ahead.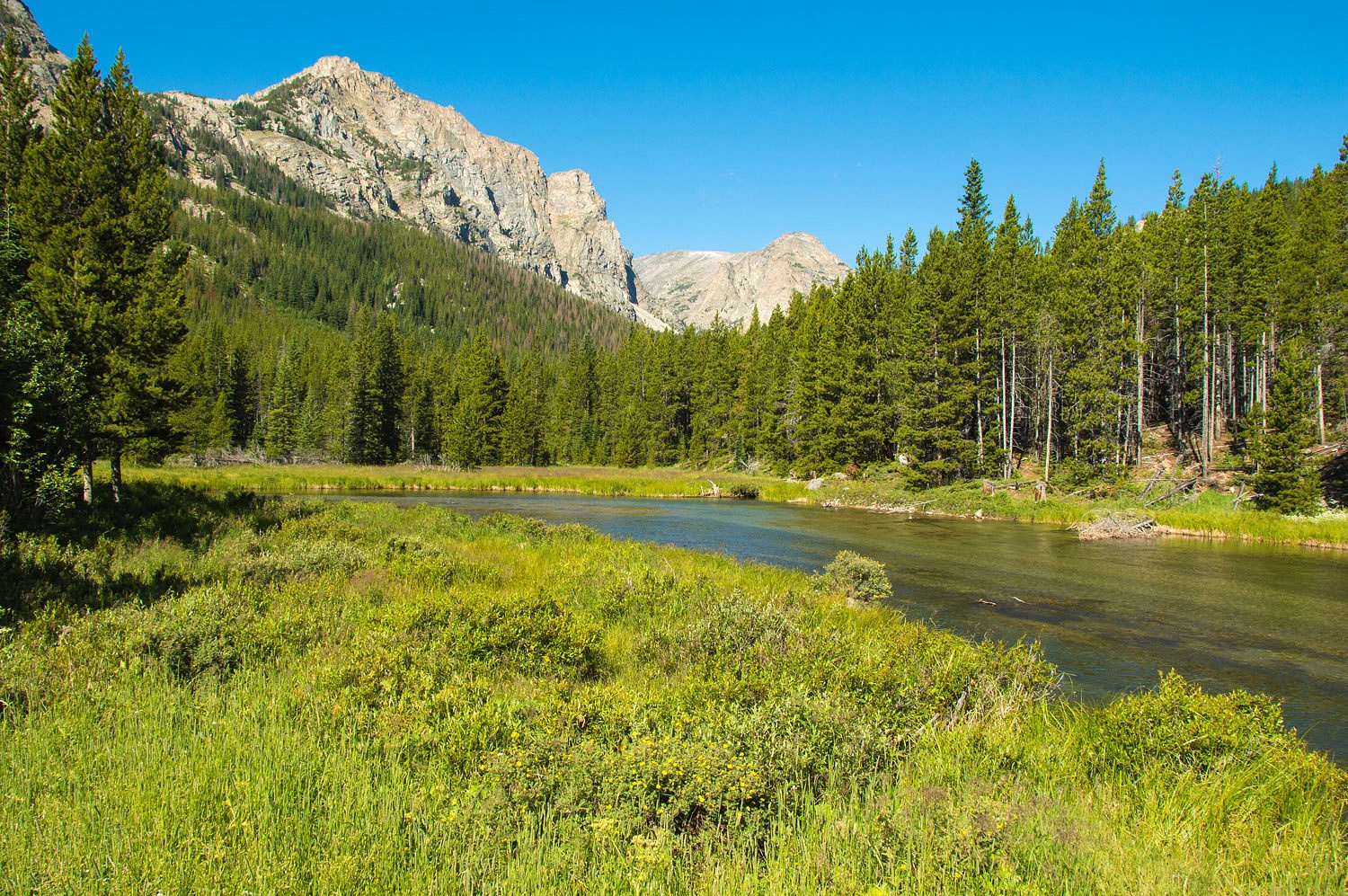 Back on the trail we passed the young man and Ida. He was backpacking in to spend one night.
"Where you heading?" I asked.
"We are too. Maybe we'll see you up there." I replied.
The Mountain Lakes Guide provides all the details - acreage, elevation, depth - the sheer beauty was ours to discover.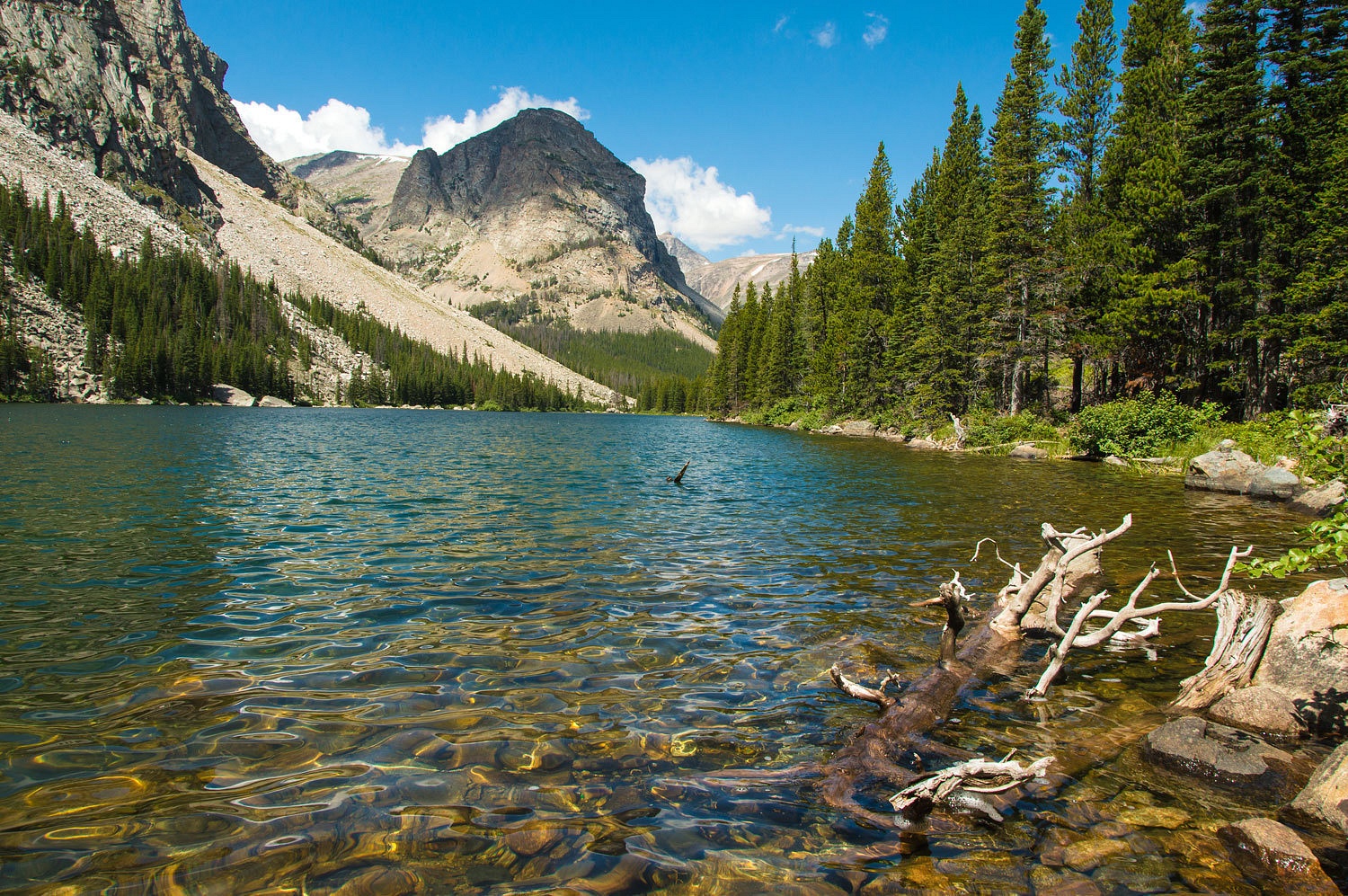 What the shoreline of Glacier Lake had in rocks, Lost Lake had in tangles of deadfall. We gave up trying to get around the southwest corner of the lake. We saw one rise out in the center of the lake. The young man had seen it too.
"No way can I throw line that far, not even on my best day," he said as we met again.
We talked about the fishing, as I noted earlier. He said he had fished here once before, a couple of years ago. I asked about what I was after.
"Yeah, I've caught one or two. They are good." I could tell his mind was on huge cutthroat.
We watched him catch his big trout.
"You're welcome to come over here," he called after he released his fish. "Do you have some foam ants? he asked. "I'll give you one of mine if you don't"
I thanked him and said I had a bunch of foam ants and we'd be over in a bit. I started fussing with my set up. The Lady was ready to go. "Aren't we going to get over there?" she asked.
I patiently looked up from my work. "I'm tying on heavier tippet," I said.
The young man had moved further down the shore, now hidden by a massive rock that took work to get around. I stuck with the terrestrial bug I had been using. I had faith in it. I first worked the areas under the thick willows near the outlet. I then worked over the submerged rocks in the deep water below me, prime shelter for fish. It came up like a rocket. I took a breath and subdued the urge to react too quickly. I lifted my rod as it turned back down. It was on.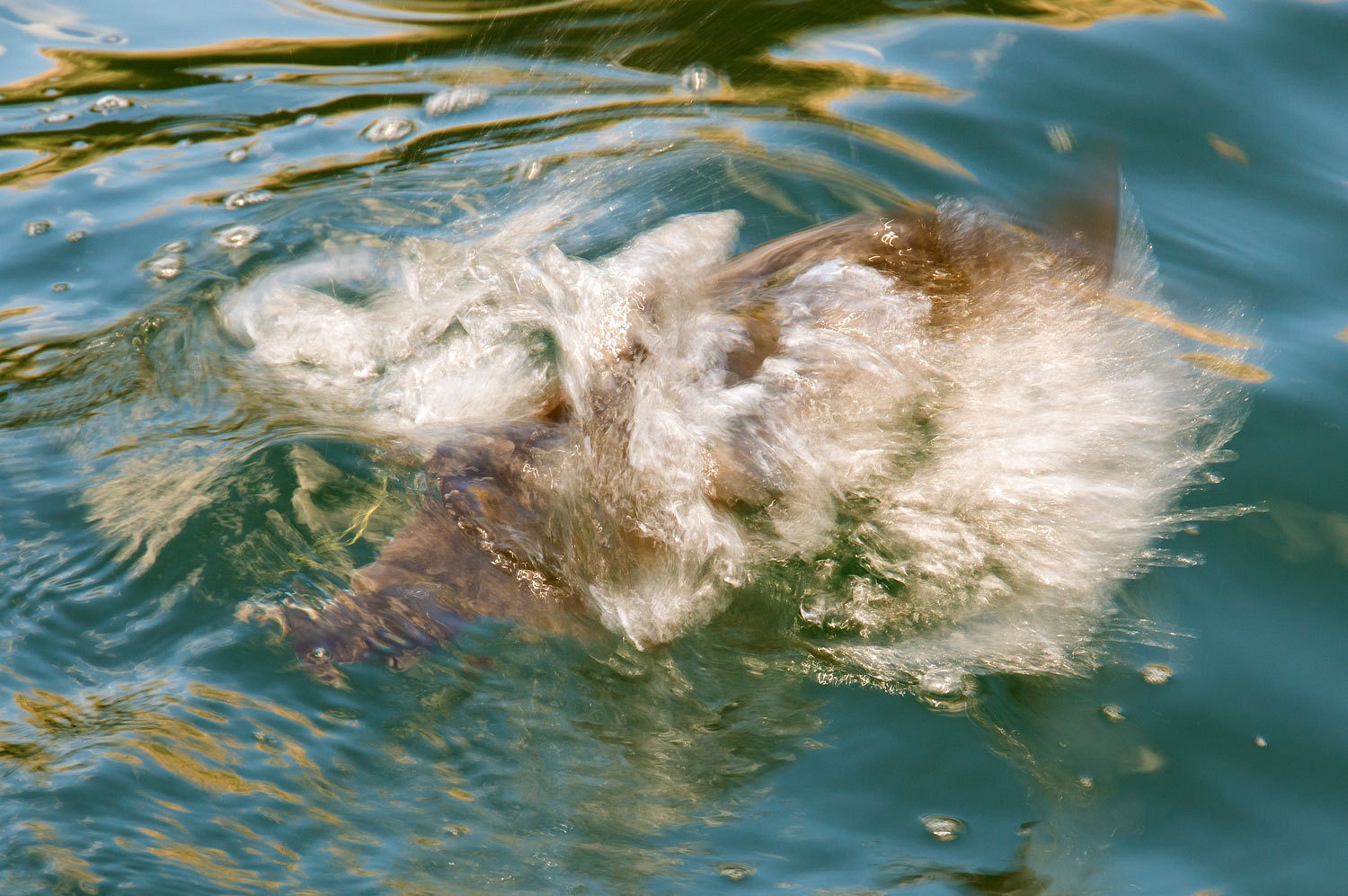 The Lady had watched it all from her high spot. She was on her feet. "It is an Arctic Grayling and a damn nice one," I quietly said as I played the fish.
"Yes, you got your first Arctic Grayling!" She clapped her hands. She was thrilled. So was I.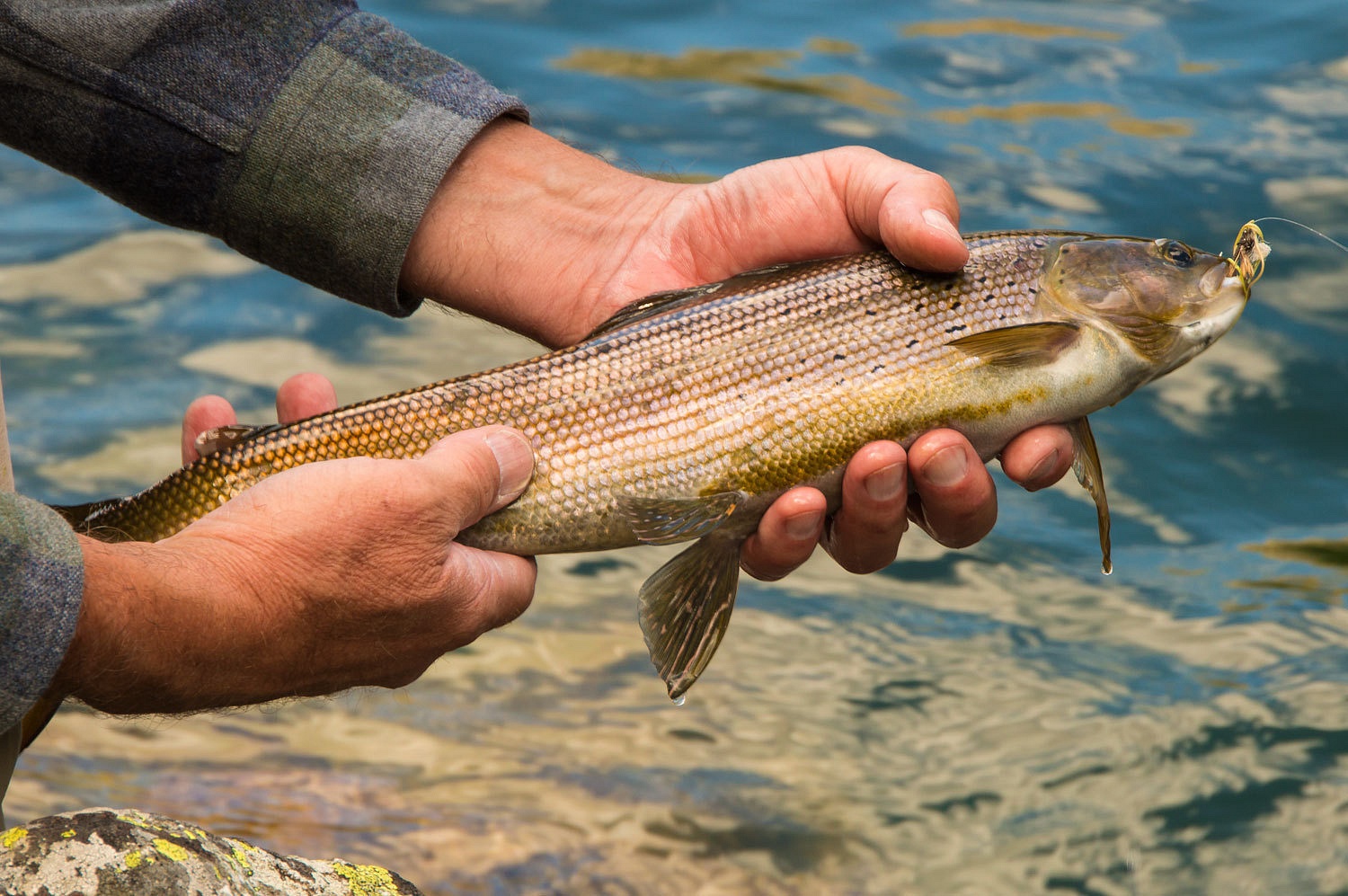 After releasing the grayling and sending it safely on its way, the Lady said, "We need to buy you a big net. I'll carry it for you."
Lost Lake was an exceptional experience.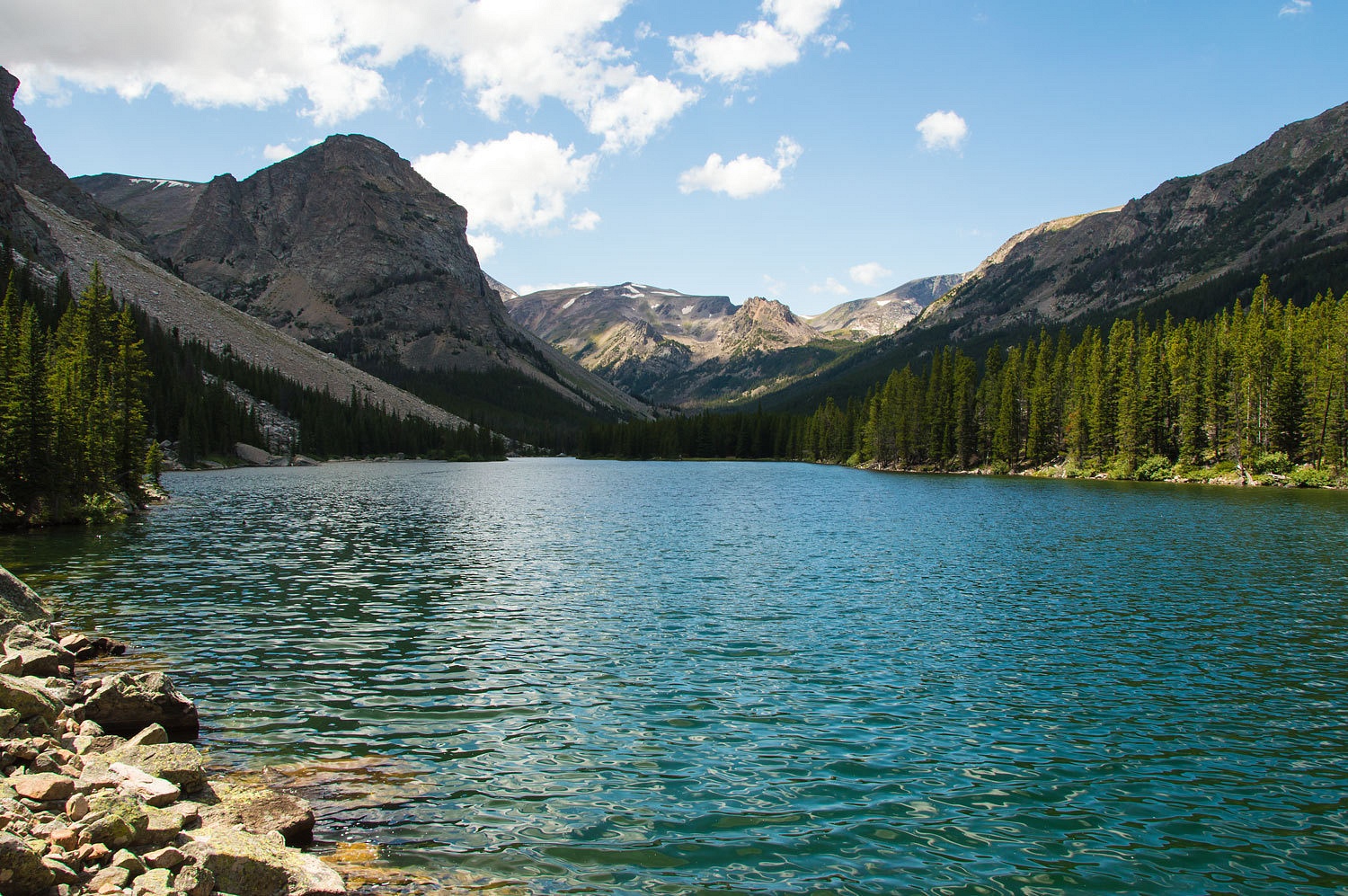 We moved Sunday into a different area. We had plans for a second backpack trip and the target, once again, was a high off trail basin with lakes that may provide more exceptional experiences. We drove up the East Rosebud Road from Roscoe, Montana. The East Rosebud Valley was magnificent and lots of people agreed. New homes were spread out across what once was open ranch land.
"What are these?" the Lady asked.
I thought about my answer before responding, "You know when it is casually mentioned over brunch, 'Our place in Montana'. This is what they are talking about." In my mind was a picture of the Carbon County Tax Collectors' beaming face.
The tiny East Rosebud Lake campground was mostly empty; why we chose to come on Sunday. We found a wonderful open spot, campsite #13.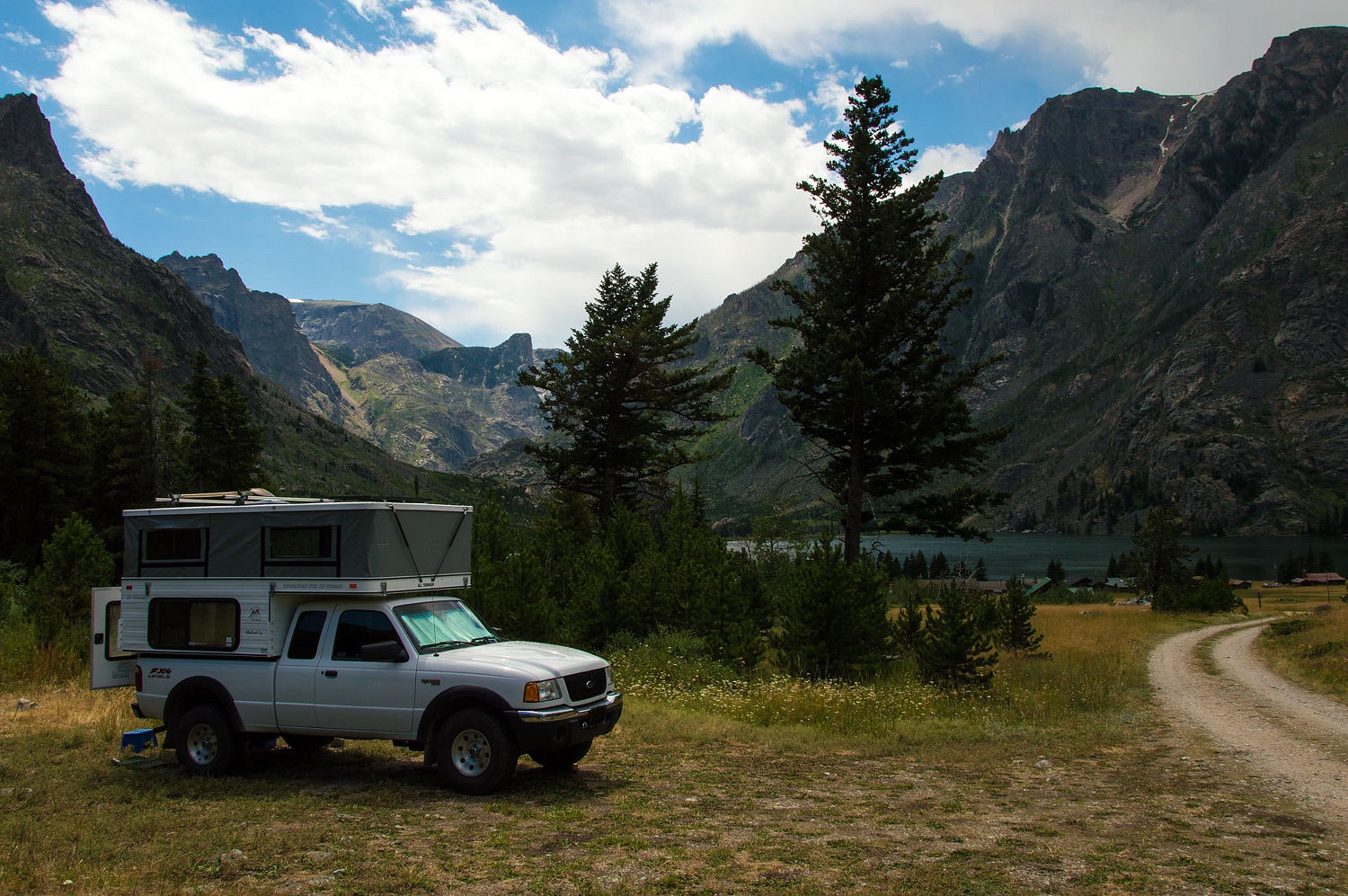 Black clouds weighed heavy on the peaks. It rained hard for five minutes every half hour. The sun would make a brief appearance..................................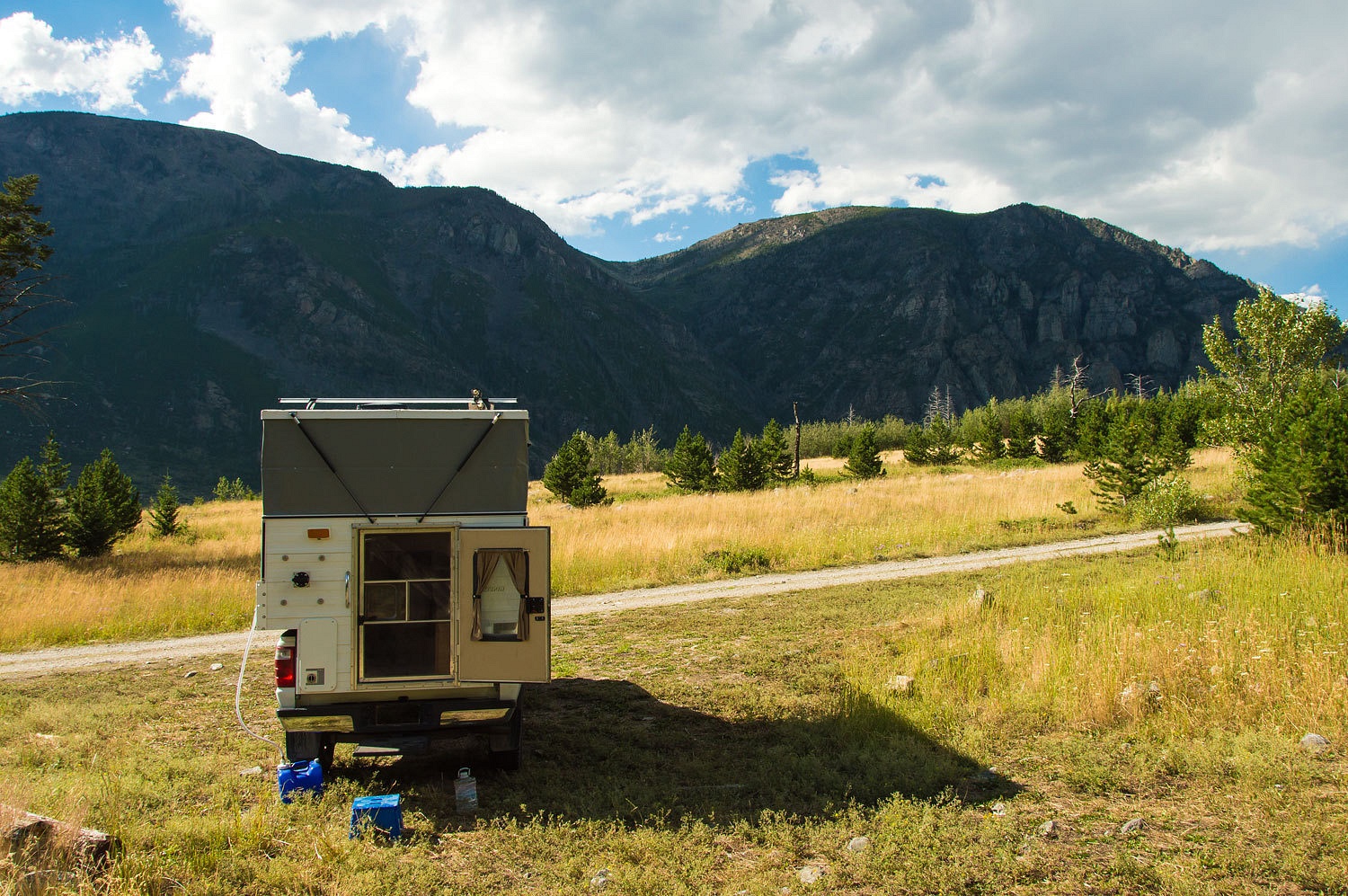 ..........................and the cycle would begin again.
We walked the entire area and oriented ourselves. There were a few well placed plaques honoring Fred Inabnit. This spoke to our hearts.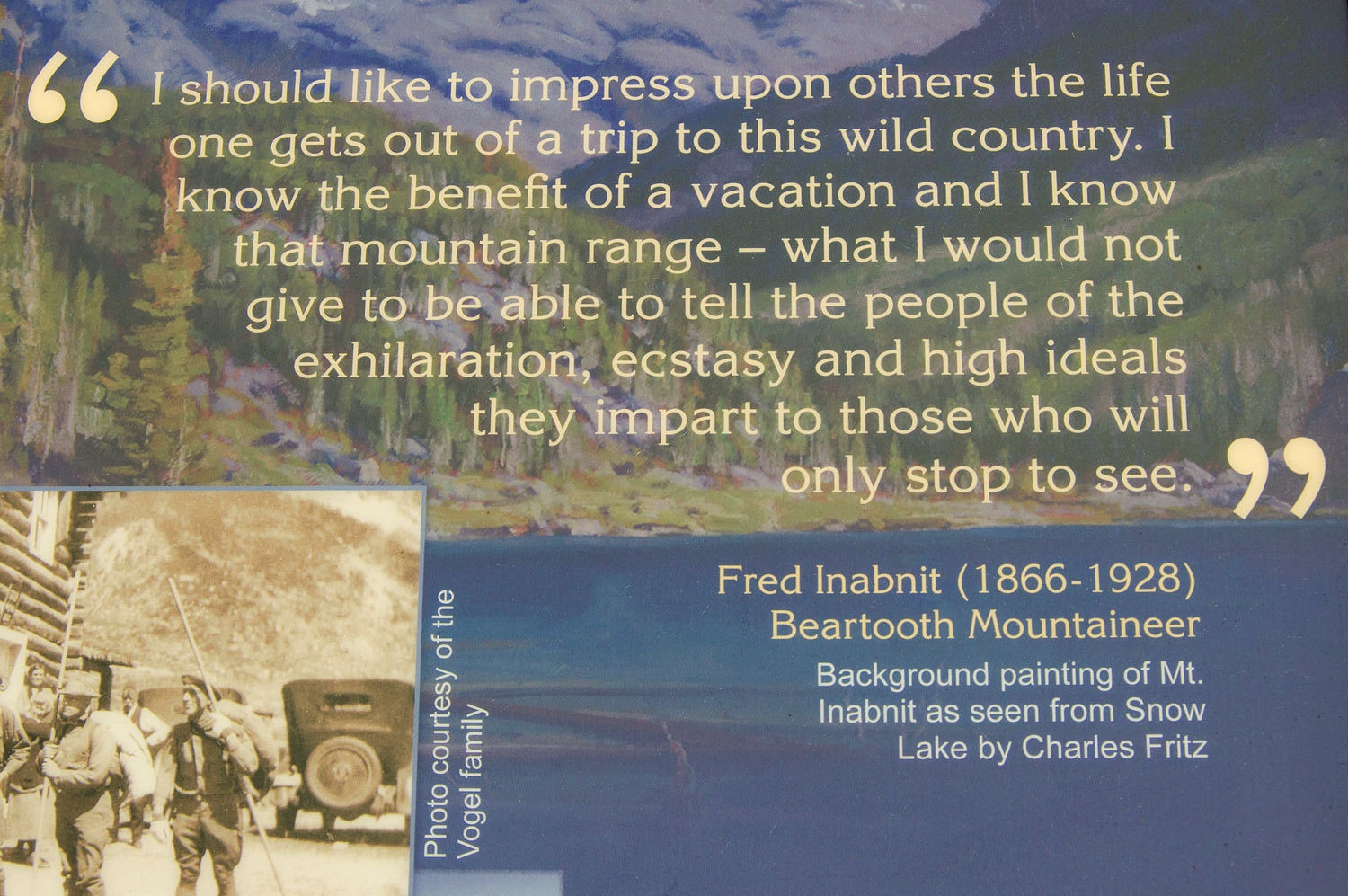 The Lady discovered Rocky Mountain horse mint was a little different from our Great Basin variety.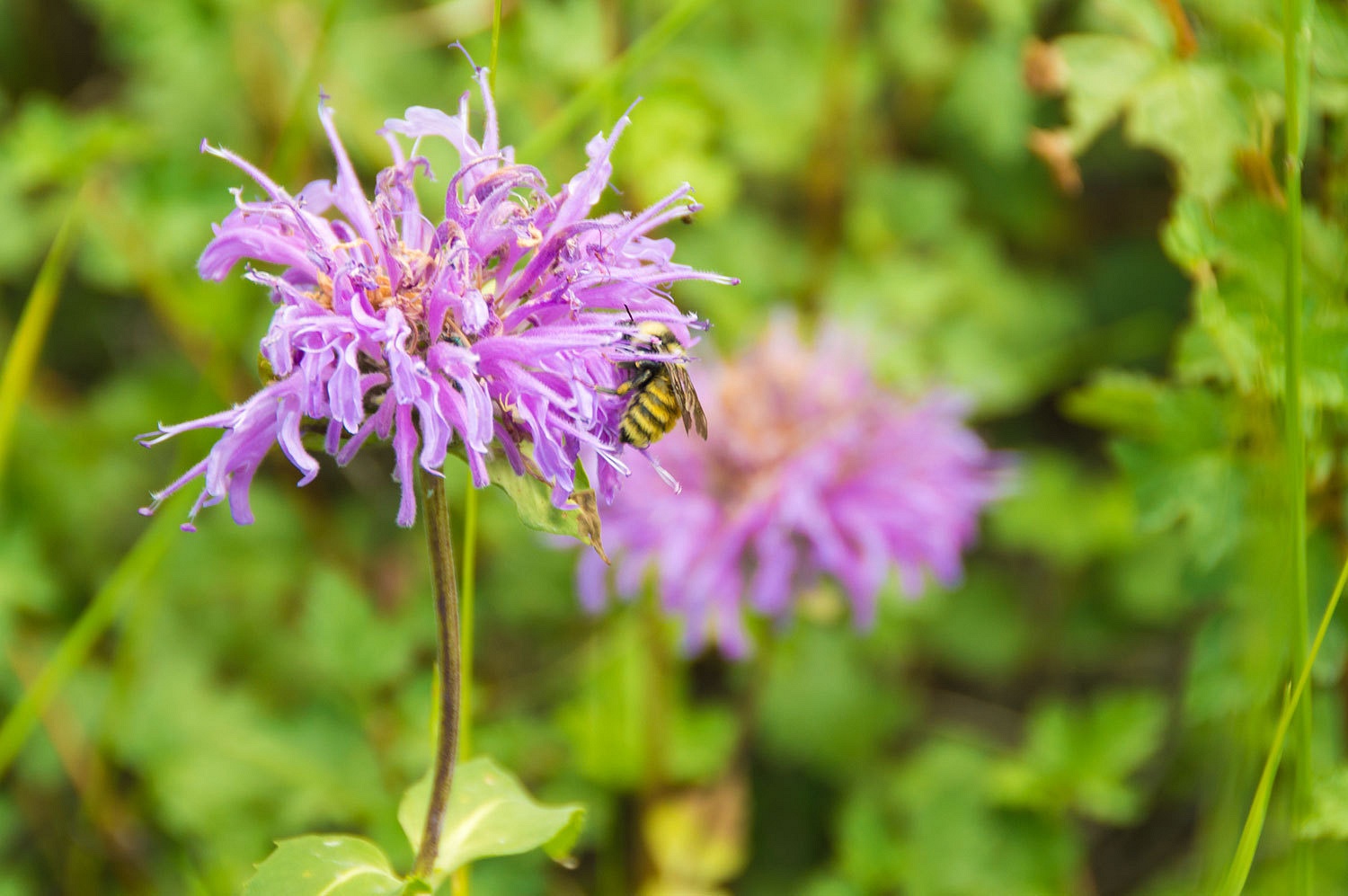 We spoke with a couple from Florida as they were setting up their camp. Friendly and easy to be around, they invited us to their campfire that night.
East Rosebud Lake is private and surrounded by private homes. It was founded by Billings' upper crust at the turn of the last century. There is a small bridge at the lower end of the lake, the only small place the public is allowed. The village of Alpine has a small general store with some really neat food items including local huckleberry jam. The couple that runs it are the year round caretakers and the man also has the contact with the USFS for cleanup at the campground. The Florida couple had also talked with them and learned that occasionally a home will come up for short term rent. In fact a small one bedroom cabin was now available for a month for $4200, would we like to go in for half? A fire in 1999 raged through the area and decimated the homes. Most have been recently rebuilt.
The main trailhead is the East Rosebud Lake trailhead, and a short walk from the campground. We wandered up the trail after dinner.
It was a momentary clear spell and the granite soared above us in the evening light.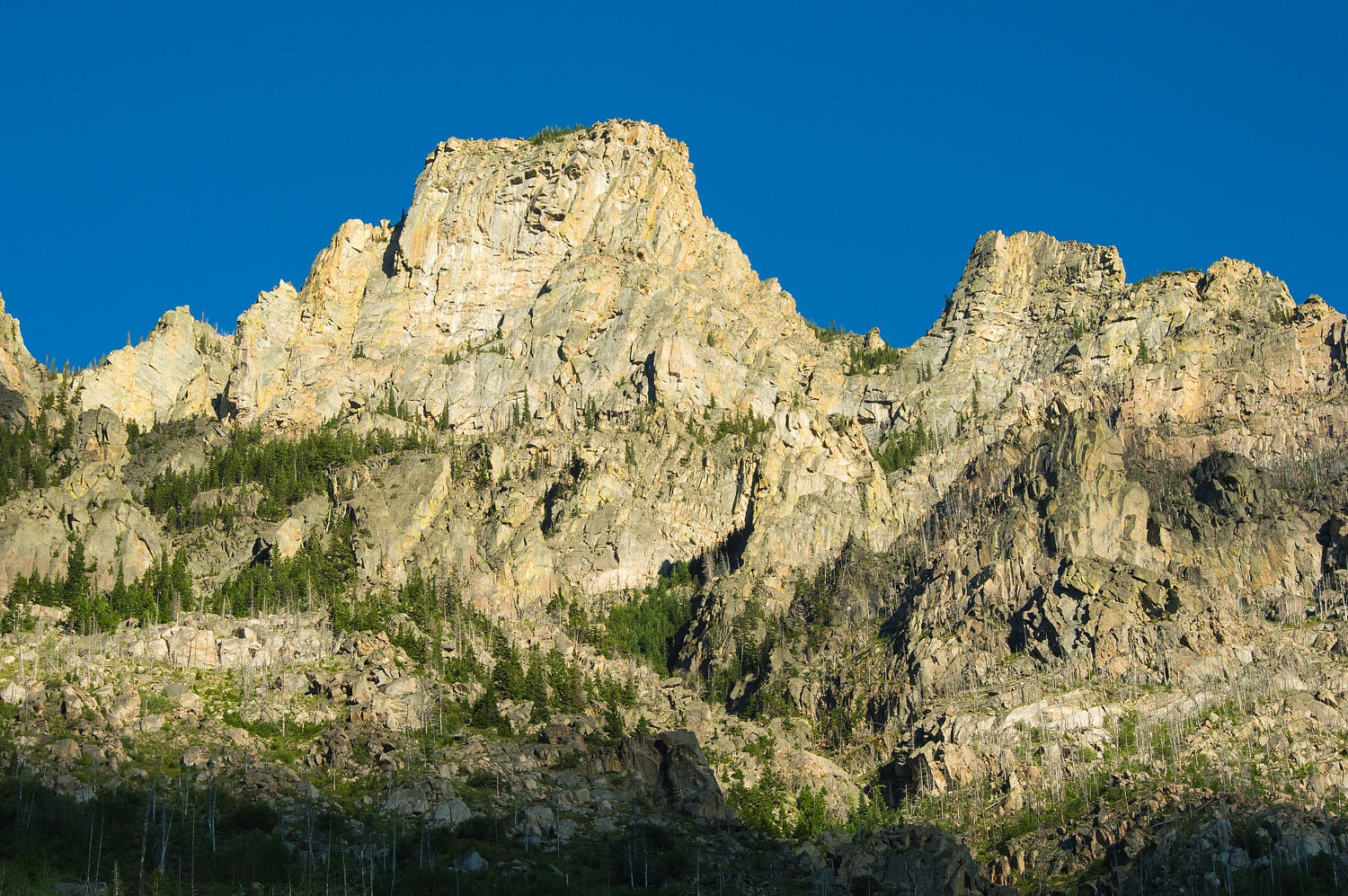 Shafts of sunlight played across the landscape.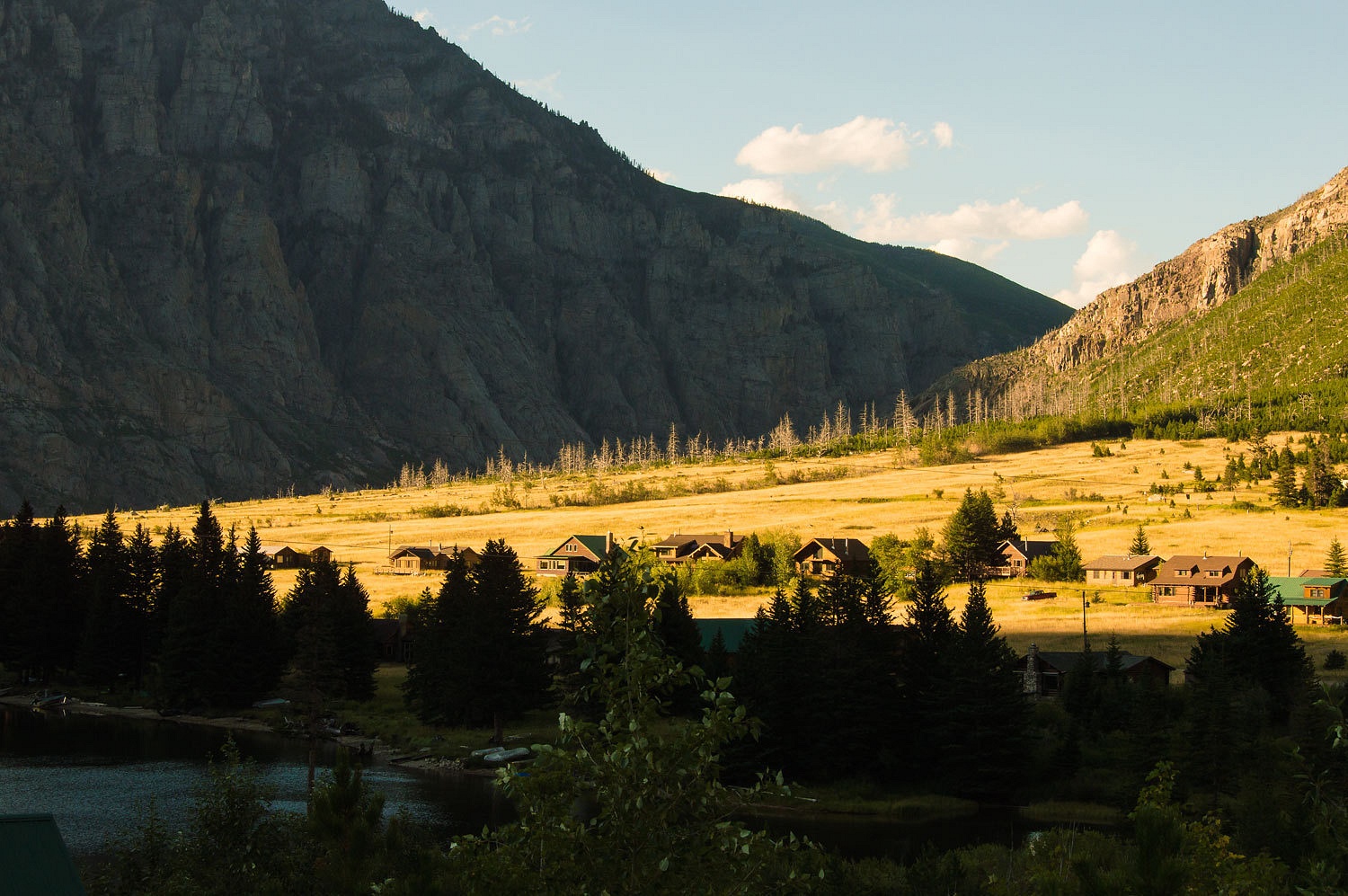 The East Rosebud River flowing into the upper end of East Rosebud Lake got this old flyfisher's heart stirring, his casting arm twitching.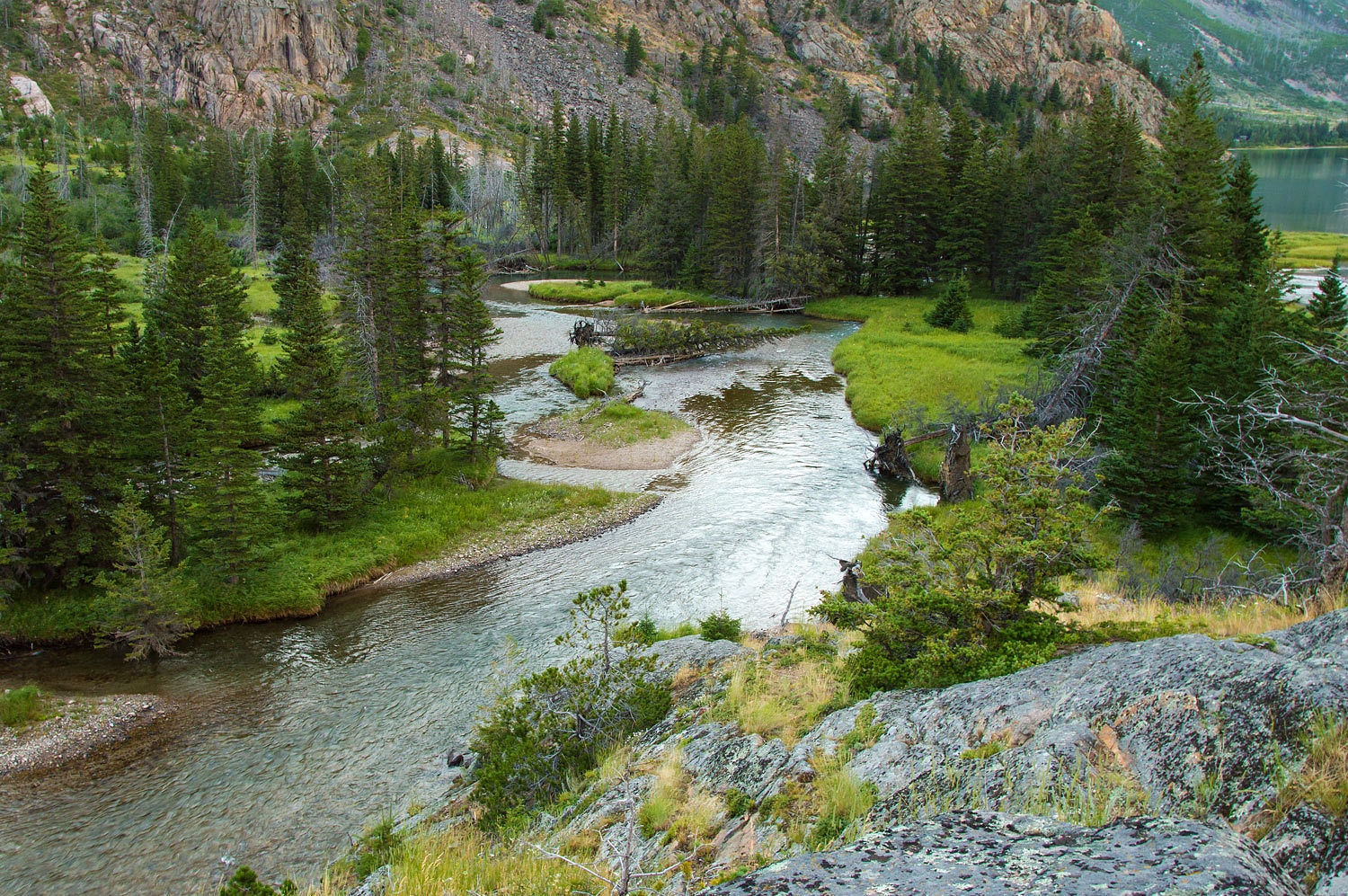 The sun worked its way up the canyon walls until only touching the highest points.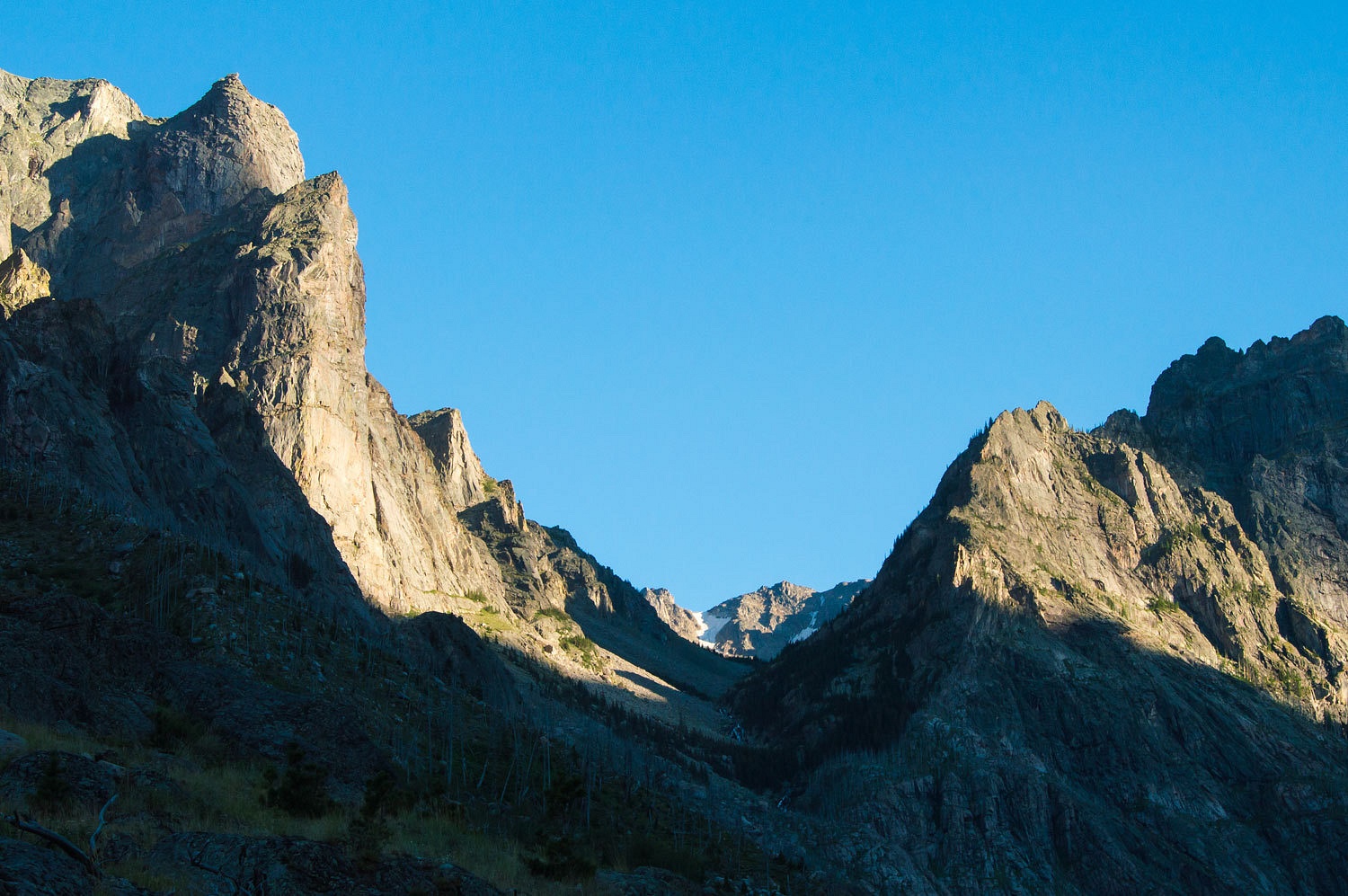 We were alone on the trail as night came, joined only by a perched swallow taking a break from the evening feed.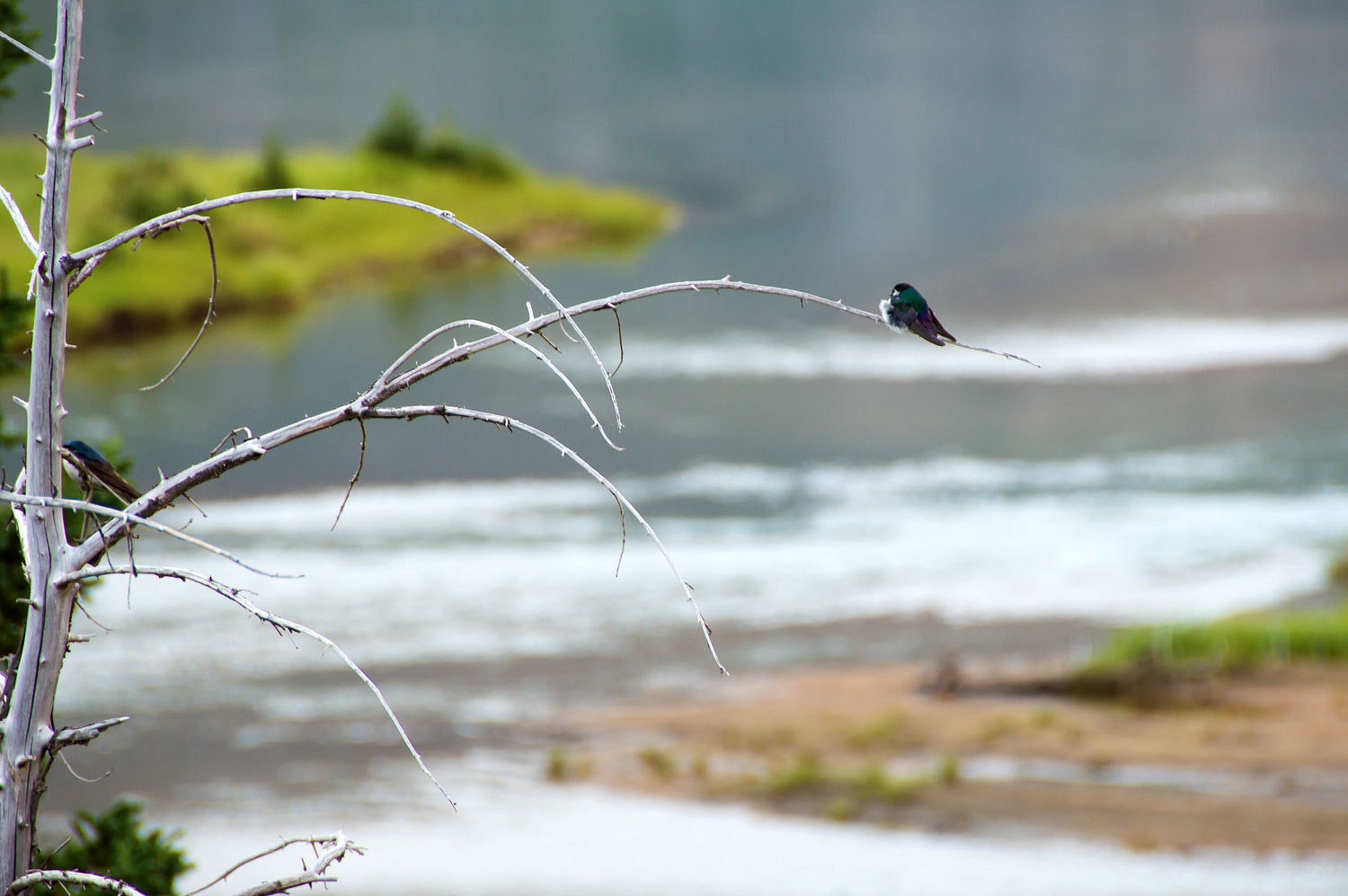 We did join the Florida couple around their fire and they shared their story. Now both retired, they work summers in Yellowstone. She as a volunteer in the Visitors Center at Fishing Bridge and he as the captain on the tour boats on Yellowstone Lake. It was so interesting to hear their good perspective on Yellowstone and its visitors.
We retired to our camper a little later than is our norm. We slept soundly, wonderfully, not in any way expecting that the following day would be one of the most remarkable we have spent in high mountains.
Our adventure continues in Part Four. Please Click Here.