please remember you can click on a photo to see a larger version
"I've never won anything before that I've really wanted to win!" The Lady was thrilled and had been since we received the email. She was at school, before her students, explaining why she would be absent the next day. "We won!" she told them. I'm sure her voice was filled with joy. It was all she could talk about at home after the email arrived on December 22nd. "Our christmas present!" she called it.
"We are able to go on a special tour," she explained. "Only 15 people are allowed. There is a lottery where the winners are chosen out of a hat. We won!"
It was early Friday morning. We were heading down highway 395 along the incredible eastern front of the Sierra Nevada. The Lady was telling me about announcing her absence to the kids the day before.
"I told them we get to see mastodon tracks and saber tooth tiger tracks!" She continued, "They asked where. I told them Death Valley!"
We needed to be at the Furnace Creek Visitors Center at 7:30 am Saturday morning.
As I've mentioned previously in our stories, I have an interest in historic military aircraft wrecks. Because of this I usually have notes about possible sites to check out when we are in the area, such as a B-17 in the East Humboldt Range or a B-24 in the Toiyabe Range. A few years back a friend gave me information on a spy plane crash site near Darwin, California. With our early start, we'd have time to find it on our way to Death Valley. The coordinates I was given were entered in our hand held GPS unit. We parked along highway 190

and started hiking. Nearing ground zero we found this.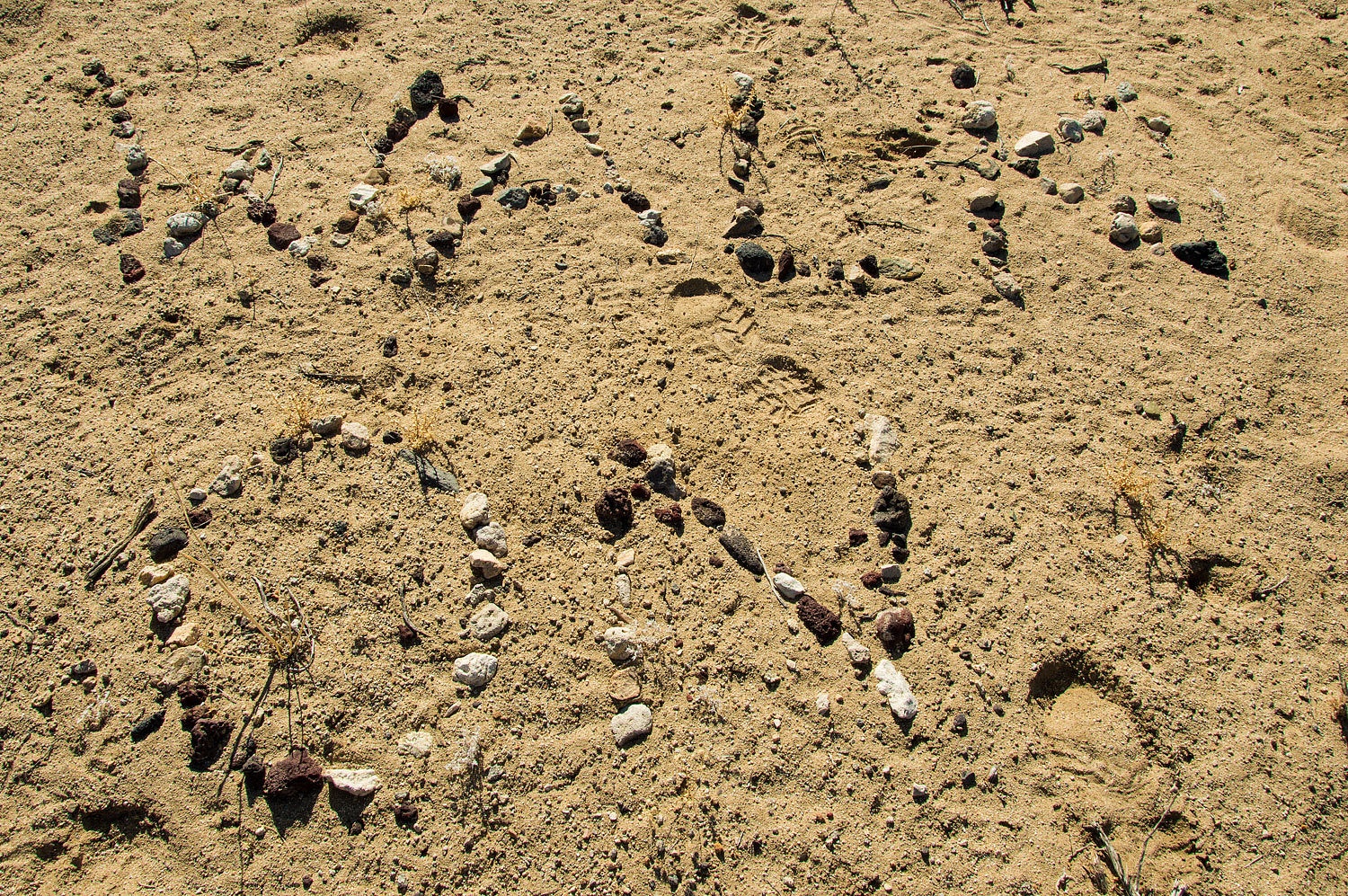 A few yards further and we found this plaque.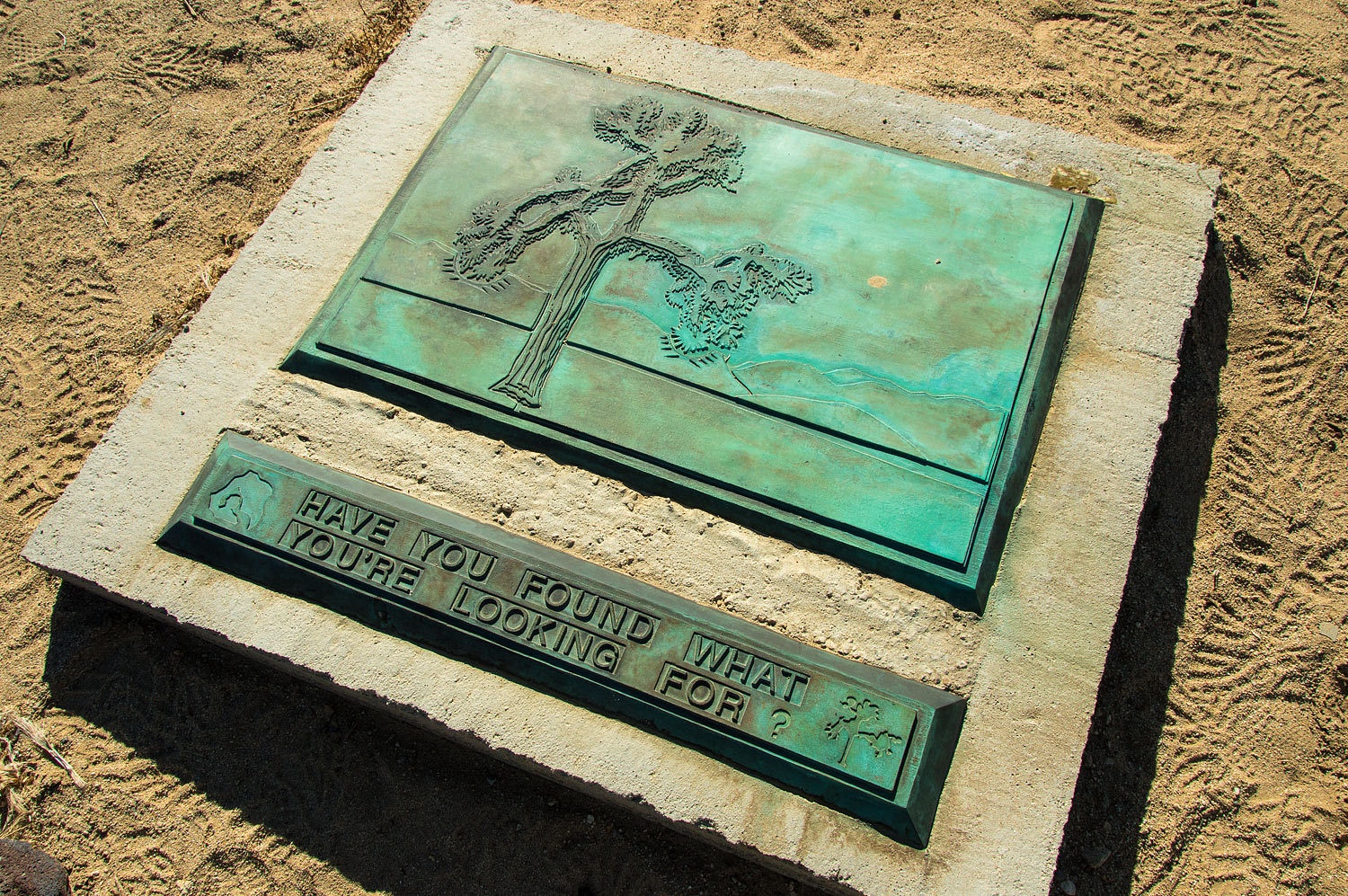 Something did not seem right. We found the remains of a fallen joshua tree with items scattered about.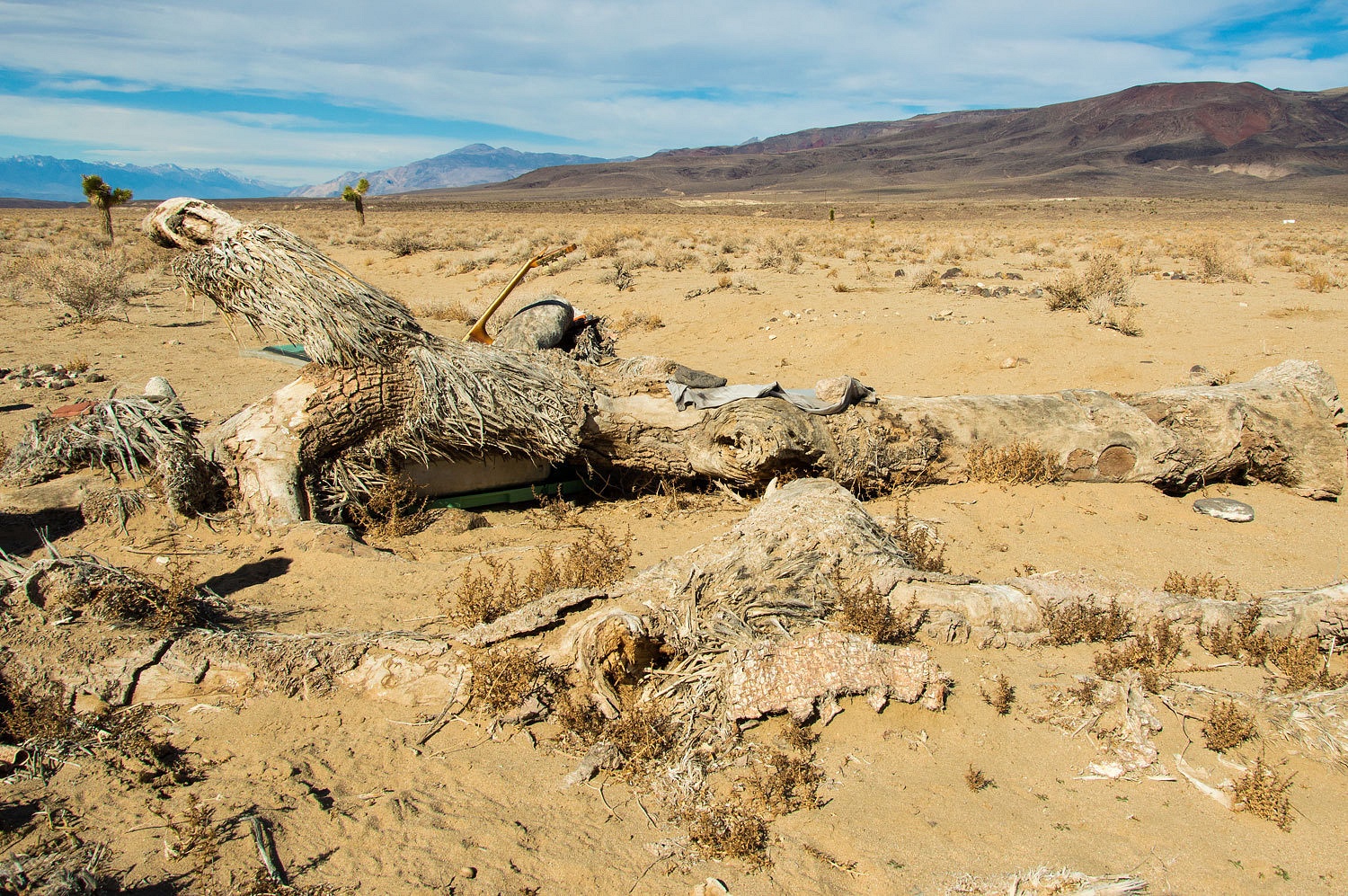 We noticed various musical items and then I saw it, "U-2" and realized a clever joke was being played at my expense; easy to do with my ignorance of pop culture.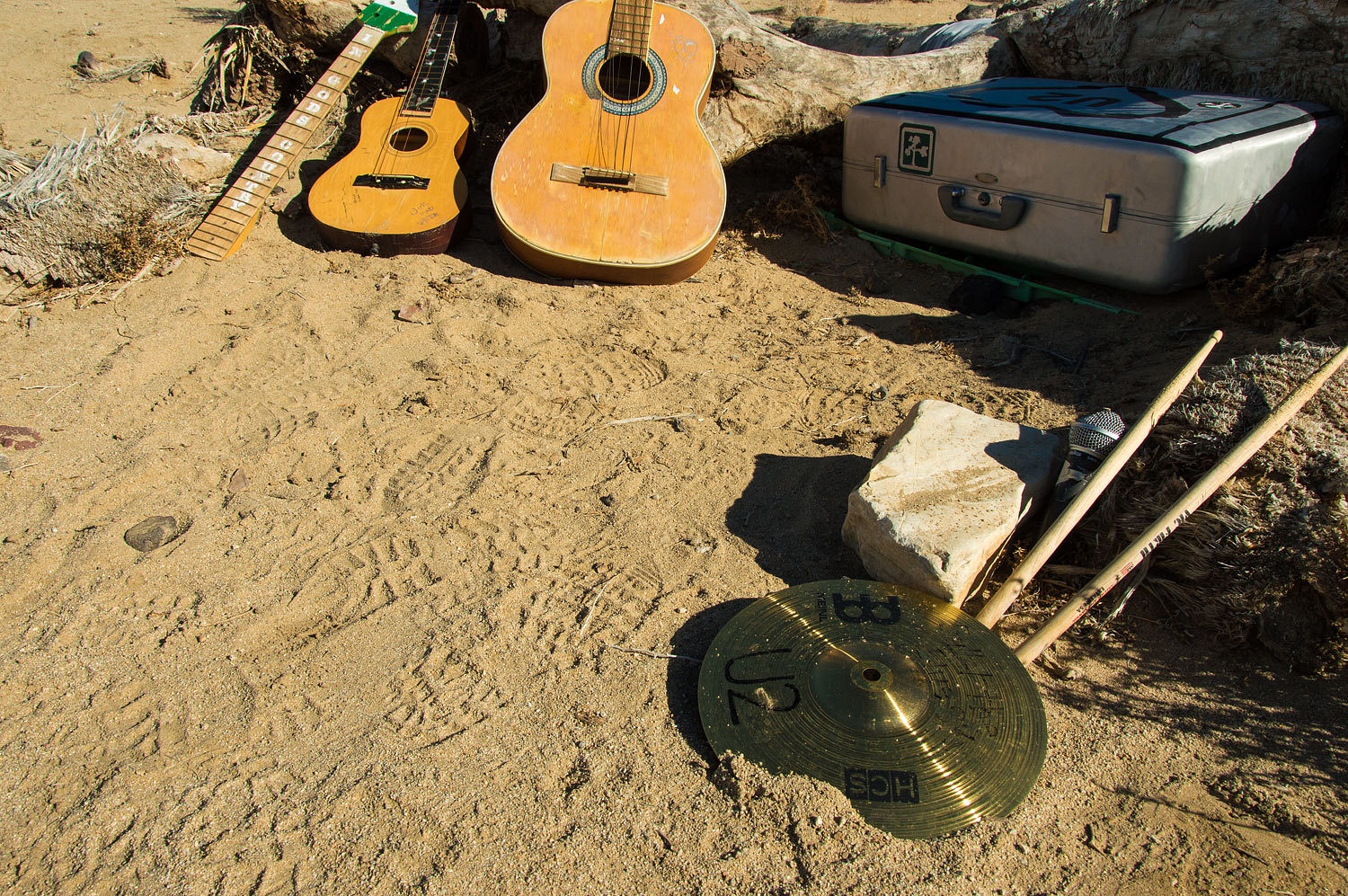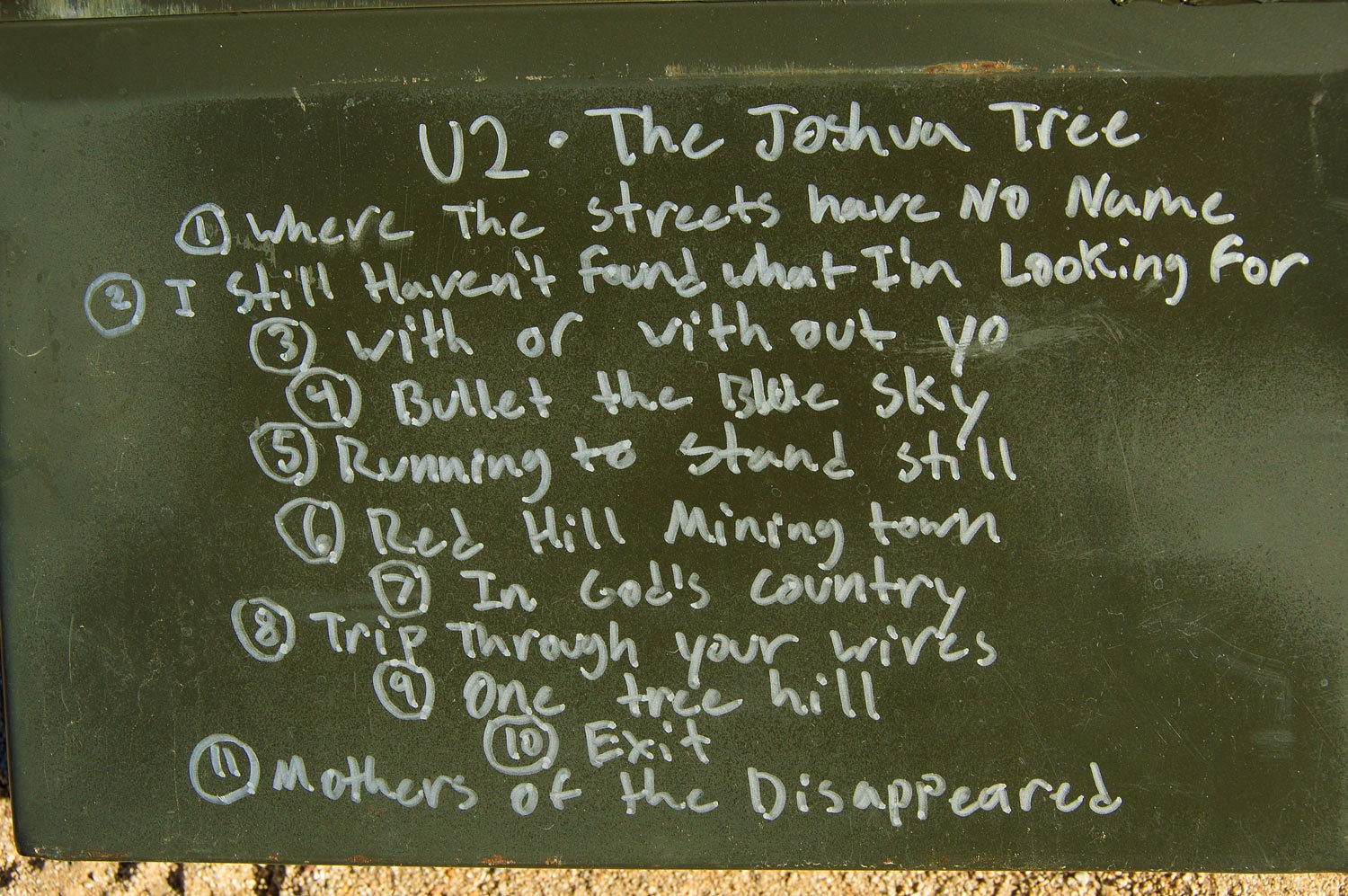 This site of the album cover shoot appears to now be a shrine. This was a pretty good joke, but my friend should know revenge is best served cold.
Since it is a favorite of ours and close to Furnace Creek, we camped Friday night up Hole in the Wall Road.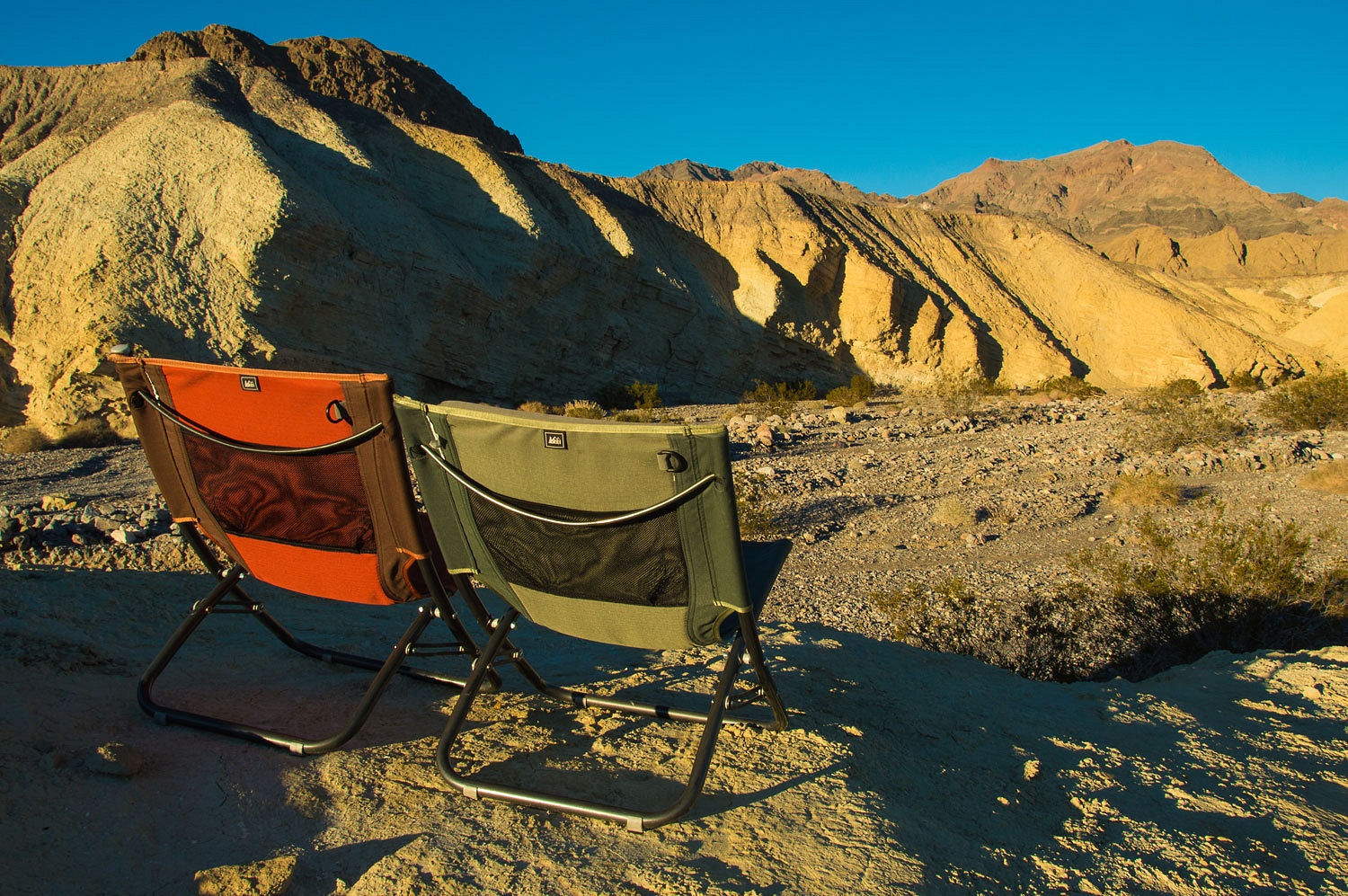 The bajada to the north, above the wash, is a wonderful example of desert pavement.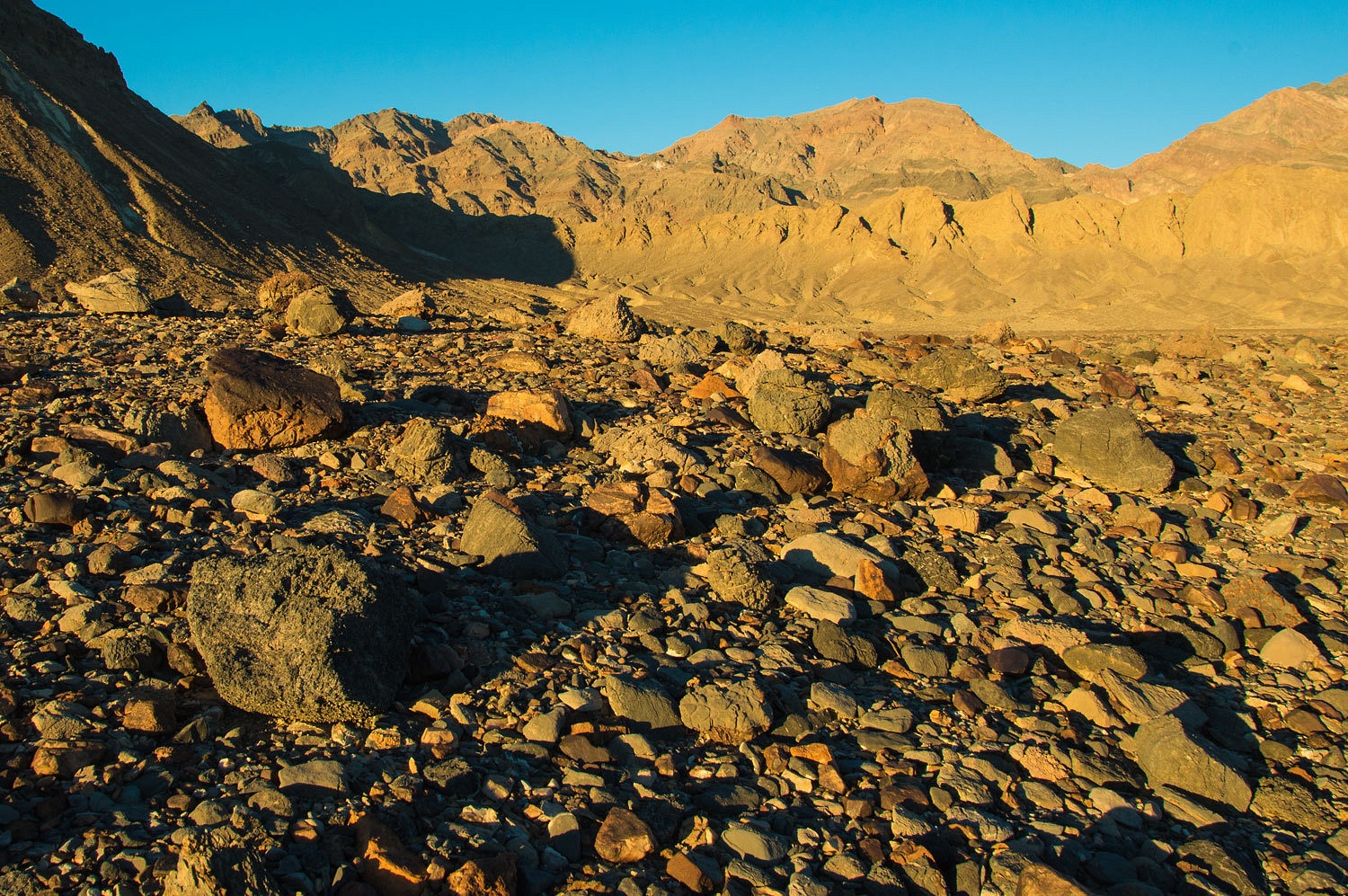 The afternoon light was warm and beautiful and a landscape we could melt into.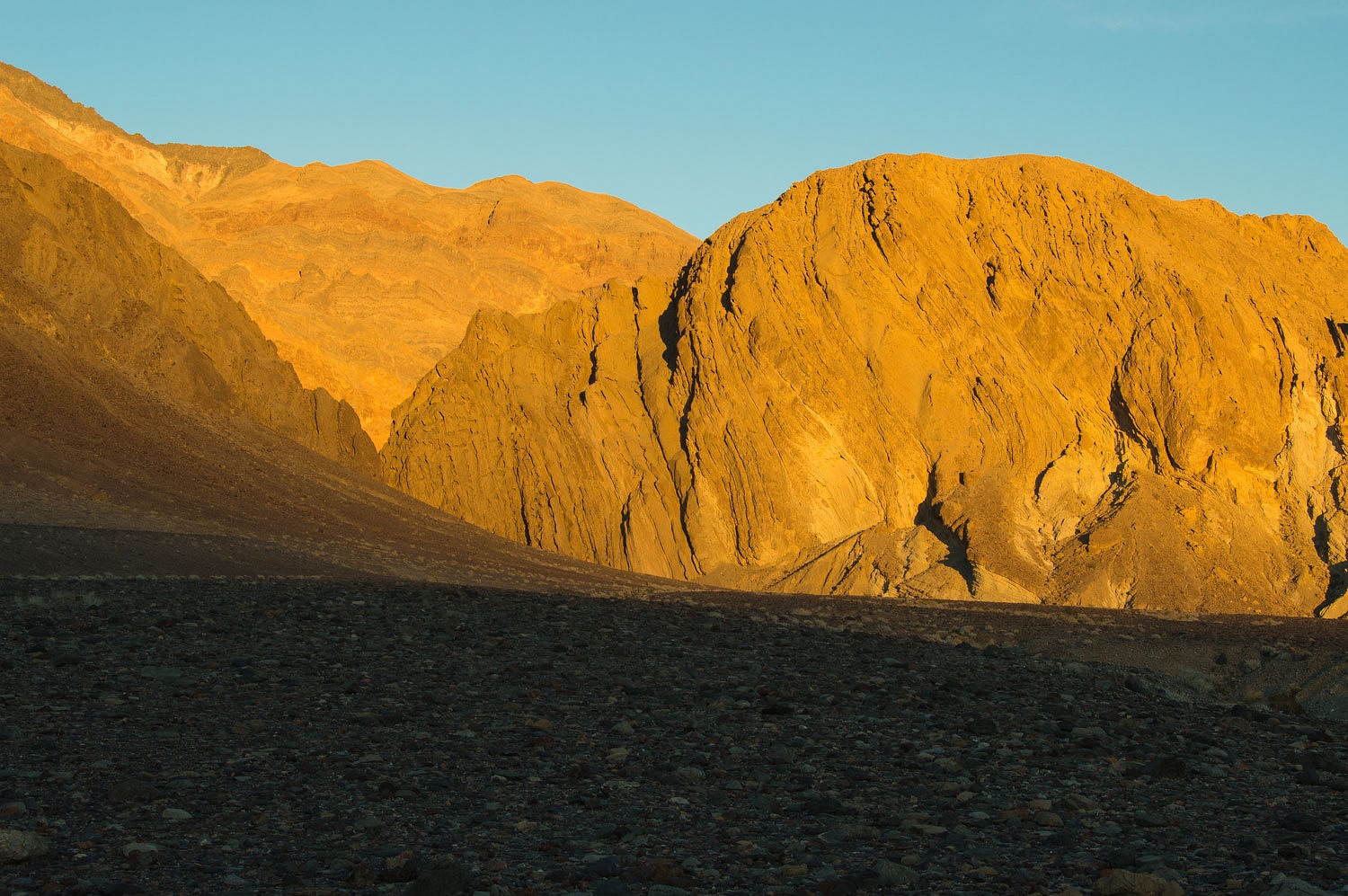 We arrived early Saturday morning at the Visitors Center. A couple other vehicles were there with people preparing for the tour. We chatted with a couple from Bishop, California. "We've been trying for six years to get on this tour," the man said. "We've tried stacking the deck, each of us submitting a separate request for the same number of spots. It took six years!"
We were recently reminded of the Paleontology Tour by a friend in Oregon. We followed the directions on entering the lottery and hearing that it could take years to get spots, expected nothing. And then the email back arrived on Dec. 22nd. We were in! We could not bring ourselves to tell the folks from Bishop about our luck. Our friend in Oregon says he is owed a "finder's fee".
All 15 participants were on time. Carrie, our NPS guide and Deb, her NPS volunteer sidekick made introductions, gave a quick overview of our adventure ahead, and we were told to follow their vehicle to an "undisclosed location".
The Death Valley National Park website gives this explanation of the area and tour -
"Millions of years ago, Death Valley's landscape and lifeforms appeared very different from the harsh desert of today.
On the Paleontology Tour, a park ranger will lead you into the wilderness through a dramatic canyon with high cliff walls opening into a multi-colored basin. There you will have a close up encounter with well-preserved fossilized tracks of bird, horse, camel, and mastodon-like creatures.
Although this fragile paleontological resource area is usually closed to the public, there will be three ranger-led tours on selected dates."
Carrie explained at the start that photography was allowed but only for personal use and the Park Service requests no postings of photos be made to social media sites such as facebook. I feel this blog fits that category and I will honor the request. I will tell you it is a great opportunity and you are allowed an up close and personal experience. Our group was close knit and a wide range of subject matter and questions and answers were covered. The geology is incredible. If you are interested in this subject, please put in for upcoming tours. It is worth the time and effort, even if it takes years.
And those of you that know us personally, give a call, let's get together for dinner or something like that. We have some great photos - mastodons, saber tooth tigers!
We were back to our vehicles at 3:30 pm. Would we have enough time to make it to the end of Lemoigne Canyon Road? As mentioned in previous posts, we have been searching for something. We were determined to find it.
We had the camper popped up and camp set up chores going just as darkness fell. This is an incredible spot for quiet and solitude along with a tremendous view. The night sky was outstanding.
We enjoyed finding the Comet Lovejoy with our binoculars, a green fuzzy ball. Mercury was just ahead of Venus, setting in the west just after sunset. We believe Jupiter was the large bright disc that rose in the east. We did see two strange bright lights for a few seconds in the eastern sky above Stovepipe Wells, UFO's. They hovered in formation, then dimmed and moved together to the northeast and then disappeared. Now by UFO's, I mean "unidentified" as in I don't know what they were. I do not mean alien or extraterrestrial space craft. We did not prepare for first contact, abduction, or blackout for the invasive medical exams.
To be able to sit in the quiet and take in a magnificent star filled sky is a gift.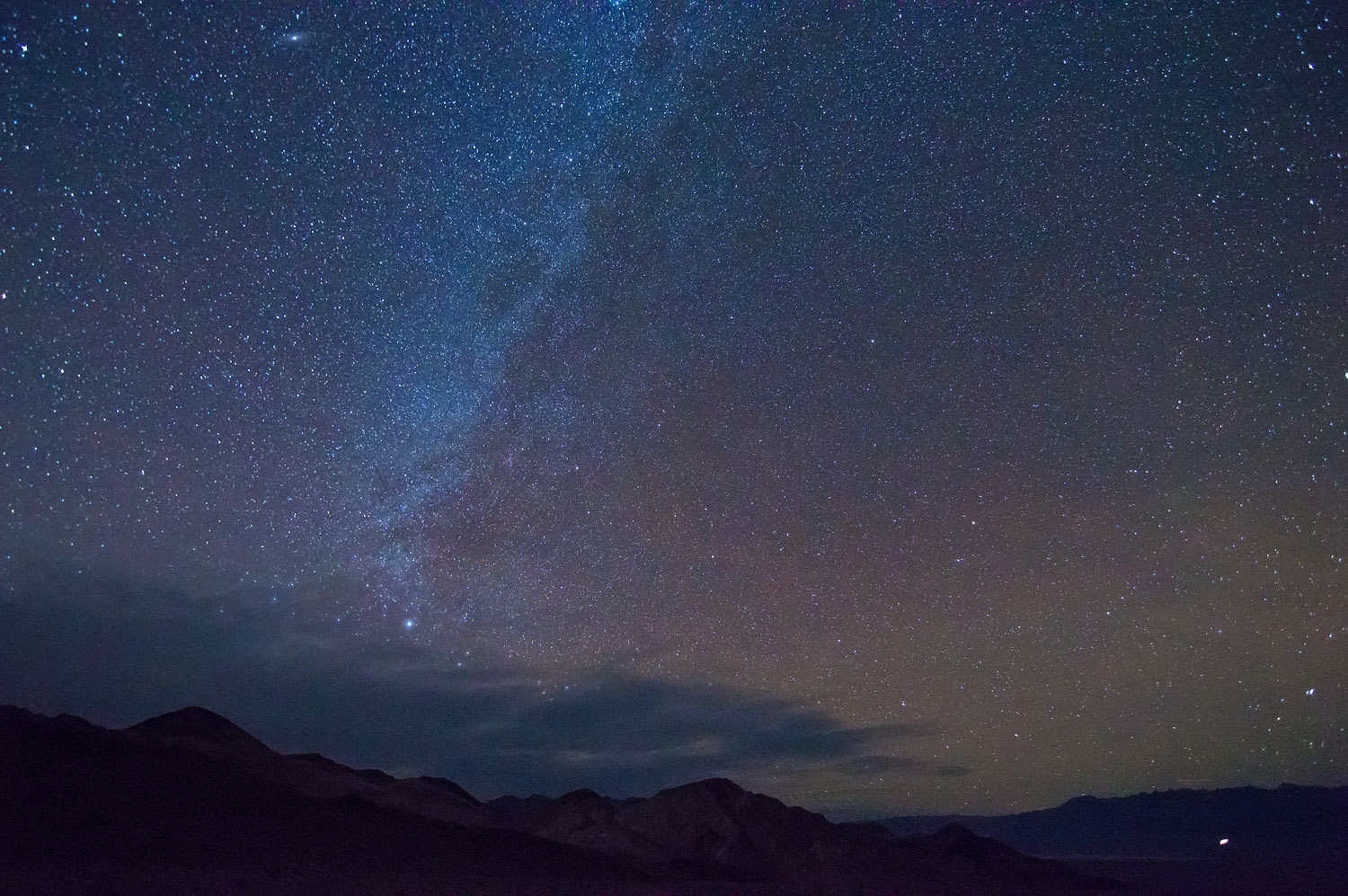 Morning came in all its desert glory.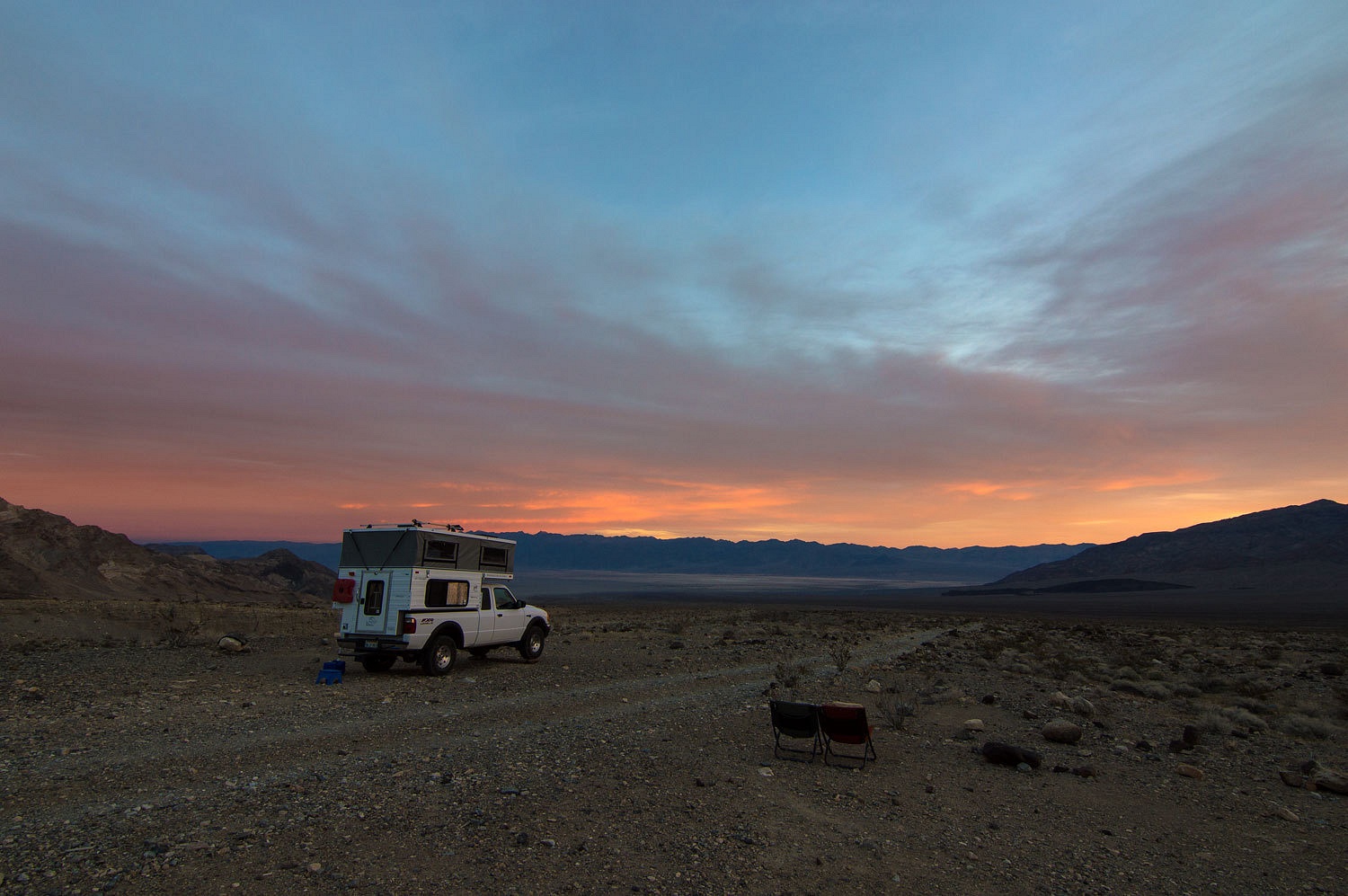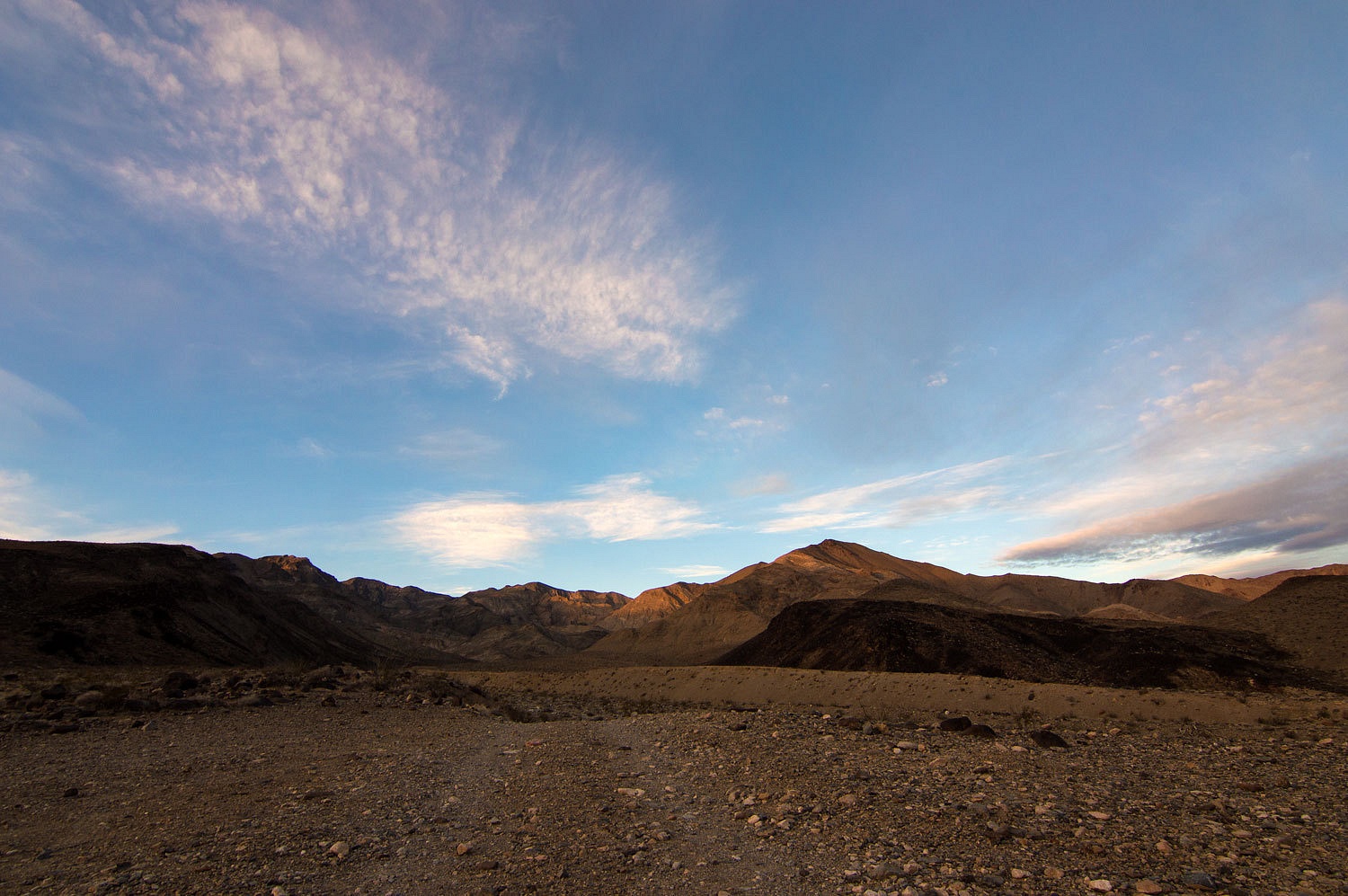 After a more leisurely special breakfast, our packs were on our backs. We were ready to go. "Today we are not going to look for it," the Lady announced. "Today we are going to find John LeMoigne's wagon!"
I had previously written that John LeMoigne died with his wagon in Death Valley and it was later moved back up to his mine. I no longer believe that to be true. Historical photos of LeMoigne show him with pack burros. An article I am now reading, published back in 1971, tells the author's story about traveling to Death Valley in 1917 to visit LeMoigne. John and his burros are mentioned. After LeMoigne's death in 1919 it appears Bill Corcoran and Bev Hunter took over LeMoigne's claim and found "John's dugout-cabin, mine, and a broken-down buckboard."
We had heard LeMoigne's wagon was out there, untouched, undisturbed for close to a hundred years. How cool would it be to find it! To say it is off the beaten path is an understatement. I enjoyed all the research and sleuthing out little bits of information; making a little bit of this interesting man's story come to life. Well, the Lady said we were going to find it; we were not going to look for it.
I saw the out of place straight line from about 50 yards away. I stopped. The Lady was off to the right, on her search line. "We've looked this area over pretty well," I yelled. "Let's move over this way." I pointed to my left. My ploy worked. I wanted her to find it, to have a part of the discovery. Her line intercepted the wagon. She saw the top edge of a wheel. "The wagon!" she yelled. She stomped her feet and clapped her hands. "We found it!"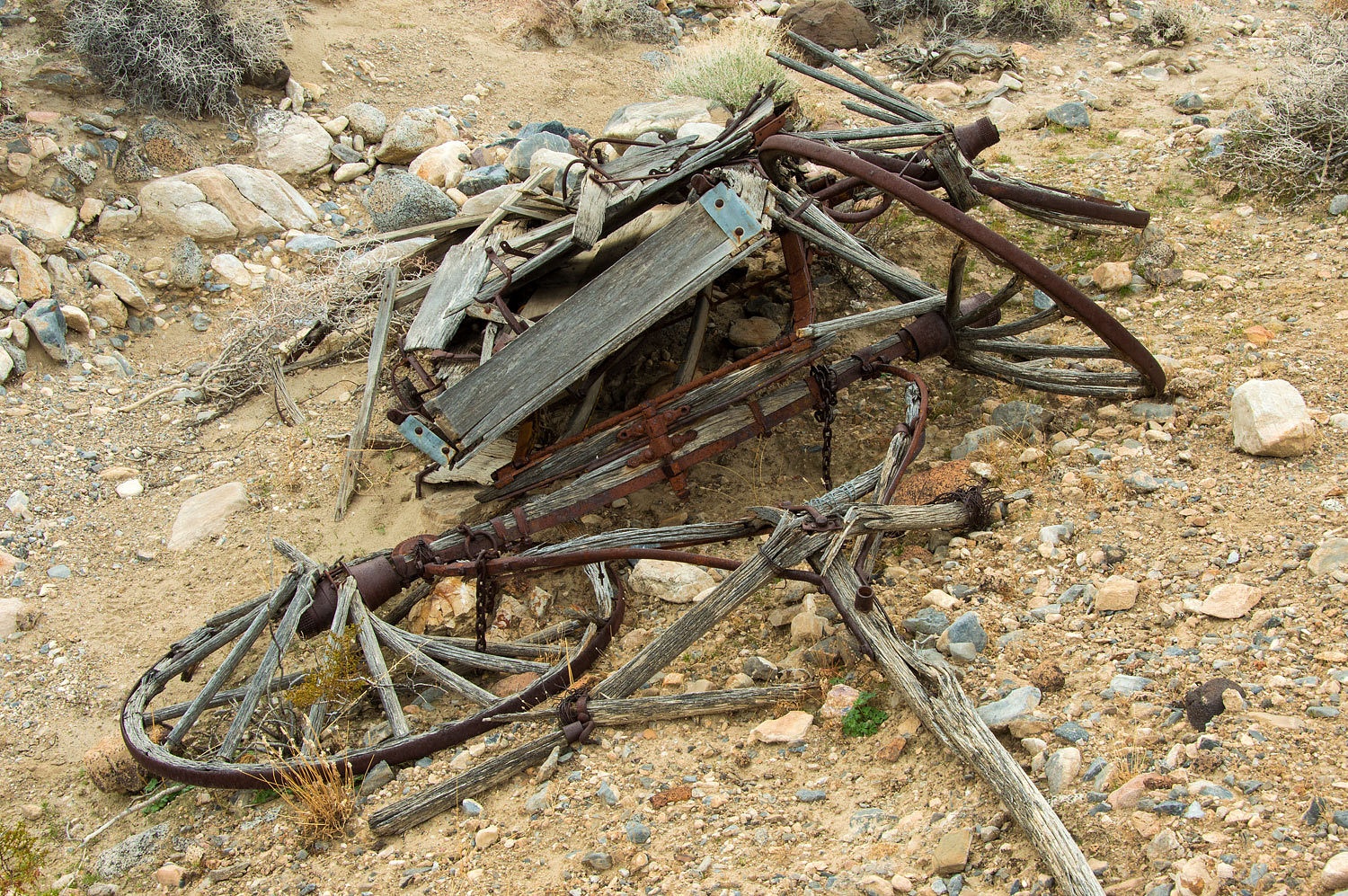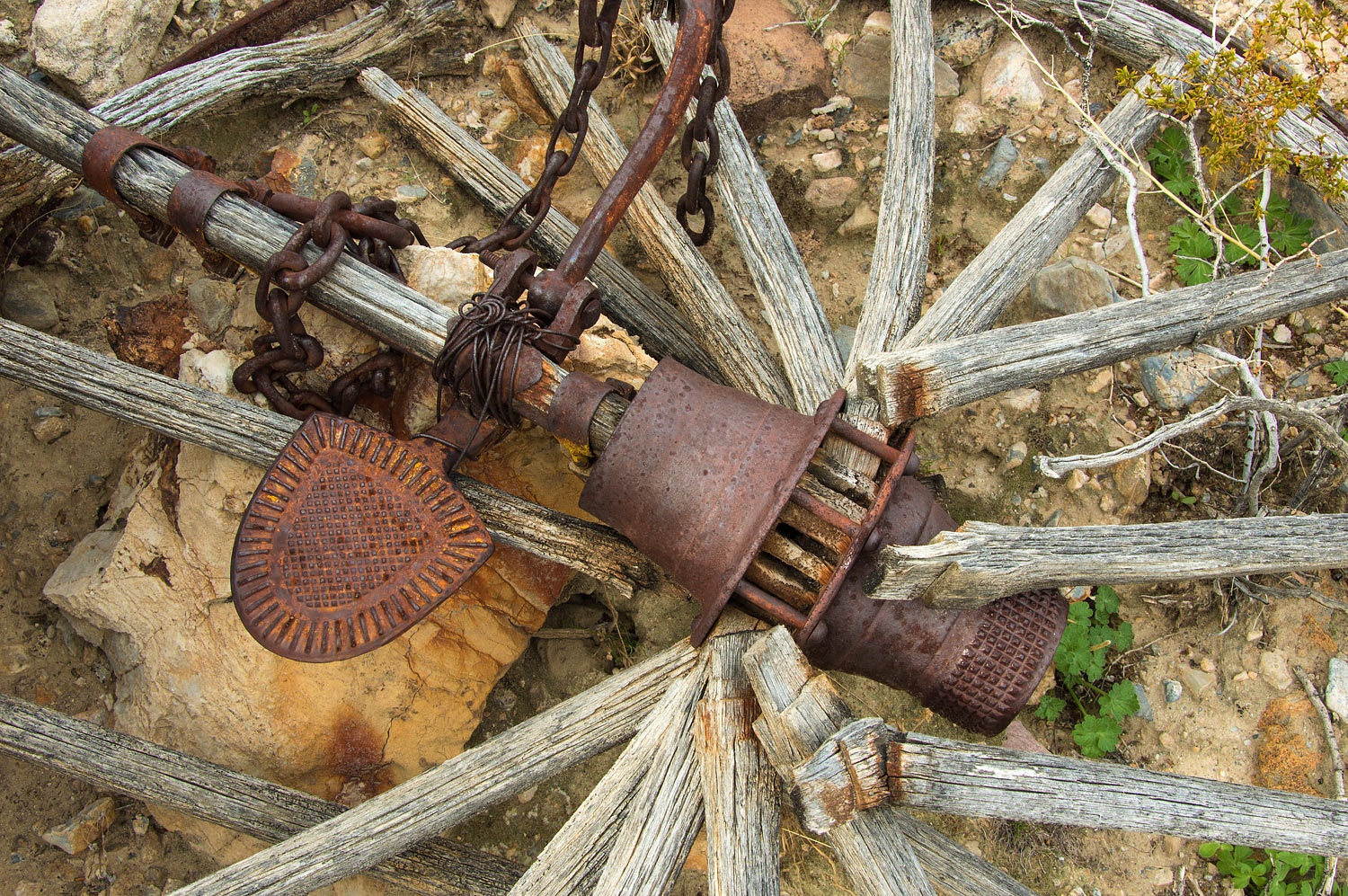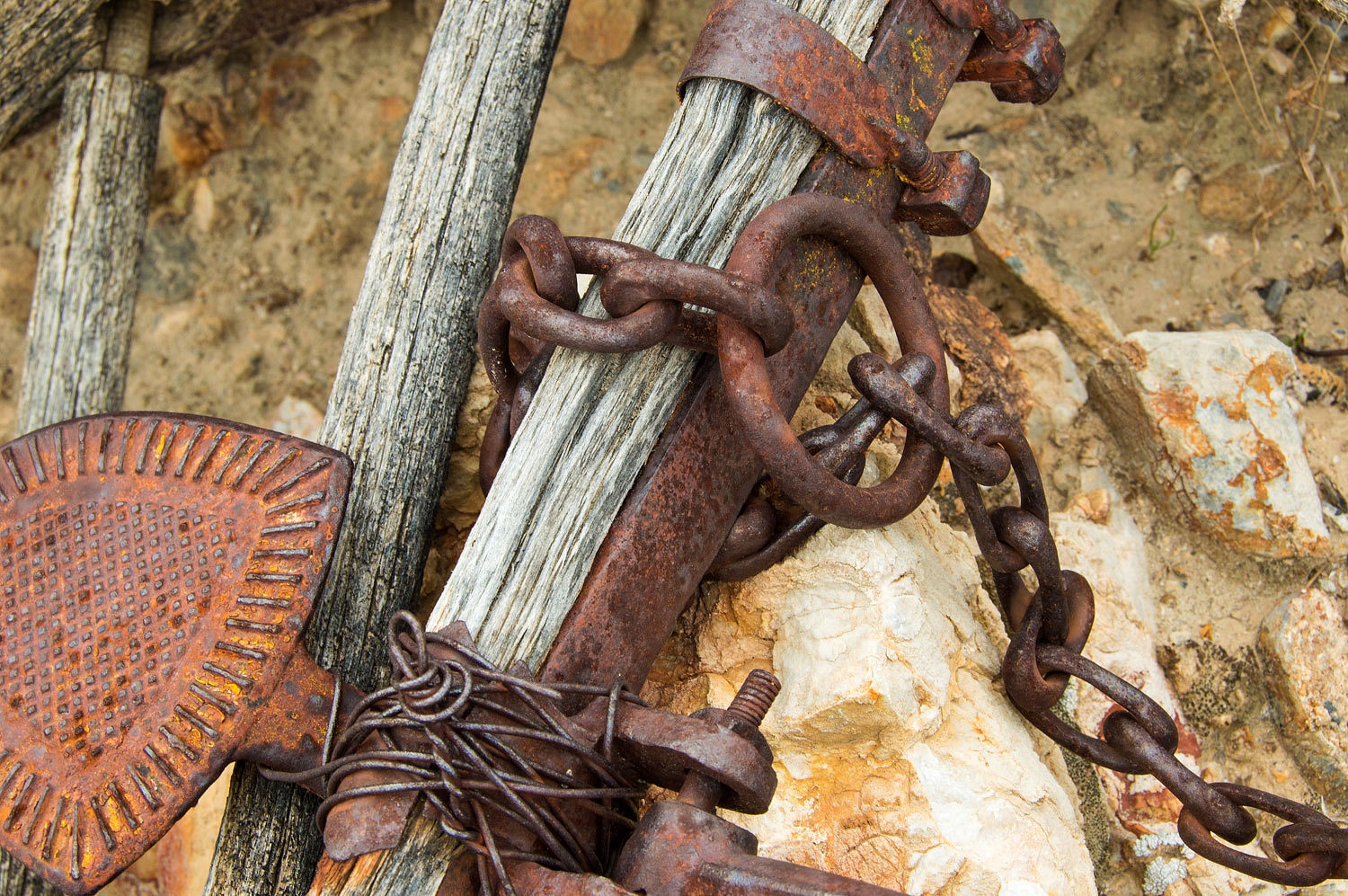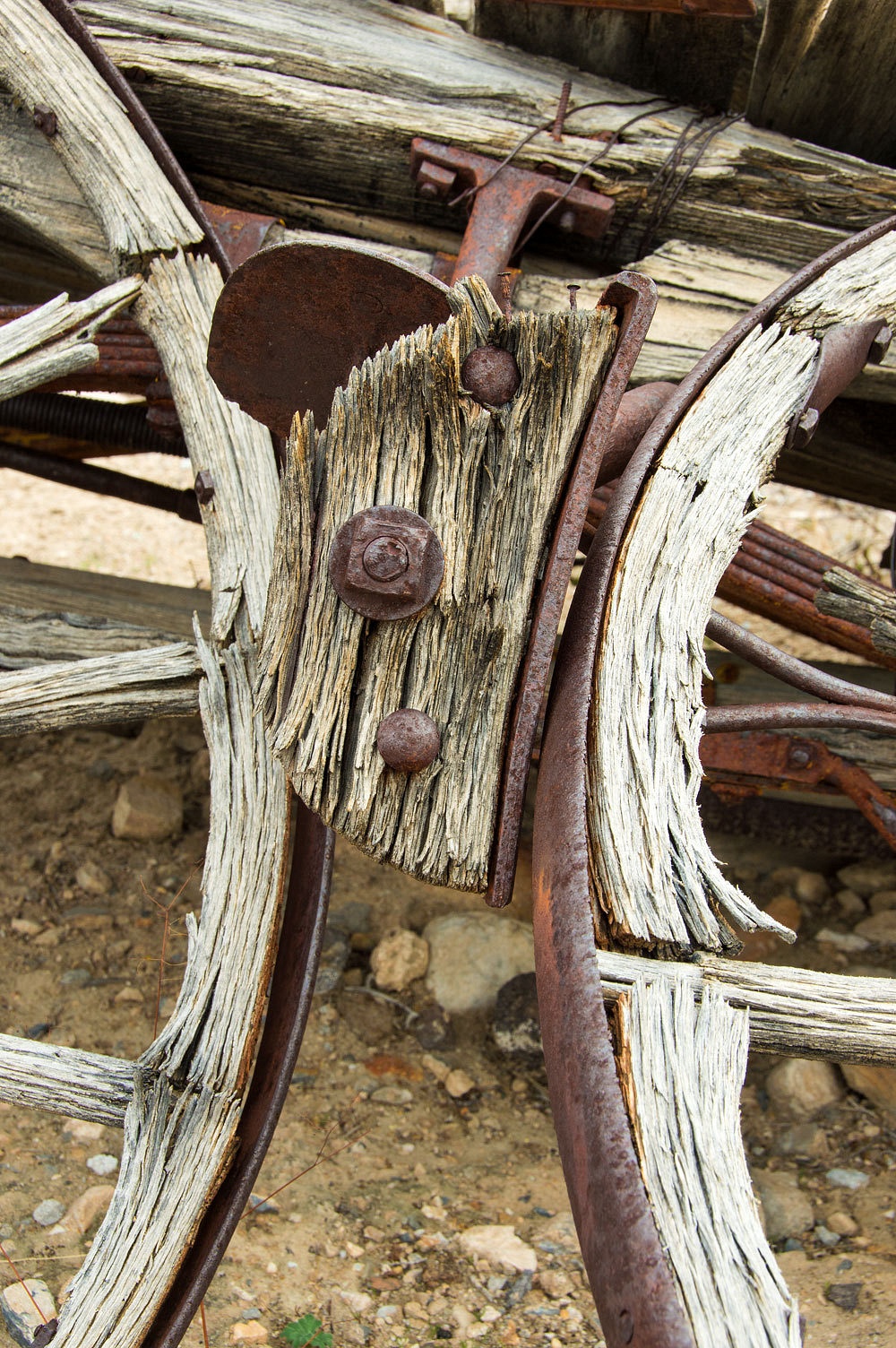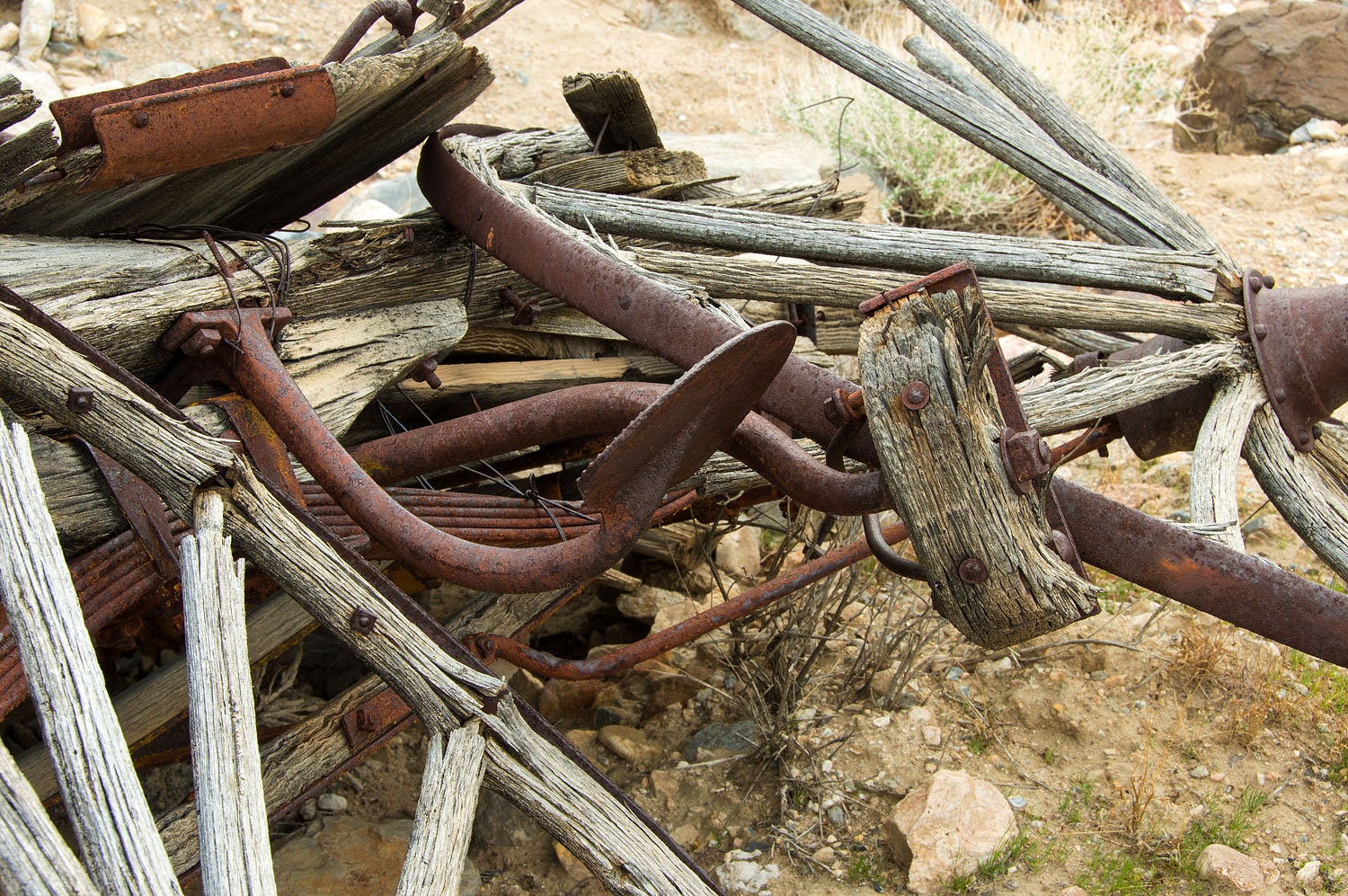 We established the coordinates with our GPS units, took photos - including ones with background landscape for location, and looked for evidence of past visitors marking the location in some way. We have given the Park Service a report on the location and current condition of this special relic.
If by chance you find this, or any other treasure, please do not touch or disturb in any way. Leave no trace of your visit and let only time take its toll.
We headed north and late afternoon found us at the famous Crankshaft Crossing.
It looks like new artwork has been affixed to the old sign.
We continued over the Last Chance Range and headed into Eureka Dunes for the night. The road still wins the honor for the worse washboard. We set up camp, enjoyed dinner, and walked in the night. The quiet of the desert surrounded us and took us in. A bit of a thin cloud layer veiled the stars.
The morning was cold, not by usual Eureka Dunes winter standards, but the coldest morning we had at 30°.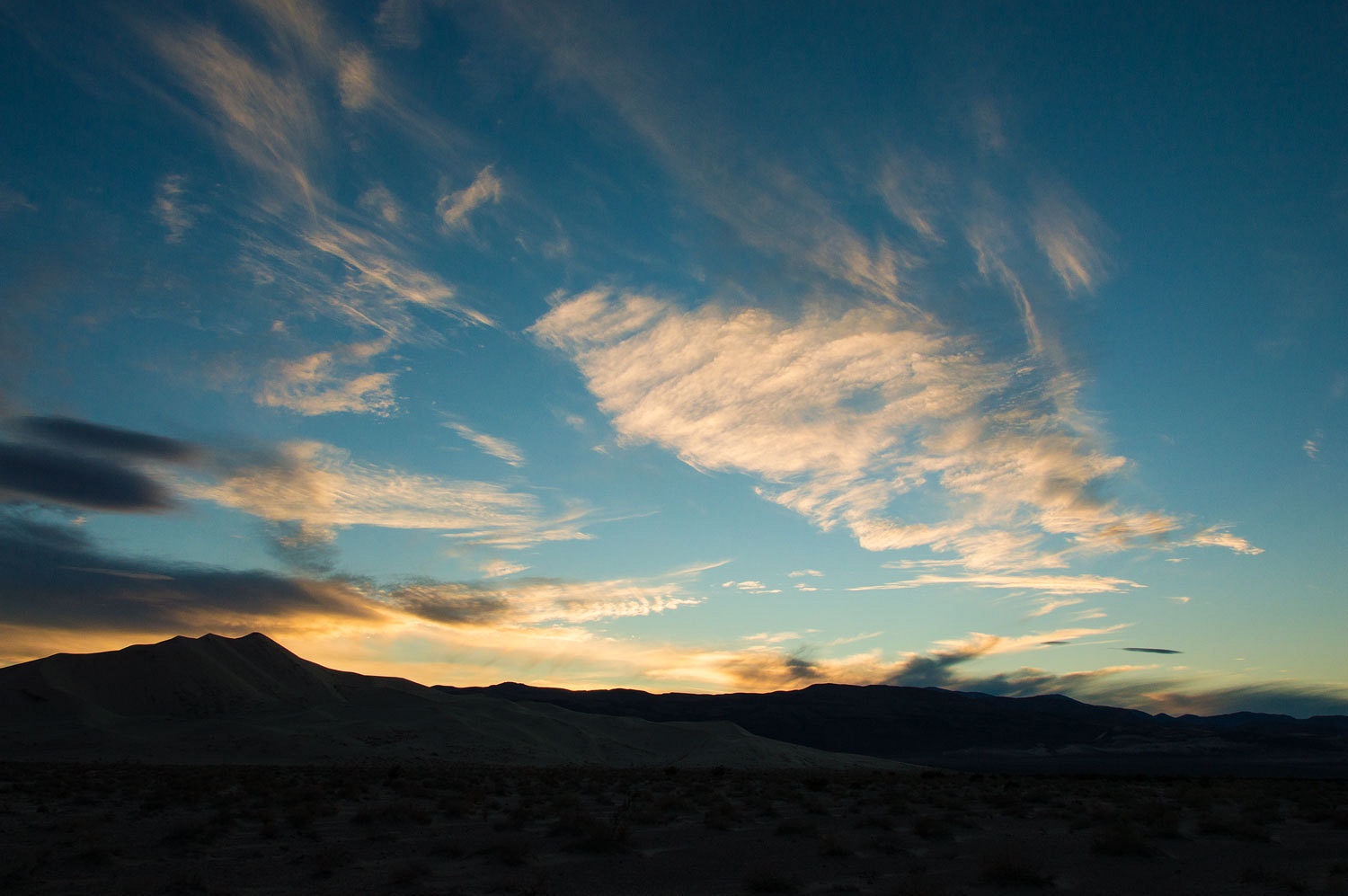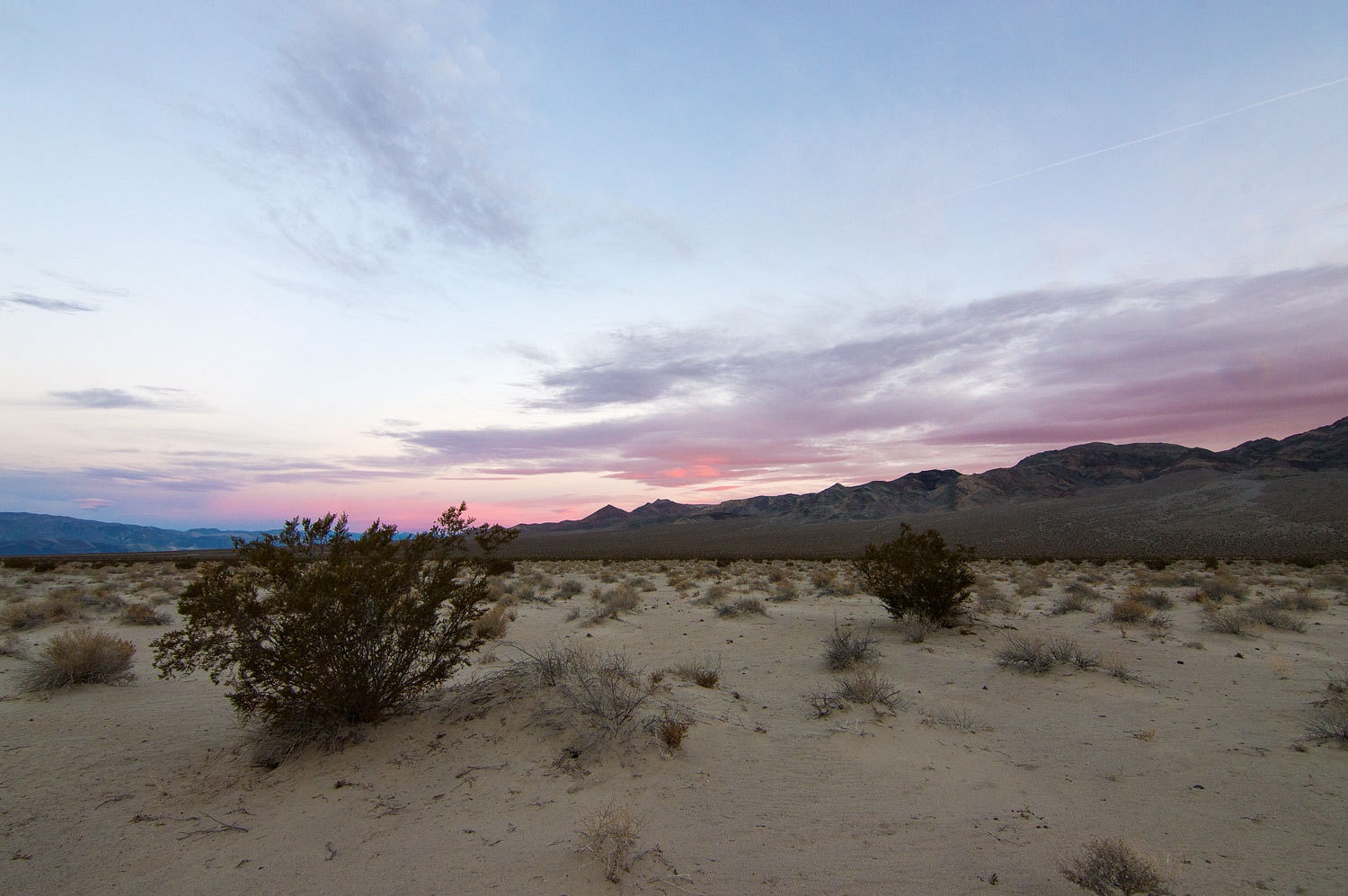 The Lady had our coffee ready and joined me outside. "We don't have to hurry home do we?" she asked as she laced her arm around mine. "Of course not. Look at this place. Let's walk."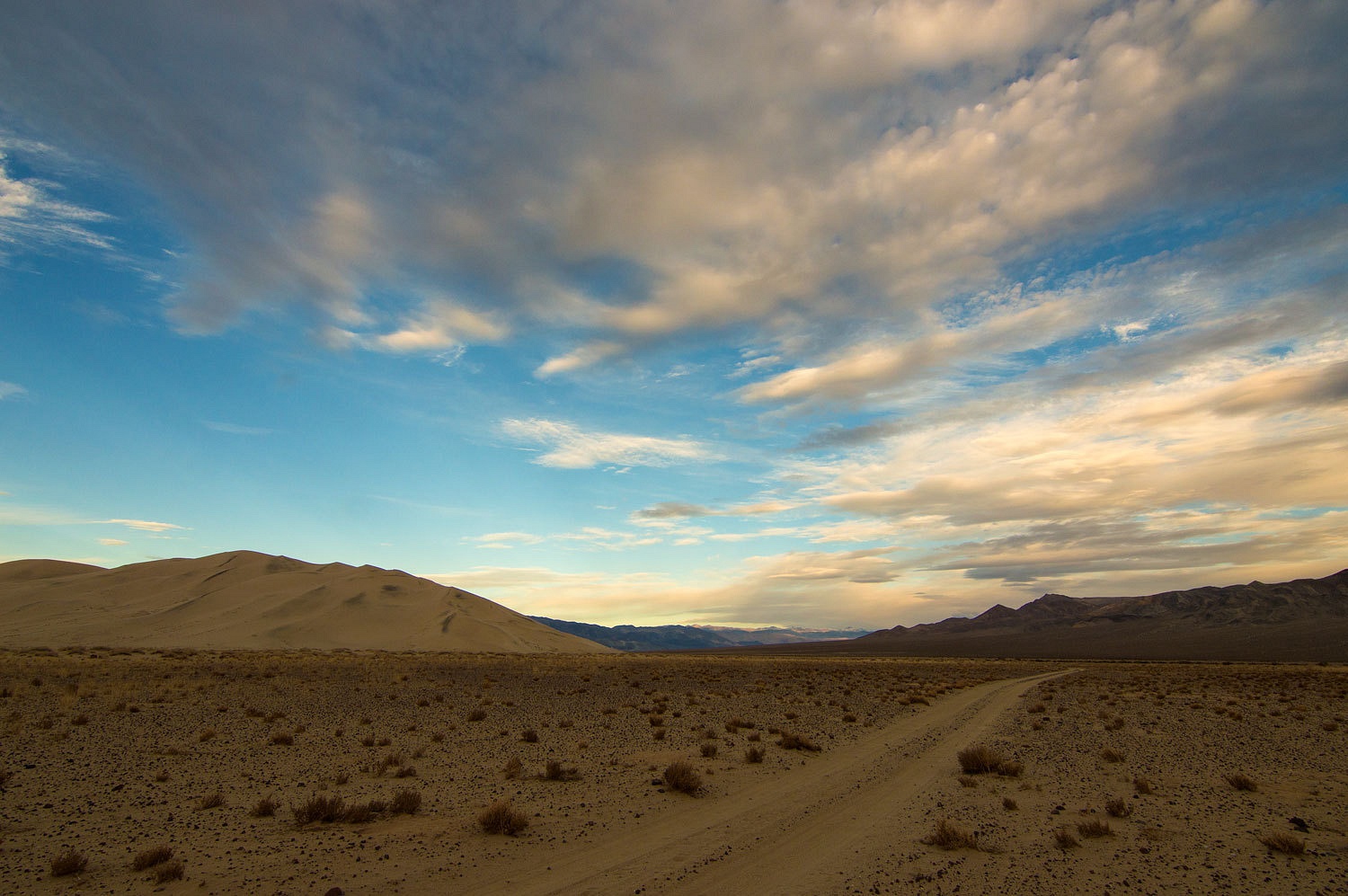 As we walked, the day gradually brightened with the rising sun.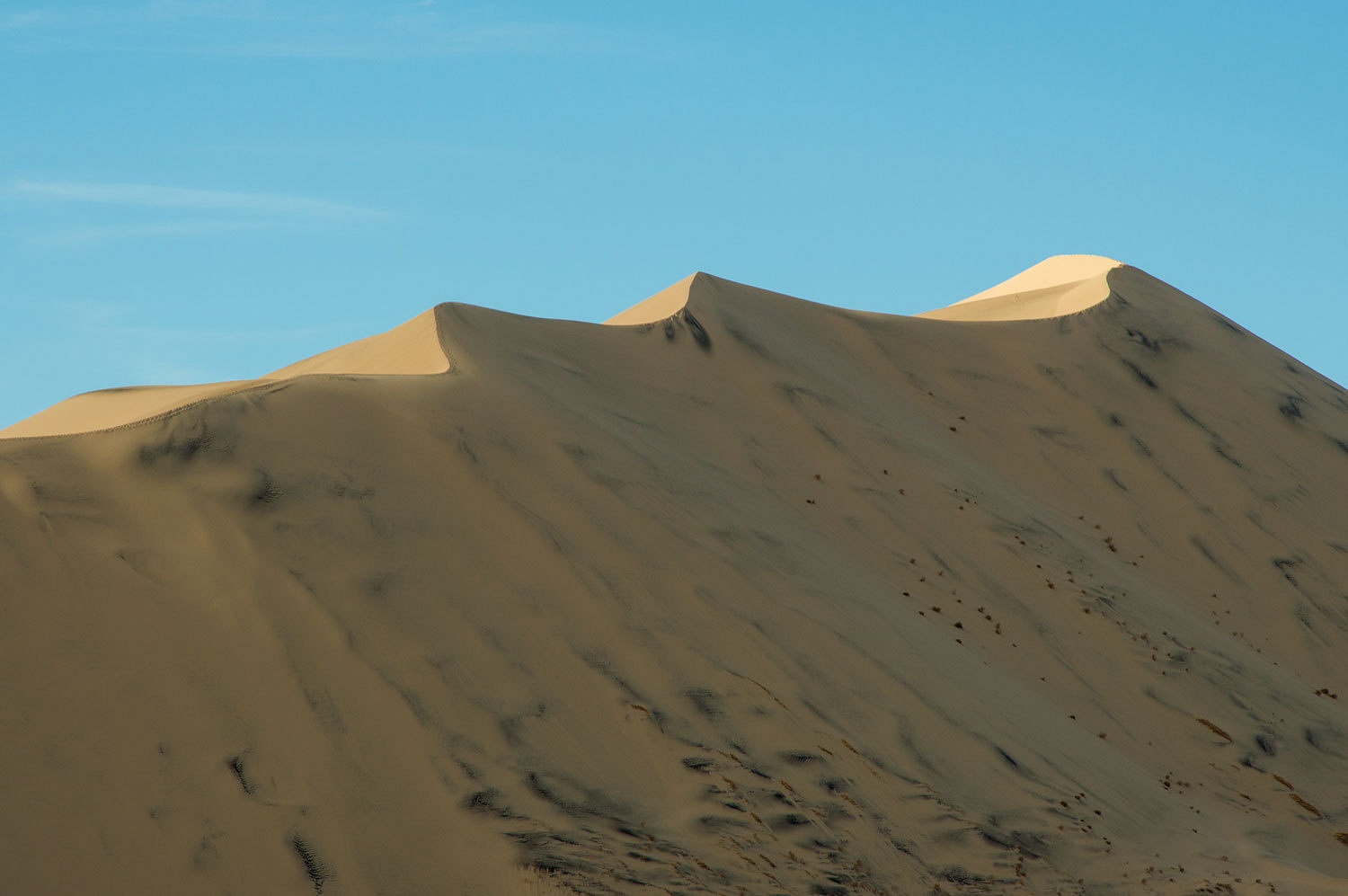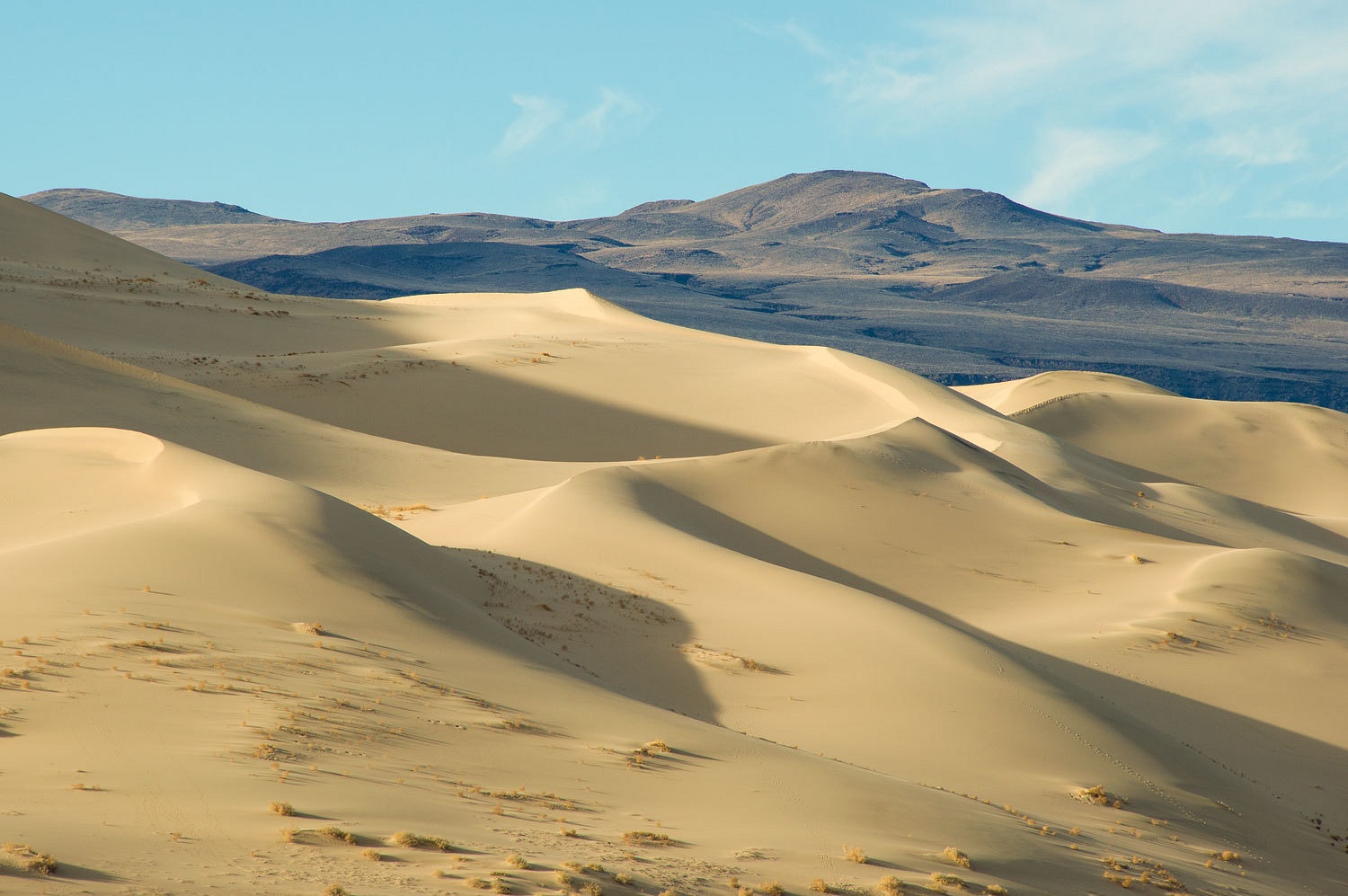 This was another great trip for us. It had indeed been a wonderful peek into the past.