please remember you can click on a photo to see a larger version
The Lady got her way. It was right at dark as we got the truck and camper leveled out, well as much as we do with leveling, and we set up camp. It was Thursday night, we had left home after work, headed south down highway 395. With the waning light, we pulled off 395 at Conway Summit for a quick overnight on this extended weekend trip. We had spent last Saturday night here at "Ted's Camp" but this time, as I said, the Lady got her way. We camped at road's end with its overlook of Mono Lake. This is the spot the Lady prefers.
Up before the sun, we watched first light build in the east, and then sunrise over Mono Lake.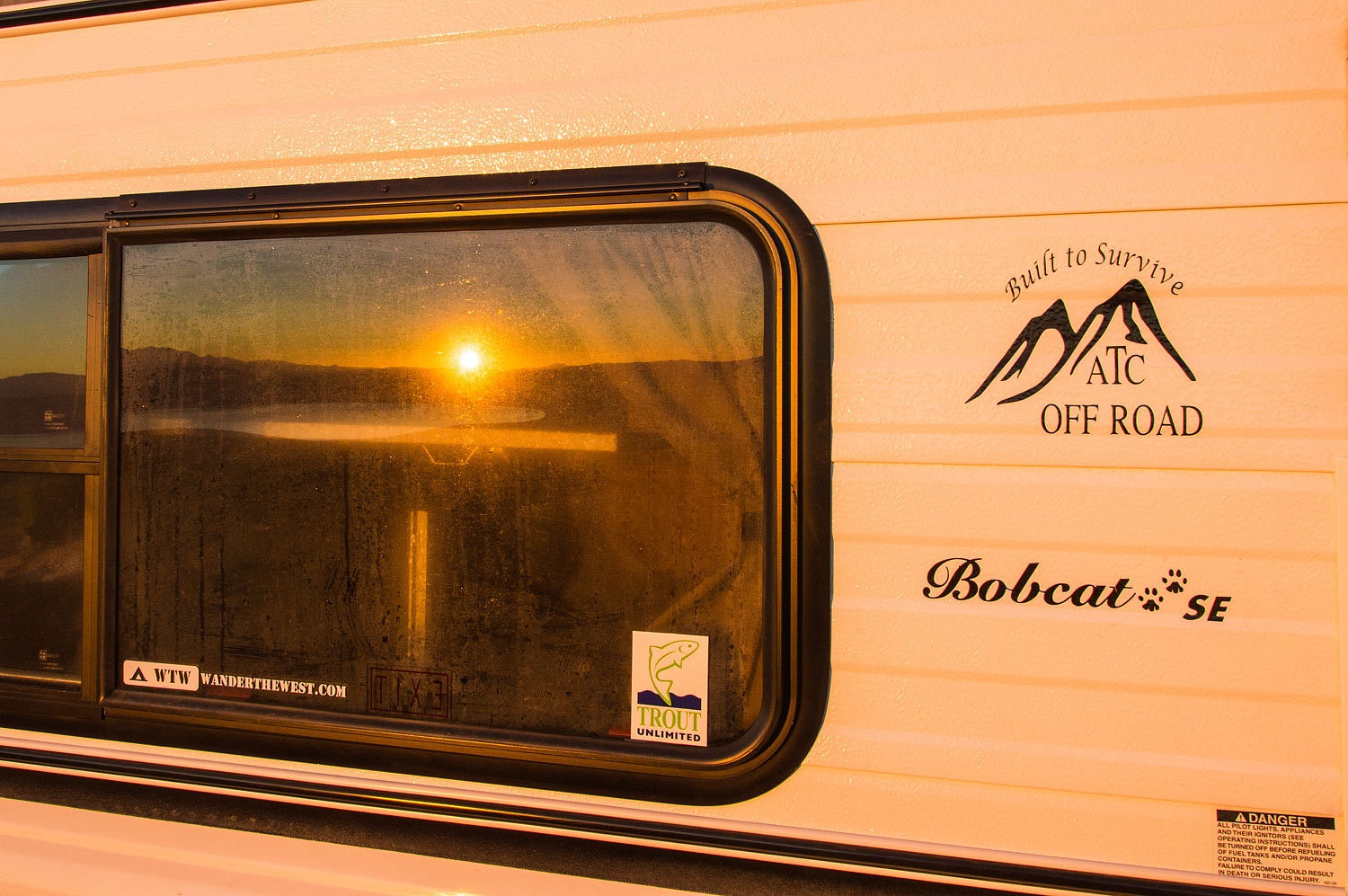 This was to be a work weekend. We were part of a team of

instructors

at a planned multi-course outdoor skills workshop for women. Unfortunately the event was canceled. The Lady had already booked a reliable substitute teacher, a young mother who could use the work, so she decided to "play hookey" and we were off.
With last weekend's storm, we didn't know how high we could get. As we neared Lone Pine and Mount Whitney it was evident our part of the Sierra had received more snow then down here. Our plans were fairly loose. We wanted to drive up Horseshoe Meadows Road to the trailheads for the Golden Trout and John Muir Wildernesses and also Sequoia Kings Canyon National Parks. This was new territory for us and part of our continuing exploration of the Sierra Nevada close to home.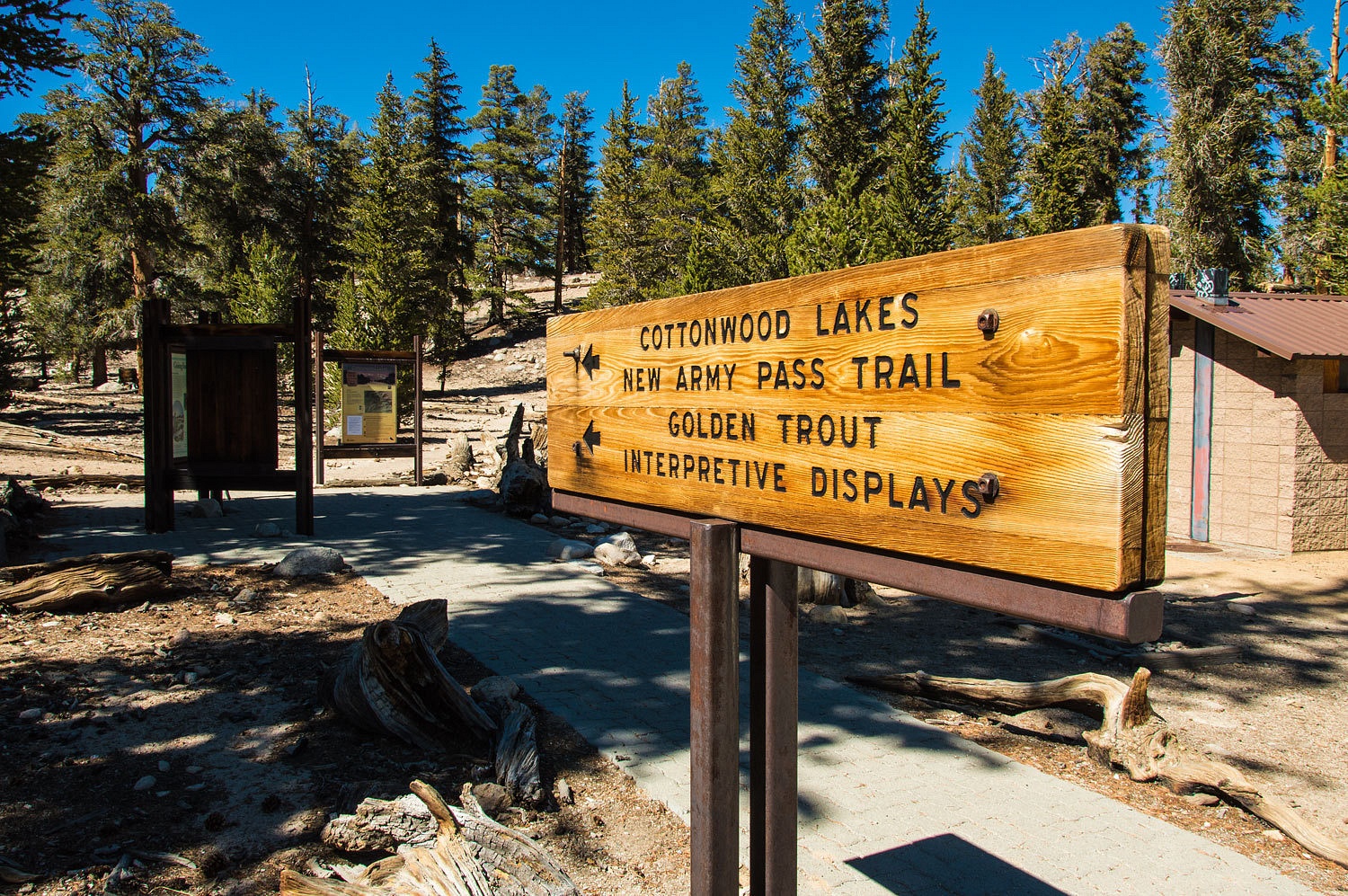 This place must be packed during the summer, one of the reasons we have avoided it. This early fall Friday, it was quiet up here. There are two trailheads, one for Cottonwood Pass and one for New Army Pass. Each trailhead has a small walk in campground for tents. There is a ten site equestrian campground at the New Army Pass trailhead. There is also a large overflow parking lot. It was empty and we would of felt comfortable just popping the camper top and setting up in a distant corner but we checked out the empty equestrian campground. It was clean with bear resistant storage boxes and trash bins. The sign

rea

d, "Equestrians have priority. All other campers use walk in sites." That was vague enough for us and site 8 suited us fine. About an hour later a large pickup with a fifth wheel combination horse hauler and camper pulled into site 7 next door. I walked over to ask if they had stayed here before, if they knew what fall use was like, and if they thought the campground would fill and would we be in the way? The couple with a young daughter were already busy unloading their horses. I did not interrupt.
When she saw an opportunity, the Lady walked over to the couple and asked our questions. This was their first time up here camping with horses but the young man said he had hiked often in the area. "I don't think it will fill this late in the season," he said. "We have a couple more people showing up. You two have no worries though, you're okay." He pointed to the nearby pen. "Those two horses are yours in pen 8. You are with us. You're family." Two more horse rigs pulled in the next hour. That was it for Friday night.