please remember you can click on a photo to see a larger version
It was New Year's Eve and we were at party central, at least in the way we see things. The wind during the day had slowly moved around to the north indicating that the low pressure system was to our east and we were in a clearing trend. The sky would be bright with stars tonight. The Lady made us each a hot mug of afternoon coffee as we watched the sunlight fade from the land.
We took a long walk in the twilight. We ended up back over in Mud Wash. I was able to squeeze off a handheld long exposure.


We worked our way back to camp. I set up the tripod and tried a 30 second exposure to see how much of the fading light I could capture.


We worked on our last meal of the year at this great spot.


The sky overhead far surpassed anything in the way of celebration fireworks.


A clear night means a cold night. One of our blue water cubes froze solid.
The new light of the new year washed over the landforms around us.


I spotted the Lady on her way delivering our morning coffee.


It was another perfect morning.


It was time to pack up and get moving on the way toward home. But, there was still that spot I wanted to find. We decided to do a large two track circle back out to the main road. We headed down Mud Wash and crossed over into Gold Butte Wash. Here the road climbs for miles. The geology changed as we traveled south. A hawk watched as we left the red rock country.


We passed the entrance to Lime Canyon on the edge of Lime Canyon Wilderness and continued on to the old Gold Butte town site where we intersected back onto the Gold Butte Road. We headed back to the north with a short detour to the west to check out the Devil's Throat. My Dad always told me, "When you see a great big hole in the ground always stop and take a look."


There are no interpretive signs to explain this. I read, prior to the trip, that the roof of a limestone cavern had collapsed taking a thick layer of alluvium down into a massive sinkhole.
Things were much quieter at Whitney Pockets so we stopped. We found the old CCC dam that had supplied water to a cattle trough.


We climbed higher and enjoyed the view out of the steep gully.


It was early afternoon as we headed toward bigger roads. We had spent six nights in the camper thus far. It was time to fill up with water, propane, and some fresh food. We drove back into Mesquite and supplied up.
We had a couple of ideas on where to head to for the night but due to the hour and travel distance we figured we'd be in new territory after dark so we chose the sure thing option. We returned to Valley of Fire State Park and rolled into Atlatl Rock Campground just before sunset. This is the campground with showers, hot showers in individual rooms so the Lady and I could take one nice long hot one together and help Nevada conserve water. We did just that and we enjoyed it.
Our before breakfast walk in the morning was to Atlatl Rock just outside the campground entrance.


Be sure and walk up into the nearby gullies.


With the clear weather we decided our route home would be highway 395. We decided to pop into Death Valley on the way but that put one major obstacle between us and Death Valley – Las Vegas. We decided to take it head on, center punch it on Interstate 15 and find the highway to Pahrump on the south side. Cars and trucks everywhere and coming at us from all sides. We had to watch for and figure out express lanes. Did we want one of those? Our senses were assaulted with an overload of stimuli. Huge billboards said you could get implants for $1999. I asked the Lady why a woman would want cheap implants from Boston's Dental Group. "Those are dental implants, dear," was her answer. I didn't have time to feel stupid, a taxi cut in front of me. Another billboard announced that a lawyer will do divorce and custody cases for half price. The Lady thought she saw The Mirage, but couldn't tell for sure. Then the Lady had to pee. We couldn't just pull over beside the road. We found a Carl's Jr. and used the indoor bathroom. There was a vacant lot next door with a precious little piece of open space. We stood in the middle of it, settled down and got our bearings. We made it to Pahrump. The traffic lessened as we headed north out of town, our pulses and respirations returned to normal.
And, then the neatest thing happen, a completely unexpected surprise.
The Lady is a good helpful navigator when we are on the road. She has the wonderful habit of rotating the map around so the road matches the direction we are going. It makes sense to her that way. As we drove north of Pahrump the Lady noticed the turn off coming for
Ash Meadows National Wildlife Refuge
. I told her about the historical significance I had read about concerning the route of the Death Valley 49ers and that it was the home of Devil's Hole, an orphaned little chunk of Death Valley National Park. I told her about the
cool video
about the water reacting to a distant earthquake in 2012. "Let's go see what's in there!" she said.
We found Devil's Hole.


This was very cool stuff. "Let's stop by the Visitor's Center," was the Lady's next request. We were the only visitors and spent a pleasant time talking with one of the managers. We learned how the area had been decimated with planned development and greatly affected by ground water pumping. A little fish, the Devil's Hole Pupfish, had played the role of the canary in the gold mine, our national laws worked, and a place that looked like this in 1969………………….


………………through the efforts of the U.S. Fish and Wildlife Service is being restored to a bit of its former self, a wetlands oasis in a parched land. Located along a fractured fault line, water percolates up in a series of springs. Crystal clear, beautiful water forms pools and then meandering spring creeks. Native plants have been reintroduced. This wetlands system had to be of incredible significance to wildlife and Native Americans. Ash Meadows was a completely unexpected surprise.
One of the major springs is Point of Rocks.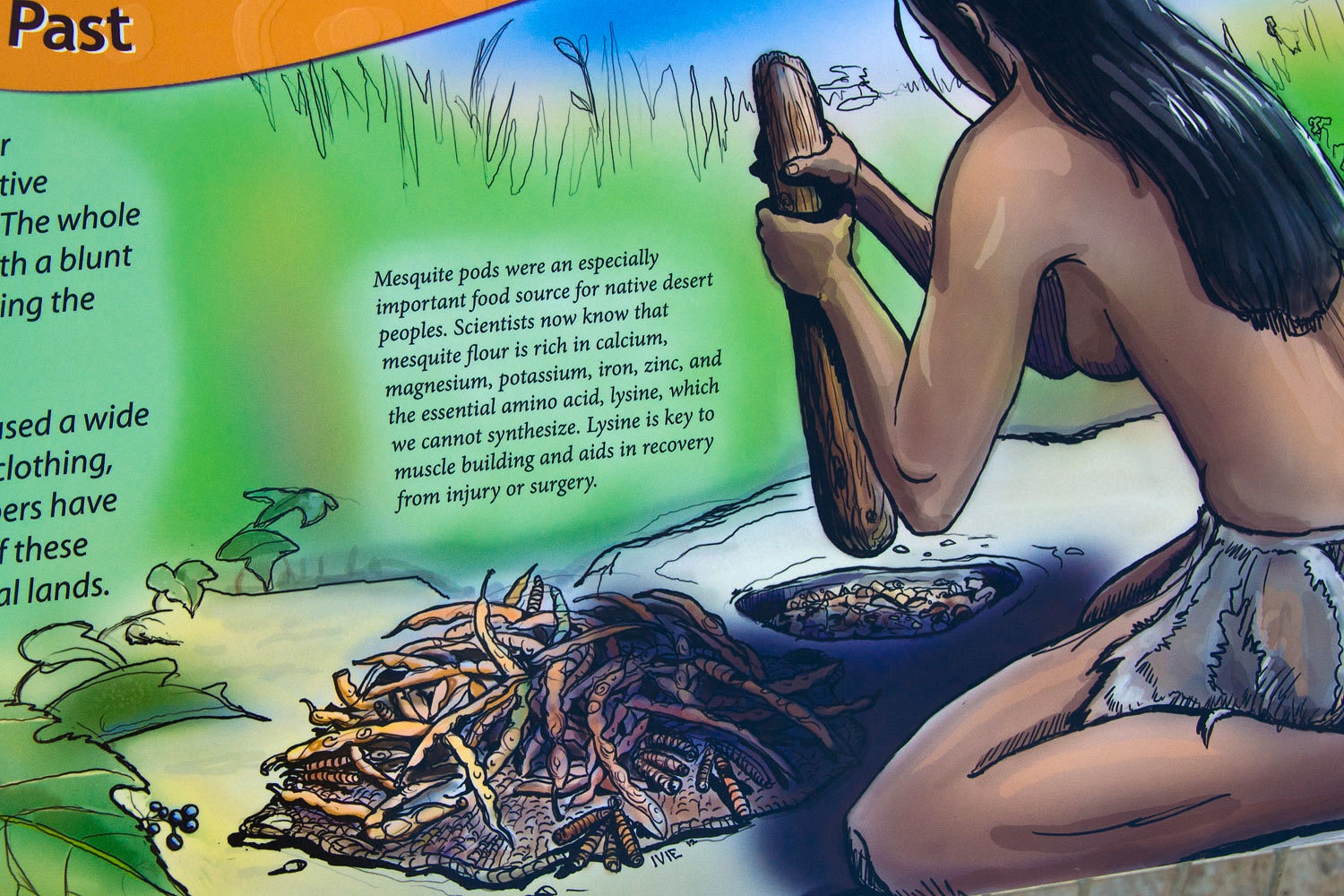 Another major spring is Crystal Pool.


We'd like to see this place in the spring when all is green. We were told the best time for bird watching is October and November. There is much much more to see then we had time for. We will come back.
This was such a great adventure we were finding it increasingly hard to turn toward home. The sun had dropped behind the Panamint Range in Death Valley National Park as we made our way up Hole in the Wall Road. This is a favorite spot for us to search out a campsite. We found ourselves almost alone up here. This was a surprise and we pulled into a spot the Lady had always wanted to camp at just after passing through the Hole in the Wall. As we settled in Jupiter continued to dominate the early evening sky.


We hiked down the road and started back through the Hole in the Wall on our night walk. We were stopped by a strange sound - human voices. We had been alone most nights, surrounded only by quiet. Voices sounded so foreign. We turned around and walked past the notch we were tucked into and continued up the broad open wash. The night sky overwhelmed us. We stopped and lay down in the wash. I don't know how long we lay there, just looking up and watching the sky.
We took care of morning chores.


We had a morning hike to do. As we moved up the bajada, Telescope Peak was framed in the gap of Hole in the Wall.


We were doing a reconnaissance of the opening to Undertaker Canyon. This canyon is reported to have incredible narrows but is one of the hardest to ascend into. Its opening is blocked with a plug of huge limestone boulders that have fallen from the mountainside above.


The route finding through the mess is complex and requires class 5 climbing skills. We made it past the first obstacle and studied the problems ahead. We climbed back out and scrambled up the ridge to get a look down into the boulder chaos that was ahead.


We took a break in the small opening back at the canyon's mouth.


We knew what we needed for a future ascent up this canyon.
It was time to end this adventure and get back home. Our ninth and last night we spent outside of Lone Pine in the Alabama Hills. Three Great Horned Owls sang us to sleep. We got up early, even for us, buttoned up the camper, and headed to Bishop for a novelty, breakfast out. The drive north on 395 was spectacular and cold. It was 1° in Bridgeport at 10 am when the Lady popped into
Hays Street Café
for a cinnamon roll. It was 7° up at the hot springs as we soaked………………………..
What can I say to close? It had been a grand adventure. Time and what day it was had become meaningless to us. And that second spot we wanted to find in the Gold Butte area? Learning the lay of the land had worked. Subsequent research after returning home along with careful study using Google Earth has, I believe, yielded the secret.
Should we go back?
Thanks for sharing our adventure.