please remember you can click on a photo to see a larger version
Spring break 2013
"I want to go up there," the Lady said. Her morning coffee mug was in her hand as she looked up the steep granite outcropping of the Alabama Hills behind our camper near Lone Pine, California. We had spent the eighth night in our camper and the last camp of our spring break trip.
"How far is 'up there'? I asked.
"As far as I can get, you coming?"
I had no doubt we would soon be at the top.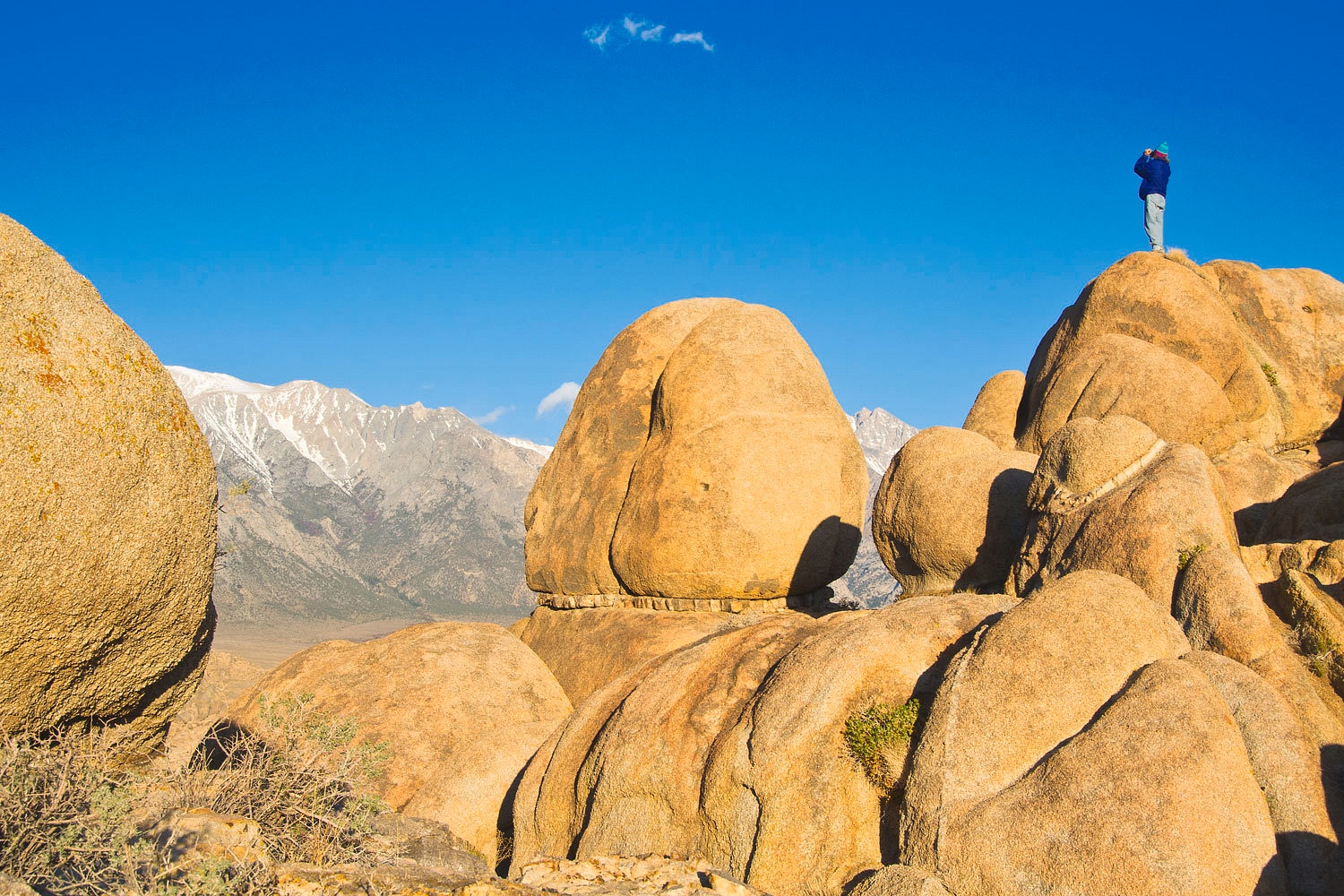 The Alabama Hills along with the speck of our truck were spread out below us against the eastern escarpment of the High Sierra Nevada.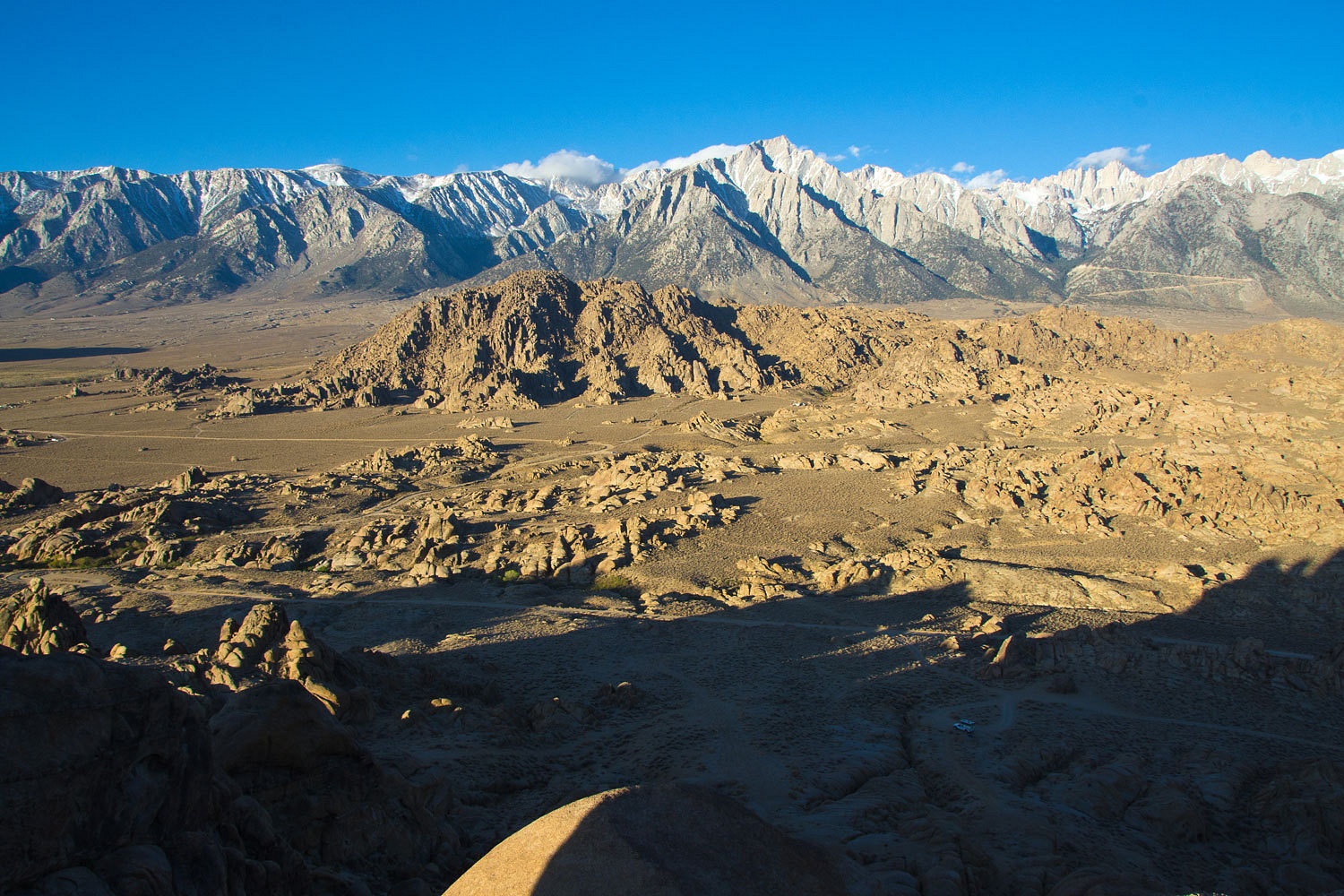 We finished our coffee and tried to take it all in, this indescribably magnificent vista before us. It is a wonderful gift, not just to be able to stand at a place like this, but to try to be part of the place – the moment - not just a visitor.
This trip's theme, if it had a theme, was questions. It started with the question I asked after
visiting Nevada's Gold Butte area
during the winter break, "Should we go back?" There was that one place I wanted to find and further research had turned up a couple of others. "Should we go back?"
……………………..and its association with possible alien contact.
The Lady & I took our night walks and still got up well before dawn. I enjoy long exposures with the camera in the predawn light when the rock glows and there are no shadows.
About the time the Lady finds me, carrying our mugs of morning coffee, the sunlight is reaching out over the landscape.
It is such a special time of day; a time for quiet voices, a time to watch and marvel at the light.
Today we were off to the circus. After returning from our last trip, I discovered we had been near a noted petroglyph site called the Kohta Circus Panel, so named because of the abundance of animal petroglyphs. My definition of "near" may be quite a bit different than yours as we enjoy cross country travel, navigating on foot through complicated terrain, and hiking long distances. This will not be a narrative to lead you to this place, but to share the joy of discovery and thrill of finding unexpected treasures along the way. In fact, I may intentionally place photos out of sequence or add a photo that has nothing to do with the hike ……………………………you get the message.
Was this one reason this place was so special to the ancient ones? – another question added. Special enough to invest the time and effort in their artwork and stories? Was this a special place to gather? – more questions.
We had much more fun in store for the day. There was so much more terrain to become familiar with, so many more nooks and crannies to peek into. We walked past weeks worth of wonderful opportunities for exploration and discovery. "Should we come back?" What an easy question to answer.
We found a slot canyon and wondered where it would lead us.
We relaxed back at camp. The Spiders showed us what the awning they carried on their camper was for, shade. The high temperature was a bit above 80°, a little warmer than we were use to. The shade was nice, as was dinner, our camp chores, our story telling, and the coming night. The Lady & I took off alone on our night walk. The cooling air moved around us. We worked on our route for tomorrow. We figured out final clues. Tomorrow was a special day. We would search for that place we wanted to find, the place we had come back to find, part of the answer to that question – "Should we come back?"